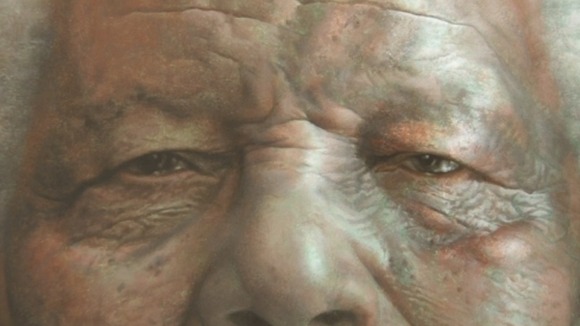 A Wiltshire artist who is most famous for doing Kate Middleton's first Royal portrait has been showing ITV West Country his next piece of work. Paul Emsley has drawn many famous faces in his time - one of those being the former South African President, Nelson Mandela. And since his death last December, the artist - who has spent much of his life in South Africa - has been inspired to put paint to paper once again,
In life this portrait of Nelson Mandela captures the former south african president in black chalk and pencil. Now in his death, and for Paul Emsley newest work - the artist has taken a more 'life life' approach.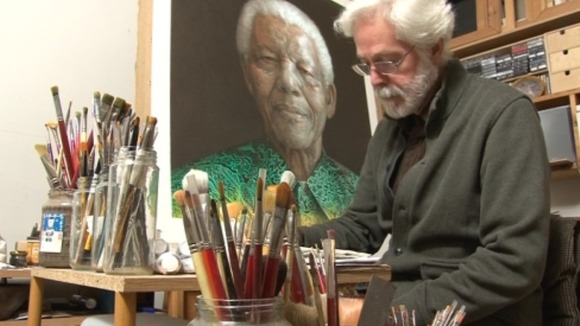 I see things in the first one which I would have quite liked to have changed so having another one is really an opportunity for me to correct or to alter the things that I would have liked to do. As time passes you look back at something you have done and then you can see certain things that you may not have seen at the time so I personally feel that this is a better likeness than the first one. Paint works differently to chalk so I think it allows me to explore things like the whiteness of his hair in a different way to the previous one and also things like the folds of his skin."
– Paul Emsley, artist

The Wiltshire artist used the same photograph as a guide that he took when he has just ten minutes with Mr Mandela in 2009**.

Paul Emsely lives a quiet life Bradford on Avon - apart from the occasional trip to London - but this time last year his life was a little more noisy: after he'd - the first portrait of Her Royal Highness - The Duchess of Cambridge.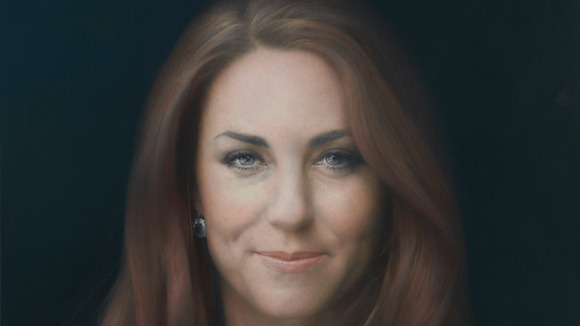 "I didn't expect the degree of criticism and it was extremely difficult. It was a very difficult commission to fulfil. I think probably also I wasn't as relaxed as I perhaps should have been. I can say actually I think the National Portrait Gallery found it difficult as well at the beginning, for all of us involved found it difficult, but with time they felt actually they probably would have preferred the response to the dead pan sort of thing where people said well it's ok, it's nice or whatever and then it just faded away."
– Paul Emsley, artist

You can watch Katie Rowlett's report on this below: