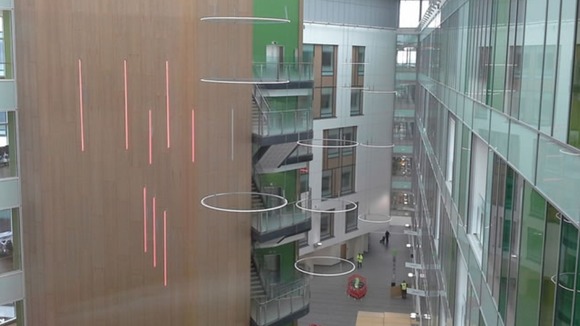 NHS bosses have been criticised for spending £250,000 on a clock for the atrium of the new hospital at Southmead that staff say is impossible to read.
The clock displays the time through 12 illuminated rings suspended in each of the Hospital's three atriums.
Southmead Hospital have defended the sculpture, designed by artist Tobias Rehberger. Chief Executive Andrea Young says that the piece cost a small proportion of the new hospital's arts budget, and that visitors have responded well to the design.
The light sculpture, which also doubles up as a binary clock to enable people to tell the time in a fun way, fills the large space of the three atrium areas of the Brunel building. We think it is stunning and are delighted to have a work by an artist with an international reputation inside our new hospital.

The installation can be seen by both outpatients and visitors passing through the atrium areas as well as patients in the rooms overlooking them, providing a pleasant distraction.

The Tobias Rehberger sculpture cost a total of £242,500, which includes installation costs.

The total arts budget for the new hospital was £1,148,500 and includes 15 arts projects in the Brunel and a two-year arts festival. This represents just 0.2 per cent of the cost of the new hospital building and is below the Percent for Art Scheme recommended by the Arts Council of England.

Spending money on the arts programme was one of the conditions set by Bristol City Council as part of the planning approval, and we think the many works of art inside and around the building have helped create a pleasant and healing environment that our patients deserve.

As one of Europe's leading hospitals we wanted the art to be in keeping with the stunning new building.

It is a community space and we want the community to come in and enjoy the art works.

The vast majority of people who have visited the new hospital have commented on how beautiful the installation is and the three monkeys by the emergency department have also proved very popular with visitors.
– Chief executive Andrea Young, North Bristol NHS Trust