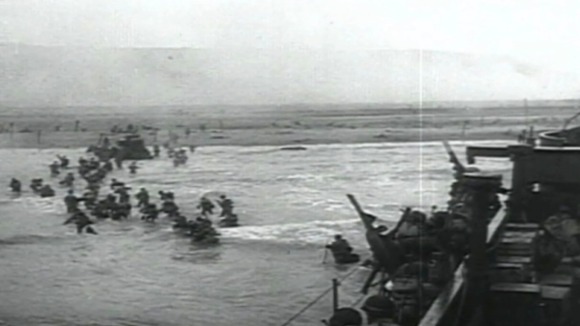 The day's commemorations began at midnight with a vigil at the Pegasus Bridge, marking the first assault of the D-Day invasion when Allied soldiers landed in the dead of night exactly 70 years ago. Some veterans from the west country have made the trip to France for the commemorations, but with the youngest fighters now being 88 some are just too old and frail to make the journey.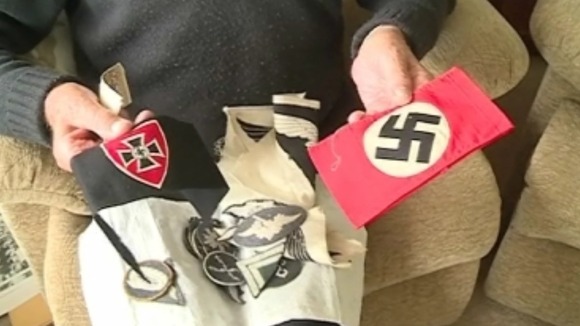 93 year old Ken Prescott, who lives near Crewkerne is one of the veterans who will be spending today with his family. He took these nazi arm bands from Hitler's bunker in May 1945. He got in just after the Russians. Getting to Hitler's final HQ had taken 5 and a half years of fighting. Ken collected many momentoes. Many medals. And many memories. This just before D Day.
"Of all things they were handing out bars of soap, and of all things razor blades and cigarettes. These women were saying I don't want razor blades. In the war we didn't have a clue. And there was the salvation Army there with mugs of tea and of course in those days it wasn't mugs it was jam jars."
– Ken Prescott

They landed in Normandy after spending a day waiting on a storm tossed ship off the Isle of Wight. Ken so sea sick he wanted to be shot.
"Oh terrible, terrible. I thought my inside was coming up, it was a terrible feeling and the sailors, who had been at sea all their lives, even they were sick. It was so rough, it was so rough."
– Ken Prescott

They had to fight nausea, fatigue and fear, let alone the Germans. But the first obstacle they encountered was of their own making and tanks were lost.
"Where our own shells had landed, on the beach, or just off the beach in the sea, it blew great holes in the sea bed and our tanks were coming off and just going down in these holes and disappearing."
– Ken Prescott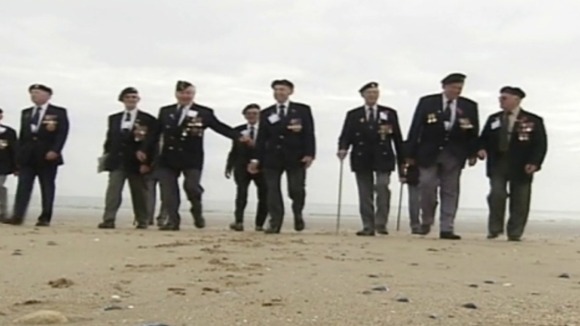 10 years ago he and his comrades returned to Arromanches. The sands smoothed and the signs of war removed. It was one of many visits to a grateful local population and to the graves of their friends.
In the war the houses had been turned into concrete pill boxes and giant guns stood sentinel on cliffs. But the Germans were taken by surprise, the guns were mostly silent.
"Not expecting the invasion they hardly got used because by the time they woke up in the morning they was swarming with troops. They just couldn't believe it."
– Ken Prescott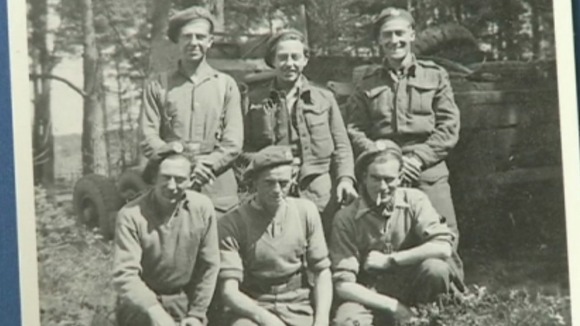 They escaped lightly but not for long. Inland came fields of dead, bloated cattle, then dead Germans, Ken pictured in front on the right survived but many friends were killed.
"Our mates all just blown to pieces, arms, legs everywhere but we saw worse atrocities than we did there because by then the Germans had been shelled out of existence nearly."
– Ken Prescott

Ken went on to be hit by shrapnel, to see the cruelty at Belsen and shattered Berlin. But this June 6th he'll stay with his family. He keeps in touch with some of the very few Normandy veterans left but knows he isn't well enough to visit France one final time.

You can watch David Woodland's full report on this below: