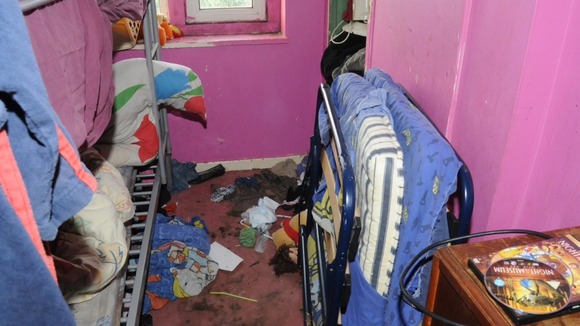 A couple from Stroud who subjected their five children to 'appalling neglect' which went on for years despite welfare workers being aware of their plight have been jailed today.
The children, who were infested with lice and wore stinking clothes, "suffered terribly" at the hands of the married couple, said Judge Jamie Tabor QC at Gloucester Crown Court.
Jailing the 41-year-old mum for two years and her husband, aged 36, for two years, the judge told them they had not been deliberately cruel but they were "inadequate, stupid, stubborn and incompetent" parents.
They had failed to keep medical appointments for the children or take advice and they had forced them to live in squalor which affected their health, the judge said.
He told the pair it was likely the children - who have now all been taken into care and are being adopted - would be scarred for life by the 'abject failure and negligence of their parents.'
The woman already had six children at the time she met and married her husband. The couple then went on to have three more children and the judge said they must have done so believing they were able to cope.
In fact the jobless pair had failed totally to do so despite receiving State benefits to assist in the children's care and upbringing, he said.
Originally the couple were charged with neglect of all nine children but later the prosecution dropped charges relating to the eldest five.
The pair then pleaded guilty to neglect of the five younger children between July 2007 and December 2012.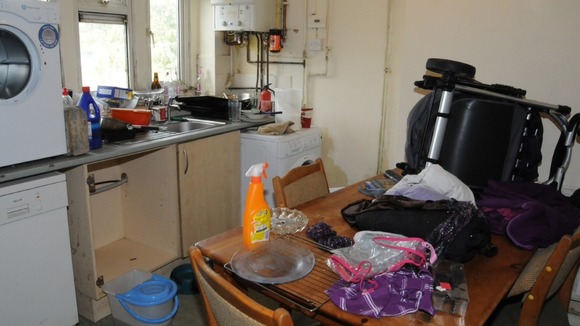 The court was told the children lived in a filthy, stinking house throughout that time despite teachers, social workers and health professionals all becoming at least partly aware of the problems.
It was only when the couple's youngest child, a three year old girl, was admitted to hospital with severe nappy rash that the scale of the neglect was realised by the care agencies.
Soon after the little girl went to hospital her two brothers, both aged 4, were also admitted - and then urgent care proceedings were launched to remove all the couple's children from them.
The youngsters, aged from 3 to 14, were suffering from problems including malnutrition, lice and flea infestation and were grubby and smelly, said prosecutor Kerry Barker.
One teacher had often been unable to bear the smell of one of the girls and had to walk away from her. Two boys, aged 4, were not potty trained and were still wearing nappies, he said.
One head teacher even took to washing one of the girls' clothes herself at school because they smelt so badly.
When police went to arrest the parents at their home two months after the children had gone they were shocked at the filthy state of the house.
The children's bedrooms stank of urine and animal faeces. Dirty clothing was still lying around on the floors. The kitchen was dirty and smelled of stale food. The house was generally grimy and dirty, Mr Barker said.
"The officers were shocked that children had been allowed to live in those conditions. And, of course, that was two months after the children had been removed," said Mr Barker.
For years the smelly, lice-ridden, undernourished state of the children had been obvious to teachers and medical professionals who repeatedly contacted the parents to voice their concerns, Mr Barker said.
The situation dragged on because the mother, particularly, failed to engage with the agencies and did not keep appointments with doctors and social workers. She would get angry and hostile when professionals contacted her about their concerns for the children.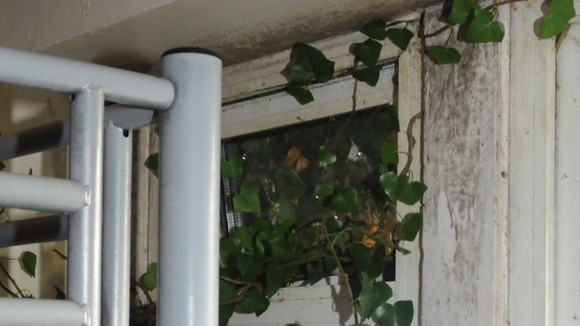 The couple had been due to be sentenced last Friday but took drugs overdoses on Thursday night and were admitted to Gloucestershire Royal Hospital.
They were discharged on Friday night and have spent the weekend at home under the supervision of a mental health crisis team.
Today the woman's solicitor, Steve Young, said it had been a genuine suicide bid because she felt that she had nothing left to live for.
Jailing the pair, Judge Tabor said "This is not a case of deliberate hurtful behaviour and assault but one of wilful neglect."
He said the consequences for the couple were that they would never see their children again.
"Both defendants are inadequate, stupid, stubborn, and incompetent but they did not deliberately inflict pain and suffering on the children and they tried their limited best to bring up the children."
He said he took into account that both the woman and her husband have physical disabilities, but he said that should have meant they weighed up carefully whether to have children together in addition to the woman's six from a previous relationship.
They had been a dysfunctional family and even the help of the woman's elder daughters had failed to prevent the 'terrible suffering' of the younger children, he said.
He spoke of the 'utter neglect' of a girl, now 16, who became 'socially isolated with head lice so bad that she was ostracised by others.'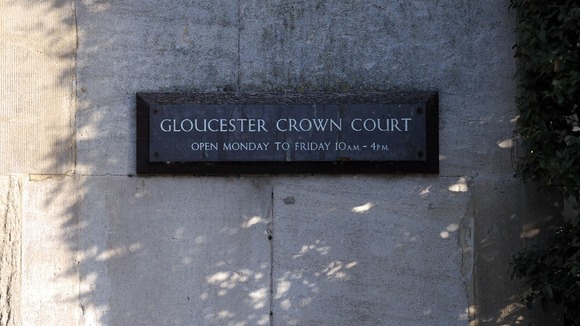 The judge told the couple 'You must have known the smell from her was overpowering. She had a urinary tract infection but you failed to keep medical appointments with her and that led to her condition becoming chronic."
Referring to a girl now 14, the judge said the mother refused to allow welfare workers access to her, yet her clothing stank so much that her head teacher resorted to washing it for her.
The girl whose plight brought the whole case to light had serious nappy rash which resulted from the couple failing 'in the most basic parental function,' he said.
"The aggravating features are that five children suffered at your hands; the period of time of the neglect was long; there was a failure on many occasions, but not always, to seek medical help; on occasions you were obstructive to others who tried to help."
He took into account, he said, that they were of previous good character and had pleaded guilty at an early stage.
He also accepted that they suffered from physical disabilities which impeded their ability to care for children.
After the case Roger Clayton, the chair of the Gloucestershire Children Safeguarding Board - which represents Gloucestershire County Council, Gloucestershire Care Services, 2gether NHS Foundation Trust, Gloucestershire Clinical Commissioning Group, Gloucestershire NHS Hospital Foundation Trust, NHS England and Stroud District Council - said:
The neglect these children suffered was unacceptable.

I'm pleased that because action has been taken the children are now safe and doing well, and their parents have been successfully prosecuted.

The Board had already been focusing on neglect as an issue and so we decided that a Serious Case Review would help us understand what happened in this particular case and what we can do differently in the future.

It's not appropriate for us to say anything more until the review is concluded.

However, strong action has been taken by all partners to improve the way we protect children at risk of neglect.

We've seen a substantial rise in the number of young children who have been adopted because we are identifying children at risk earlier.
– Roger Clayton, Independent Chair of Gloucestershire Children Safeguarding Board