Giant Chinese lanterns that lit up Longleat this winter are to be auctioned for charity.
150,000 people came to see the illuminated designs at the Wiltshire estate. Some will be kept for next Christmas but 19 animal-themed creations will be sold to raise money for Tusk, the Duke of Cambridge's African wildlife conservation charity.
The online sale runs until 11 February. You can find out more here.
Some of Britain's best-known comedy actors are in Bristol to celebrate slapstick.
Victoria Wood, Stephen Fry and The Goodies will talk about the greats including Charlie Chaplin, Laurel and Hardy and Buster Keaton.
The festival, which is now in its 11th year, starts today and runs until Sunday 25 January.
Advertisement
A man from Bristol has come up with an unusual way to honour his favourite TV series; he's had the cast and logo tattooed on his back.
Read the full story ›
The artist behind Bristol's "Park & Slide" has a new project; he's taken pianos to city streets around the world.
Read the full story ›
An Anglo-Saxon sculpture is to go on display at The Museum of Somerset in Taunton after £150,000 was raised to buy it.
The carving of St Peter was found in a garden at Dowlish Wake near Ilminster in 2004. It was being used as a pet's grave.
Almost £80,000 of the total came from the Heritage Lottery Fund.
Advertisement
It's a census with a difference - scuba suits and aqualungs alongside the clipboards and pencils.
Yes, staff at Bristol Zoo are conducting their annual census. There are more than 400 species at the zoo and keepers say the population is growing because of successful breeding programmes. But counting the animals isn't always easy. With fish there is no avoiding it -you have to get wet.
Big tanks you can see we do get in those - it's a lot easier to count the animals that way because we can look in all the nooks and crannies.

We need to make sure our records tie up with what we've actually got on our displays. It's very difficult with small animals - we classify them as big groups.

We've got a lot of small fish in big tanks so it's more to do with the breeding. We have a lot of fry coming through that we might miss.
– JONNY RUDD, Aquarium curator, Bristol Zoo
The Clifton Suspension Bridge in Bristol is to be lit up in green at the stroke of midnight tonight.
Floodlights will bathe Brunel's famous structure with a green glow to herald a series of events and improvements marking the city's role as European Green Capital 2015. The title acknowledges Bristol's efforts to become more environmentally-friendly.
Meanwhile a Bristol artist has unveiled his plans to commemorate the icon's 150th birthday.
There was a spectacular firework display over the bridge earlier this month to celebrate the anniversary but Luke Jerram has the vision of turning the towers gold.
The artist, whose Park and Slide event put Bristol on the map earlier this year, has already contacted the Bridge committee about the idea, which he feels pays tribute to Brunel's original Egyptian design.
Ref.Brunel's original Egyptian design,here's my golden wrapped proposal2celebrate 150yrs of BristolSusBridge http://t.co/xwKK3kPfNG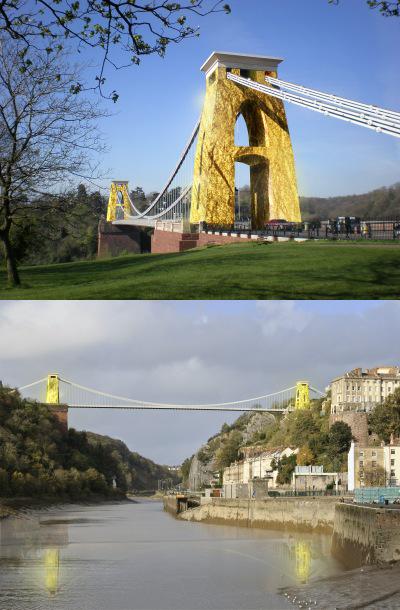 A bride-to-be is breathing a sigh of relief after her engagement ring was handed in to police.
Steph Mayoh from Up Hatherley in Gloucestershire was devastated after it slipped off her finger while on a night out in Cheltenham on Christmas Eve. She woke up on Christmas morning to discover the loss.
She and her boyfriend got engaged in Central Park in New York in October and are due to marry in November. Steph tweeted us her thanks that the ring is now safely back on her finger.
@itvwestcountry thank you so much for helping in the search! My ring was handed into the police this evening and is now back on my finger!
People living in Shadwell Road in Bishopston in Bristol held a Christmas street party this year - and had the surprise of their lives - Santa waving to them from the rooftops.
The road was closed for two hours as part of the "Playing Out" scheme for the party - and the visit from Father Christmas was an added extra.
We'd closed the street as usual and people had brought out Christmas goodies such as mulled wine, roasted chestnuts to share with neighbours.

During the carol singing, one of the kids suddenly shouted "Santa". We were lucky enough to have a TV crew from Bristol Uni there to film it.
– George Grace, Local organiser, "Playing Out"
You can see the events unfold at the Christmas party in this video by UBTV.
Load more updates