The Clifton Suspension Bridge in Bristol is to be lit up in green at the stroke of midnight tonight.
Floodlights will bathe Brunel's famous structure with a green glow to herald a series of events and improvements marking the city's role as European Green Capital 2015. The title acknowledges Bristol's efforts to become more environmentally-friendly.
Meanwhile a Bristol artist has unveiled his plans to commemorate the icon's 150th birthday.
There was a spectacular firework display over the bridge earlier this month to celebrate the anniversary but Luke Jerram has the vision of turning the towers gold.
The artist, whose Park and Slide event put Bristol on the map earlier this year, has already contacted the Bridge committee about the idea, which he feels pays tribute to Brunel's original Egyptian design.
Ref.Brunel's original Egyptian design,here's my golden wrapped proposal2celebrate 150yrs of BristolSusBridge http://t.co/xwKK3kPfNG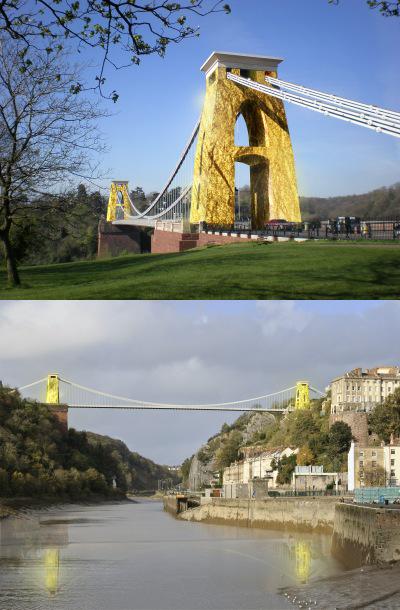 A bride-to-be is breathing a sigh of relief after her engagement ring was handed in to police.
Steph Mayoh from Up Hatherley in Gloucestershire was devastated after it slipped off her finger while on a night out in Cheltenham on Christmas Eve. She woke up on Christmas morning to discover the loss.
She and her boyfriend got engaged in Central Park in New York in October and are due to marry in November. Steph tweeted us her thanks that the ring is now safely back on her finger.
@itvwestcountry thank you so much for helping in the search! My ring was handed into the police this evening and is now back on my finger!
Advertisement
People living in Shadwell Road in Bishopston in Bristol held a Christmas street party this year - and had the surprise of their lives - Santa waving to them from the rooftops.
The road was closed for two hours as part of the "Playing Out" scheme for the party - and the visit from Father Christmas was an added extra.
We'd closed the street as usual and people had brought out Christmas goodies such as mulled wine, roasted chestnuts to share with neighbours.

During the carol singing, one of the kids suddenly shouted "Santa". We were lucky enough to have a TV crew from Bristol Uni there to film it.
– George Grace, Local organiser, "Playing Out"
You can see the events unfold at the Christmas party in this video by UBTV.
Bride-to-be Steph Mayoh is desperately searching for her engagement ring after it slipped off her finger during a Christmas Eve night out in Cheltenham.
Steph, of Up Hatherley, woke up on Christmas morning and realised to her horror that the ring had gone.
I looked down and then realised it was missing. It was just awful. Your stomach goes into twists.

I ran into the bedroom and collapsed in tears. I thought then I would never see it again.

It totally ruined Christmas for me.
– Steph Mayoh
The last time she remembered having it on was when she was with fiancé Simon late on Christmas Eve, at the 21 Club in Cheltenham.
Steph and Simon got engaged in October in Central Park, New York, and are due to marry next November. They are hoping that someone will find and return the ring.
HIs heart was in his mouth and the adrenalin was pumping.
Those are the words of the church worker who had to climb to the top of the country's tallest cathedral spire in Salisbury to repair a weather meter.
Gary Price says the worst moment was when he had to step outside a small window near the base of the spire for the final climb to the summit.
Penny Silvester's report includes pictures from Salisbury Cathedral.
Crowds have gathered at Stonehenge in Wiltshire to mark the Winter Solstice. It's cloudy at the ancient stones ahead of the 0804 sunrise.
At @st0nehenge for #WinterSolstice - not being allowed to the stones till 7.30am. No rain, but cloudy. Dramatic sunrise still possible
Advertisement
Fans of Shaun the Sheep can watch sculptures of the Aardman Animations character come to life from today.
Ahead of an art trail in Bristol next summer, a unit at the Galleries Shopping Centre in the city centre is being used as a studio.
Local artists will be transforming the blank sheep canvasses into works of art.
We asked you to send us photos of your Christmas lights displays - and there are certainly some spectacular houses out there. Here's a selection of our favourites.
Jackie Westfield sent us this photo of her house. She says they've had lots of lovely people stop to look at their lights and seeing the children's faces is the best.
Nigel sent this picture of his house that he shares with Paul in Chippenham. They've got lights in the windows, a Christmas Tree on display and a wreath on the door.
This photo was sent in by Paul of his parents Mr and Mrs Hughes' house in Lawrence Weston. They're using the display to raise money for MacMillan Cancer Support nurses.
Gary Monger sent in this photo of his house in Frome. They've got a giant polar bear, snowman and even Santa's reindeer in the window.
Claire Hooper sent us this one. They've even got a Christmas Greeting on their wall.
Thanks to everyone who's sent us pictures. If you want to send yours in you can email us at westcountry@itv.com, tweet us @itvwestcountry, or post it on our Facebook page: www.facebook.com/ITVWestcountry.
We've been rounding up some of your Christmas light displays. Take a look at this festive bunch.
Read the full story ›
Load more updates