The RSPB is asking people to take part in its annual Big Garden Birdwatch survey this weekend.
The charity wants us to go outside for an hour and record the wildlife we see.
Last year in the West Country, House Sparrows and Blue Tits were the most common birds spotted.
Each year around 600,000 people take part. This is the survey's 36th year.
Shocking footage of a man beating his dogs has been released by the RSPCA following his sentencing in Bristol today.
Read the full story ›
Advertisement
Being washed can be very stressful for barn owls. Even though Somerset charity Secret World Wildlife Rescue did not get all the soot out of Sweep, they will have to wait a few days before trying again.
Secret World Animal Rescue based at East Huntspill in Somerset have taken in a barn owl that was rescued from a chimney.
It is clearly in good hands but we hope this doesn't happen very often.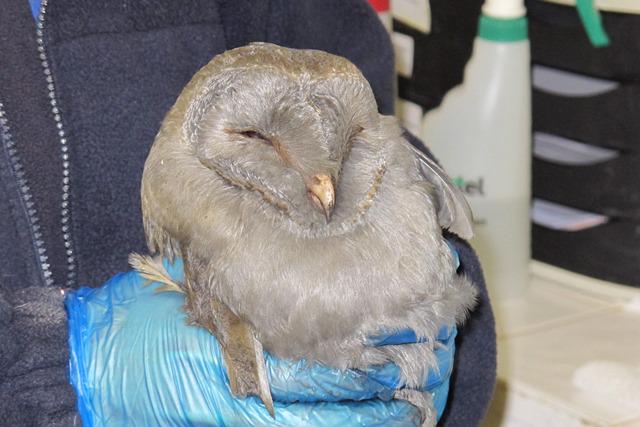 We want to put you in the picture when it comes to our weather. We've asked for your photos from all over the region, here are just a few.
Read the full story ›
Advertisement
Two ponies from a critically endangered breed urgently need a new home, say a Somerset animal sanctuary
15-year-old Quiver and Quintus were found a home by Ferne Animal Sanctuary in Chard after their owner fell ill, but have now lost that to a housing development.
Eriskay ponies are rarer than the Giant Panda, and these two must be kept together, as they have never been separated. The sanctuary say losing grazing land to development companies is happening more and more to horses and livestock.
Go here for more information.
They are proving to be exceptionally difficult to find a new home for, so we are appealing to as many people as possible to help us ... They are real little characters and would love a home to call their own to see out the rest of their days.
– Nikki Haddock, Head of Equine at Ferne Animal Sanctuary
Forage Aid helped to feed many farm animals during last year's floods. Those involved now want to turn it into a fully-fledged charity.
Read the full story ›
A rare pig belonging to the Princess Royal was savaged by a wild boar which got into its pen in Gloucestershire.
The princess reportedly told a conference of farmers that her Gloucestershire Old Spot boar was killed on Tuesday night.
It was nearby on the M4 earlier this week that a wild boar caused a car accident in which 47-year-old Raymond Green died.
Load more updates