Wildlife rescuers from Secret World at Highbridge in Somerset were called in to help a badger that had become trapped in goal netting on a school football pitch.
The unfortunate animal was spotted by a teacher at Woolavington Primary School. The netting could not be cut away on the spot - so the badger was taken to Quantock Veterinary Hospital in Bridgwater where he was sedated. More details here.
Advertisement
A curious dolphin took a day trip to Sharpness in Gloucestershire - spending a day in the port before being guided back out to see.
Staff from the Canal & River Trust spotted the animal, which they say is most likely a bottlenose dolphin, trying to head up the Gloucester & Sharpness Canal.
I've seen dolphins in the entrance to Sharpness before but never inside, and we had to do everything we could to stop it heading up the canal
– Mike Nash, from the Canal & River Trust
Dolphin sightings that far inland are very rare, and the Trust worked with the local lifeboat service to coax their visitor back to his usual home at sea.
It's likely that the animal got a bit disoriented following some fish, but as nice a place as Gloucester is to visit, it's definitely for the best that it didn't make the trip.
– Laura Mullholland, ecologist at the Canal & River Trust
An animal sanctuary in Somerset have two beautiful young horses in need of a home.
5-year-old Sydney was found with a group of 14 other pregnant mares.
She gave birth to a daughter - India - in April at the Ferne Animal Sanctuary in Wambrook, near Chard.
Now both are in excellent health and in need of loving homes.
A big girl, expected to make at least 14.2 hands high
When grown she'll be suitable for riding or being broken to harness
Very well handled and can lead, be groomed and pick her feet up
Ideally would love a playmate of similar age
It's unknown if she has ever had any training.
She has had quite an unpleasant life and is often on the defence - but with some time and tender loving care, she should come round and be a lovely pony.
We are now preparing to wean them so they will both be looking for new homes with people who have experience of training and keeping young horses
– Nikki Haddock, Head of Animal Care at Ferne Animal Sanctuary
Abandoned ponies are now a huge problem throughout the UK.
Horses like these rely on charities to take them in, or they wouldn't have survived.
Anyone who can help should contact Nikki Haddock at Ferne Animal Sanctuary on 01460 65214.
Pictures have been released of an otter which died after being caught in an illegal trap. A £300 reward has been offered for information.
Read the full story ›
A £300 reward has been offered after the death of an otter which was caught in an illegal trap. The animal was found trapped in a snare at Bleadon near Weston-super-Mare.
The otter was taken to a veterinary hospital but despite appearing in a stable condition at first, it suddenly deteriorated and died two days later. It is thought the otter died from internal bleeding. According to Secret World Wildlife Rescue, the snare appeared to have been deliberately placed to catch otters and a stake had been driven into the mud in order to secure it.
"It is such a waste to see an otter in prime condition killed by a thoughtless person who had no qualms in setting the evil device that has caused pain and trauma to this wild creature. Set legally, a free-running snare loosens when the animal relaxes, but it can also be set illegally as a self-locking snare. Every time the animal pulls against it the snare gets tighter and tighter, causing horrendous wounds and eventually killing the animal. These snares are indiscriminate – cats and dogs have been caught up in them too – and we think they should be banned."
– Pauline Kidner, Secret World founder
A £300 reward for information about what happened to the otter has been offered by the UK Wild Otters Trust. Anyone with news regarding the setting of the snare should call 101 and contact wildlife liaison officer PC Peter Wills.
Advertisement
Police are still on the look out. for a wallaby that is on the run in the Dursley area.
Officers received a call on Saturday night, 26 September, that a kangaroo was on the loose. They cornered the creature, which was later identified as a wallaby. near Woodmancote but it managed to evade them.
They tweeted the story as it happened (see below). It got wide attention on social media.
Police are no longer actively searching for the marsupial but animal experts are warning people not to approach it. Although they are not considered aggressive, they may react if cornered.
Bit of an unusual one. If anyone has lost a kangaroo in the Dursley area please contact us on 101 and quote incident 462. We have found one!
Kangaroo update - we have it cornered 'outback' of a house in Woodmancote but no owner identified yet.
Not the usual bouncers that we're interacting with on a Saturday night
Have you lost a wallaby? 'Skippy' seen around the Woodmancote near Dursley. Owners pse call 101 quote 462 of 26 Sept. http://t.co/aq9LpFiQJG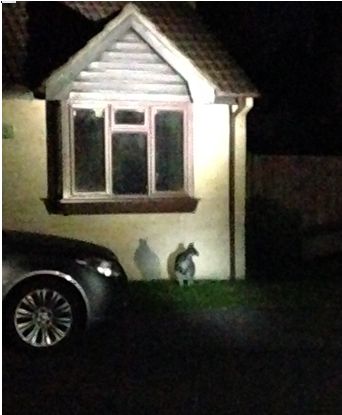 A sneaky wallaby used its best evasion tactics to avoid police capture after going on the run yesterday.
Read the full story ›
The sight of a boar's head nailed to a tree near Blakeney Hill Reservoir has sparked anger among wildlife protection groups - who say poaching in the Forest of Dean is an "epidemic".
The boar's head was put in the area of a popular family trail where people walk their dogs. It has been reported to the police and Forestry Commission.
Anti-boar-cull group Forest of Dean Wild Boar Cull Hunt Saboteurs have installed trail cameras in the area.
Load more updates