Dairy farmers are due to hold a meeting with Morrisons later to discuss whether to commit to a Milk for Farmers cheese brand.
It follows a protest at the supermarket's distribution depot in Bridgwater on Monday night in which dairy farmers called for a fair price for the milk that goes into products like cheese.
Morrisons has already pledged to produce a special milk and cheese brand that would see more money going back to the farmers.
Hundreds of dairy farmers have once again been demonstrating over the price they receive for milk.
400 farmers blocked the entrance to the Morrisons distribution centre in Bridgwater last night (24 August) - this time to highlight their campaign to get a better price for the milk they sell to make cheese.
Today they told ITV News the protests will continue until a fair deal is reached.
You can watch Jonty Messer's report below:
Morrisons says that its statement issued a fortnight ago still stands:
Statement 14.08.2015

We know that the dairy farming community faces a tough winter.

We announced earlier this week that we are creating a new brand of milk Morrisons Milk for Farmers where 10 pence per litre goes back to Arla farmers.

Today, we are also announcing that we will do the same on cheese by creating a Milk for Farmers cheddar cheese priced at a retail premium of 34 pence-a-pack above our standard Morrisons cheddar price to deliver the equivalent of 10p-a-litre back to farmers who supply the milk.

We are also pleased to announce that we are going to increase our offer to our processors for the liquid milk element of our processed fresh milk to a minimum price of 26 pence a litre from later this month and through the winter.

This month, we will continue discussions with our cheese processor about other initiatives that will help their dairy farmers.

We hope that this offer along with the other initiatives we have announced this week will help our suppliers to better support British dairy farmers.
– Morrisons spokesperson
Advertisement
Hundreds of dairy farmers from across the West Country are back at the Morrison's depot near Bridgwater after talks over milk prices fell down.
David Handley from Farmers for Action says that, although they agreed a deal over liquid milk with the supermarket giant, they were unable to come to a similar arrangement with the milk supplied for cheese.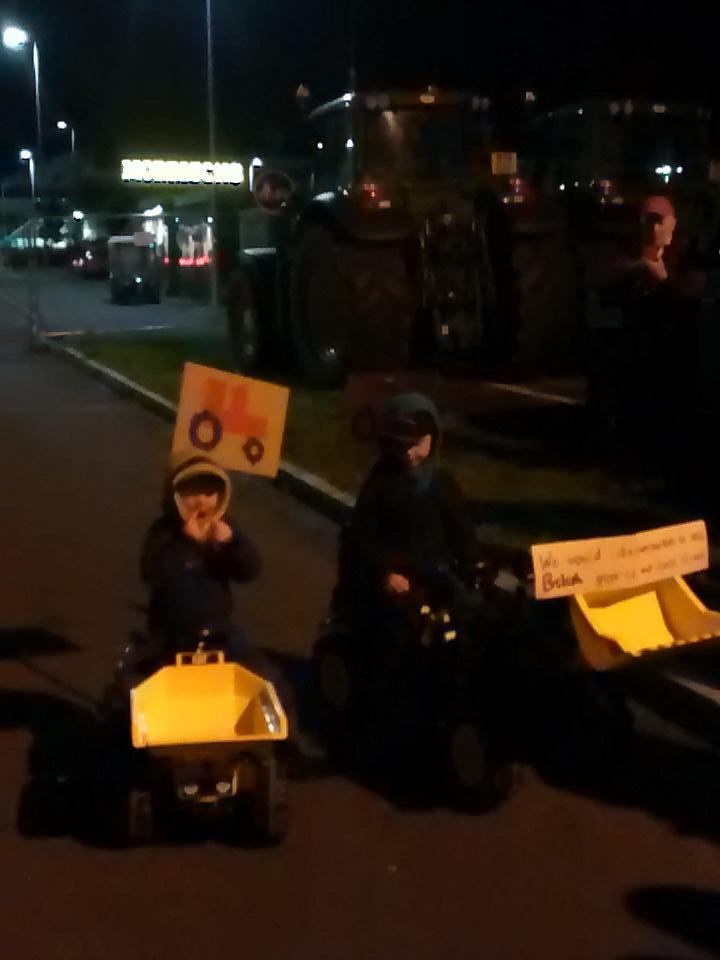 Farmers blocked the Tesco distribution centre at Avonmouth in the ongoing battle over falling dairy prices.
Read the full story ›
Farmers blocked the Tesco distribution centre at Avonmouth late last night - in the ongoing battle over falling dairy prices. The Farmers for Action group organised the protest in the latest of demonstrations over money.
Asda, Aldi and Morrisons have all agreed to pay farmers more for milk. The decisions follow protests in supermarkets across our region.
Read the full story ›
Advertisement
A farmer from South Gloucestershire has been speaking about why she turned the plight of dairy farmers into a national cause.
Farmer Becky Robertson from Chipping Sodbury started the Milk Trolley Challenge, in which farmers buy up a supermarket's entire stock of milk in protest.
Protests like this over the price farmers are paid for a pint have led to Morrisons proposing a premium farmer's brand and Asda pledging to increase prices.
After weeks of protests by farmers across our region, Morrisons has agreed to sell a new milk brand costing an extra 10 pence per litre.
Read the full story ›
The National Farmers Union is meeting with Morrisons today over the cost of milk.
It follows a series of demonstrations across the West Country by dairy farmers protesting the amount of money they receive for their milk - which they say is barely enough to live on.
Last week farmers blockaded the supermarket's distribution centre near Bridgwater.
Farming leaders are warning food produced here in the West could disappear from supermarket shelves.
Read the full story ›
Load more updates