Large charities could be forced to sign up to a new watchdog under changes being introduced by the Government to tackle rogue fundraisers.
Read the full story ›
Advertisement
A Somerset couple moved into what they thought was their dream house. But within minutes of moving in they noticed something was very wrong.
Read the full story ›
Four farming unions met today for an emergency summit amid widespread supermarket protests across the UK about "unfair" milk prices.
They say that government, retailers and the food service industry must "step up to the plate" to tackle the crisis facing the British farming industry.
Speaking after the summit, David Handley of Farmers For Action said "I don't think there's any farmer out there at the moment that will accept they can just sit back on their laurels."
The meeting follows days of protests by farmers including Milk Trolley Challenges, blockades at distribution centres and even bringing cattle into supermarkets.
Farmers estimate that it costs between 30 and 32p to produce a litre of milk but the average price paid across the UK is 23.66p - following a drop of 25% in a year.
Meurig Raymond, president of the National Farmers Union said farmers were facing "all the risk in these extremely volatile times".
I believe there is now, at long last, a recognition of the dire straits that farmers are finding themselves.

People are losing money. There is no way farmers can sustainably stay in business with these sorts of prices.

There has been a race to the bottom to devalue product. When four pints of highly nutritious milk is selling for less than a bottle of water then there is something wrong in the culture of society.
– Meurig Raymond, NFU president
Scotland's Secretary for Rural Affairs, Food and the Environment called for widespread support of the dairy industry.
I am calling on retailers and other buyers to get behind the dairy sector in this time of need and to pay a fair price for milk.

I fully recognise the difficulties being faced by dairy farmers because of the low price being paid for milk and volatility on the global market, and I have written to my UK counterparts calling for a joint ministerial meeting on this issue.

I am also happy to meet again with the dairy sector at any time and in any place during these very difficult times."
– Richard Lochead, Scotland's Secretary for Rural Affairs, Food and the Environment
The four main unions, the National Farmers' Union, NFU Cymru, NFU Scotland and the Ulster Farmers Union, met today in central London to discuss the "crisis".
People are being warned to be wary of telephone cold callers claiming to be from an insurance provider as it may be a scam.
Bath & North East Somerset Council have received reports from residents, who have been called and told a change needs to be made to their house insurance policy, or offering them a cheaper deal.
The caller confirms the first four numbers of the person's bank card and then asks them to confirm the remaining numbers.
When the caller is challenged and asked to put the request in writing the caller then hangs up.
The cold callers are currently operating from a London number - the area code is 02038.
Never give personal or financial information out to anyone who cold calls you on the telephone. Be cautious and if in doubt, hang up.
– Cllr Martin Veal
Advertisement
Demolition work has begun on the Lewins Mead footbridge in Bristol.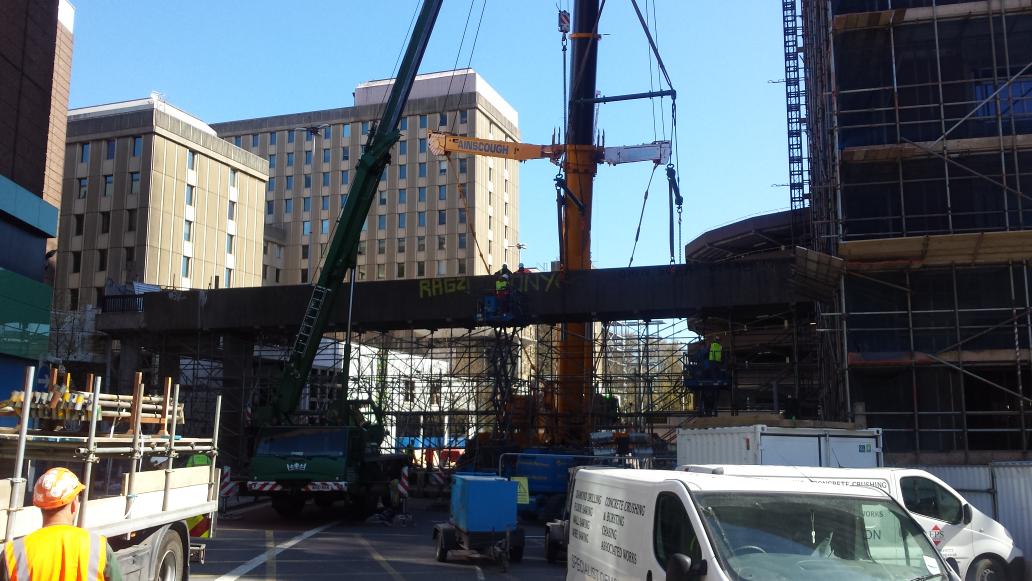 There have been chaotic scenes across the region today as shoppers tried to snap up bargains on what retailers have called 'Black Friday'.
Police were called to some stores in Bristol and Wiltshire as customers fought over discounted TVs and other goods.
Here is Tim Walsh's full report, featuring exclusive footage:
Shoppers are out in search of a deal today as many major retailers cut prices on what's called "Black Friday".
There have been queues since early on - and scuffles at a number of stores.
Patrick Rose filmed this video. He told us that people were grabbing flat-screen TVs without even knowing the price!
And thanks to Mo Sharif for this video. Mo got caught up in the chaos after only popping in for a few groceries!
Laurence Llewelyn-Bowen's much-criticised Magical Journey christmas experience at The Belfry in Sutton Coldfield has re-opened.
Read the full story ›
Load more updates