The graffiti artist Banksy has once again chosen his home city for his latest work.
The mural, which pays tribute to Vermeer's girl with a pearl earring, has gone up on a wall in Bristol docks, near the Cottage Inn and ss Great Britain. Banksy's trademark sense of humour comes into play again though - with a burglar alarm standing in for the original's jewellery.
X Factor singer Chloe-Jasmine Whichello has revealed she is planning her revenge on Simon Cowell - by naming a new hamster after him and watching it run round in circles.
The 23-year-old model, who went to Wells Cathedral School, lost the sing-off against eight-piece boyband Stereo Kicks on last night's show, where the TV mogul told her that she lacked passion.
It meant a double elimination for her mentor Cheryl Fernandez-Versini, who also said goodbye to another of her acts Stephanie Nala.
Whichello said she was unhappy that Cowell appeared to be preserving his own acts and then teasing his fellow judges.
She said: "I respect him very much as a businessman. His brainchild of The X Factor is spectacular.
"What I didn't agree with was, he had all of his acts secured and sat down on the panel to intimidate the other judges."
She added: "I'm now about to purchase a hamster, call it Simon Cowell, and it's going to be running around a kennel."
Advertisement
Here's a map of Bristol docks showing where you can track down the Bristol graffiti artist's latest work. We've called it "Girl without an Earring".
A little local knowledge in our newsroom has located the new Banksy near the Cottage pub on Hanover Place in Bristol docks.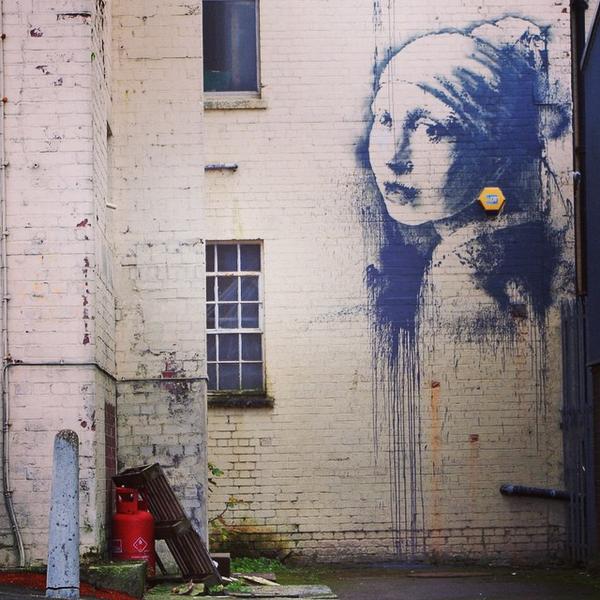 New artwork from Bristol artist Banksy has appeared in the city but as yet, no one has been able to say where exactly it is. The piece appeared on his website with few clues as to where it may be. Some have suggested it could be in an area behind the ss Great Britain.
Banksy appears to have taken inspiration from the Girl with a Pearl Earring, by Dutch painter Johannes Vermeer. The original uses a pearl earing as a focal point, however Banksy appears to have used an building's alarm system as his.
Advertisement
It's the second week of live shows for the X Factor this weekend, with our region still represented by Chloe Jasmine from Wells and Warmley's Jake Sims with his band Stereo Kicks. They both made it through last Sunday thanks to votes from the public.
But it marked the end of the road for boyband Overload Generation, featuring Ollie Garland, also from Warmley near Bristol. They lost out after a sing-off.
Ollie and his mum Naomi came into our studio earlier to chat to Ian & Kylie about what's next for the group:
We interview Sir Tony Robinson who is on the stage in Bath in The Hypochondriac.
The actor and TV used to live in Bristol and told us he misses his Royal York Crescent hideaway but the pressure of work took him away.
He was well known as a Labour activist in the City but told our correspondent Robert Murphy he would have made a terrible Mayor.
The interview starts with his role at the Theatre Royal, which runs until 18 October.
To some he'll forever be Baldrick, Blackadder's hapless sidekick - and to Bristolians a local Labour activist. But now Sir Tony Robinson is taking another role - on stage at the Bath Theatre Royal in a new production of Moliere's The Hypochondriac.
It was the battle of the boy bands on this weekend's X Factor. Both bands had members from Bristol.
But it was the end of the road for 19-year-old Ollie Garland from Warmley and his band Overload Generation. Their X Factor journey came to an end on Sunday night when they were voted off the show.
Judges Simon Cowell and Cheryl Fernandez-Versini described their performance in a sing-off with Stephanie Nala as "shockingly bad".
Meanwhile Bristol teenager Jake Sims's band Stereo Kicks is through to the next round of the show.
Both bands, mentored by Louis Walsh, sang hits by Katy Perry. Judge Simon Cowell said they blew Overload Generation off the stage with the performance.
Former Wells Cathedral School pupil Chloe-Jasmine Whichello is also through to the next round after she pulled off a fantastic jazz rendition of Britney Spears' hit 'Toxic'.
Load more updates