The Glastonbury Festival might have to move in the future, says founder Michael Eavis.
Read the full story ›
Should you pack your mac, or your sunnies? Alex Beresford talks us through the weather outlook for Glastonbury festival.
Read the full story ›
Advertisement
Eclectic indie rock band Florence + the Machine have been announced as the Friday night headliners replacing the Foo Fighters at Glastonbury.
Florence Welch's crew were originally on the Pyramid Stage just before the Foo Fighters, but have been promoted following Dave Grohl's leg injury.
We're very pleased to announce that Florence + The Machine will play the Friday night Pyramid headline slot http://t.co/QcNrvl6dyu
The Foo Fighters, who were due to perform on the Pyramid Stage at Glastonbury Festival in ten days' time have issued the following statement.
Due to injuries sustained in Dave Grohl's fall from the stage during Foo Fighters' June 12 show at Ullevi Stadium in Gothenburg, Sweden, doctors have required the cancellation of the remainder of the band's dates in the UK and Europe.
– Foo Fighters
Dave Grohl himself has left a heartfelt message on the band's website:
My doctors have advised me to lay low for a while. The most important thing now is for me to recover from the surgery, to keep my leg elevated so as to keep swelling down and prevent any infection/complication that could do long term damage. I'm not out of the woods yet, folks…

Which means, and it kills me to say it… the doctors have told us to cancel shows. I'm really so sorry, guys. You know I hate to do it, but I'm afraid it's just not physically possible for me at the moment. We're doing our best right now to work out a plan, so bear with us. You know we're good for our word. But for now, I need to make sure we have YEARS of gigs ahead of us…."
– Dave Grohl
It means the American rock band will not be able to perform at Glastonbury on Friday 26 June. The festival organisers have wished Dave Grohl all the best for a full and speedy recovery.
They say that a new Friday night headliner will be announced soon.
The American rock group the Foo Fighters, who were due to headline at Glastonbury Festival later this month have had to pull out after their frontman Dave Grohl broke his leg at a concert.
Foo Fighters fans are in a nervous wait for news about Glastonbury, after the Friday night headliners cancelled two European dates following Dave Grohl's unlucky break in Sweden.
The 46-year-old frontman broke his leg after falling off stage during the band's Friday night set in Gothenburg - but won the respect of thousands after getting patched up and coming back to finish the show with his leg in a cast.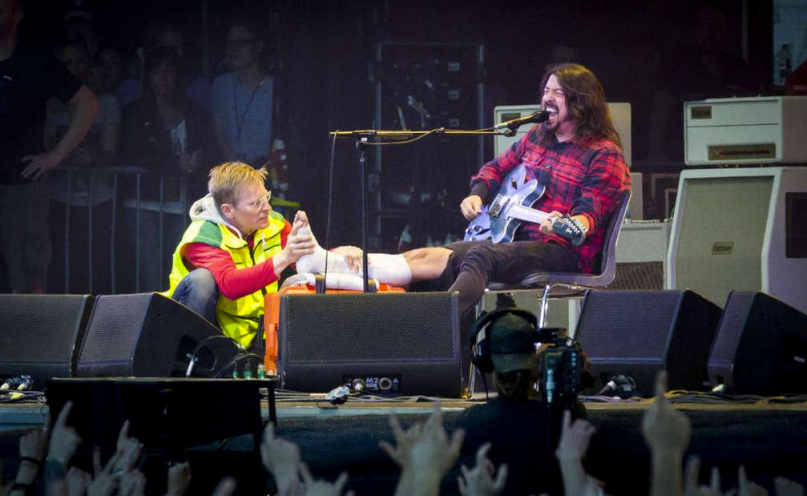 Soccer player should take a note: Dave Grohl can't stop playing guitar, even after he breaks his leg on stage http://t.co/RSDOzbtKu1
With just 11 days to go until Glastonbury, the band cancelled last night's appearance at Pinkpop, and tomorrow's show in Switzerland, confirming that the singer has at least one fracture. No official word from Glastonbury yet - but you can be sure we'll be the first to break the news.
Youtube user jontebus was at the show in Sweden.
Advertisement
Bath-based musician Van Morrison has been given a knighthood in the Queen's Birthday Honours. The singer-songwriter is known for shying away from publicity - but continues to perform at the age of 69.
1,163 people were honoured this year - 70% of those were recognised for their community work. Our reporter Caron Bell has been to meet two very different people from the region who've devoted their lives to helping people around them.
Scout leader Amir Cheema founded the 1st Bristol Muslim Scout Group - which led to a further 74 Muslim Scout groups across the country.
81 year old Edith Duberley from Ruardean in the Forest of Dean has been awarded a British Empire Medal for her community work.
An actor from Devon who studied in Somerset has won a major award in the United States.
Alex Sharp from Sidmouth was presented with a Tony Award for 'Best Leading Actor' in New York last night.
The 25-year-old was recognised for his performance as boy with autism in 'The Curious Incident of the Dog in the Night Time' on Broadway.
Alex attended Yeovil College and it was his first professional role.
Elton John caused a stir in Gloucester last night, after making a female steward at Kingsholm Stadium cry.
The 68-year-old music legend lost his temper after stewards appeared to ban fans from waving, and singled out the woman for a string of foul-mouthed abuse - after which she walked off crying.
I came here to play music, now all you stewards down there, especially the woman in the pony tail, f**king lighten up will you? These people have come to hear music and if they want to put their hands in the air let them. This is not f**king China, so piss off. You've got a f**king uniform on and you think you're Hitler and you're not. You can piss off! I mean really. Don't have any sympathy with her, this is a concert ok?
– Elton John
After outrage from the crowd and another song the singer apologised and brought her on stage to give her a hug and share his piano stool with her.
Opinion has been divided on Twitter about the star's behaviour, with some agreeing with what he did and others praising the concert but criticising the outburst.
He may be famous but don't think he's ever been a nice person #EltonJohn
#EltonJohn stuck up for the crowds who basically weren't allowed to move in their seats! Night was much more fun after that!
Great concert tolast night.@eltonjohn . Should have apologised to Marie because she is human rather than because she is a woman. Chauvinism.
Stuck in a traffic jam tonight? You might be able to blame the world's biggest band.
There are reports of major traffic delays for 45 miles on the M4 Westbound stretching back to Chippenham.
This is more than just the Friday rush hour - people are flocking to a One Direction concert at Cardiff's Millennium Stadium (the Manic Street Preachers are also playing).
Load more updates