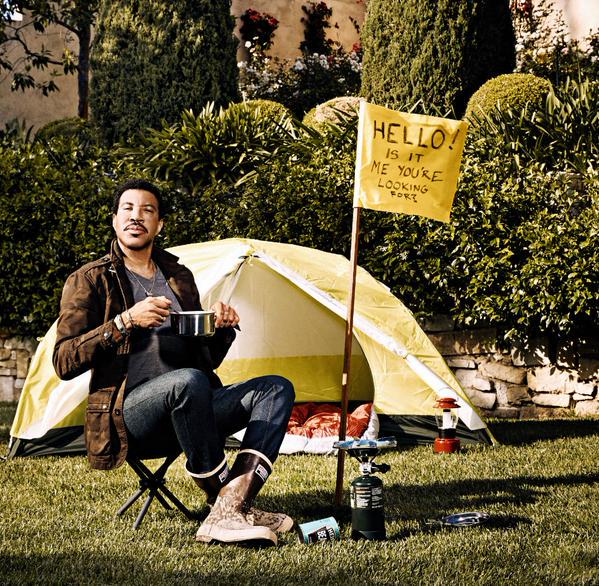 Lily Allen says she feels lucky to be alive after suffering from a gas explosion in her caravan at the Glastonbury Festival site.
The singer arrived in Somerset early ahead of the festival next weekend.
She's now warning other campers to be extra careful when using gas stoves.
"I was in a gas explosion in my caravan today and I have minor burns and synged my eyelashes considerably. it was absolutely terrifying and I wouldn't want anyone to go through anything similar. please be SO careful using gas stoves at anytime but especially during festival season when ones reaction times may be a little off. Feeling very grateful to be alive. Happy camping"
– Lily Allen, Instagram
You can find advice on camping with gas stoves or caravans here
Advertisement
Kanye West has compared himself to some of the greatest minds of the renaissance including Leonardo da Vinci as he prepares to take to the stage at Glastonbury.
The American rapper, 38, said he defies convention and fought, bought and spit his way out of "being boxed" into a certain genre.
He told the Sunday Times Culture magazine that, like renaissance polymaths Michelangelo, Galileo and da Vinci, he defies strict categorisation.
Imagine if da Vinci or Michelangelo or Galileo were asked not to think of anything except for the one thing they first became famous for.

So da Vinci could only have one idea. For all haters, I'm not saying I'm da Vinci, but I feel it's right for any human being to compare themselves to anything."
– Kayne West
A rapper and producer, Kanye has branched out of music to become a fashion designer. But despite his fortune and fame, he is one of America's most divisive stars.
He is set to defy his critics by taking to the iconic Pyramid stage for the Saturday night headline slot at Glastonbury.
More than 130,000 people have signed a petition calling for him to be dropped and branding his music an "injustice".
But he will follow in the footsteps of his close friend and long-time collaborator Jay Z and Beyonce in topping the festival bill.
In an exclusive interview with ITV News, the founder of the Glastonbury Festival says he may have to move the event somewhere else - because landowners want an ever-increasing slice of money for renting their land.
Michael Eavis says it is becoming more and more difficult to negotiate terms and it would be hard for him to hit his target of raising £2 million for charity this year.
He also said that the planned break in the festival for 2017 had been scrapped.
You can watch David Woodland's report here:
In an exclusive interview with ITV News, Michael Eavis has revealed that the festival, which was due to take a year off in 2017 to allow the land to recover, will be taking place after all.
The fallow year has simply been postponed until 2018.
It's all to do with the negotiations with local farmers for the use of their land. So there will be a festival in 2016 and 2017 and then a break in 2018.
To find out more of what the festival founder told us, click here.
The Glastonbury Festival might have to move in the future, says founder Michael Eavis.
Read the full story ›
Advertisement
Should you pack your mac, or your sunnies? Alex Beresford talks us through the weather outlook for Glastonbury festival.
Read the full story ›
Eclectic indie rock band Florence + the Machine have been announced as the Friday night headliners replacing the Foo Fighters at Glastonbury.
Florence Welch's crew were originally on the Pyramid Stage just before the Foo Fighters, but have been promoted following Dave Grohl's leg injury.
We're very pleased to announce that Florence + The Machine will play the Friday night Pyramid headline slot http://t.co/QcNrvl6dyu
The Foo Fighters, who were due to perform on the Pyramid Stage at Glastonbury Festival in ten days' time have issued the following statement.
Due to injuries sustained in Dave Grohl's fall from the stage during Foo Fighters' June 12 show at Ullevi Stadium in Gothenburg, Sweden, doctors have required the cancellation of the remainder of the band's dates in the UK and Europe.
– Foo Fighters
Dave Grohl himself has left a heartfelt message on the band's website:
My doctors have advised me to lay low for a while. The most important thing now is for me to recover from the surgery, to keep my leg elevated so as to keep swelling down and prevent any infection/complication that could do long term damage. I'm not out of the woods yet, folks…

Which means, and it kills me to say it… the doctors have told us to cancel shows. I'm really so sorry, guys. You know I hate to do it, but I'm afraid it's just not physically possible for me at the moment. We're doing our best right now to work out a plan, so bear with us. You know we're good for our word. But for now, I need to make sure we have YEARS of gigs ahead of us…."
– Dave Grohl
It means the American rock band will not be able to perform at Glastonbury on Friday 26 June. The festival organisers have wished Dave Grohl all the best for a full and speedy recovery.
They say that a new Friday night headliner will be announced soon.
The American rock group the Foo Fighters, who were due to headline at Glastonbury Festival later this month have had to pull out after their frontman Dave Grohl broke his leg at a concert.
Load more updates