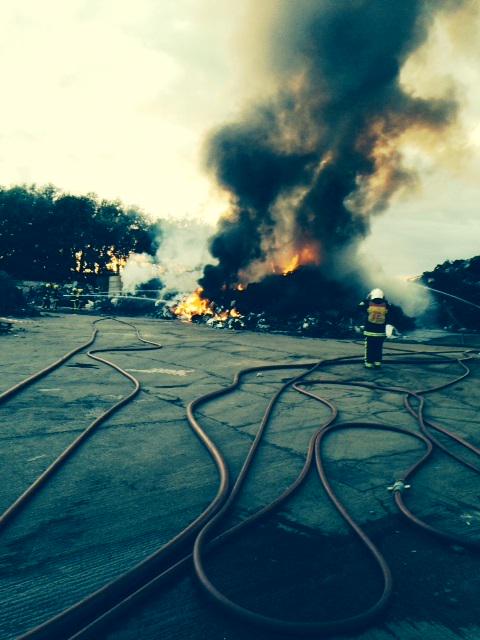 Devon and Somerset Police have shared a new picture on their Twitter account of a fire which broke out at a scrapyard in Glastonbury yesterday,
Firefighters believe the cause was accidental at the yard on Thomas Way Industrial Estate at about 7 o'clock last night, 21 July.
Firefighters believe a fire at a scrapyard in Glastonbury was caused accidentally.
It broke out in a large stack of scrap metal measuring 10m x 10m x 10m at the yard on Thomas Way Industrial Estate at about 7 o'clock last night, 21 July.
The police helicopter was called in to warn people to keep their doors and windows shut because of the smoke.
It was put out by about 11 o'clock.
Advertisement
Firefighters are battling a large blaze at a scrap yard in Glastonbury.
Large plumes of smoke could be seen rising from the Thomas Way Industrial Estate at around 7.20 this evening. It is believed a large stack of scrap metal, around 10 metres high, is involved in the fire.
The police helicopter is hovering overhead telling people to stay indoors with their windows shut.
Big fire somewhere in Glastonbury, it smells like burning plastic, hope no-one is hurt. http://t.co/mGT6lTNzjb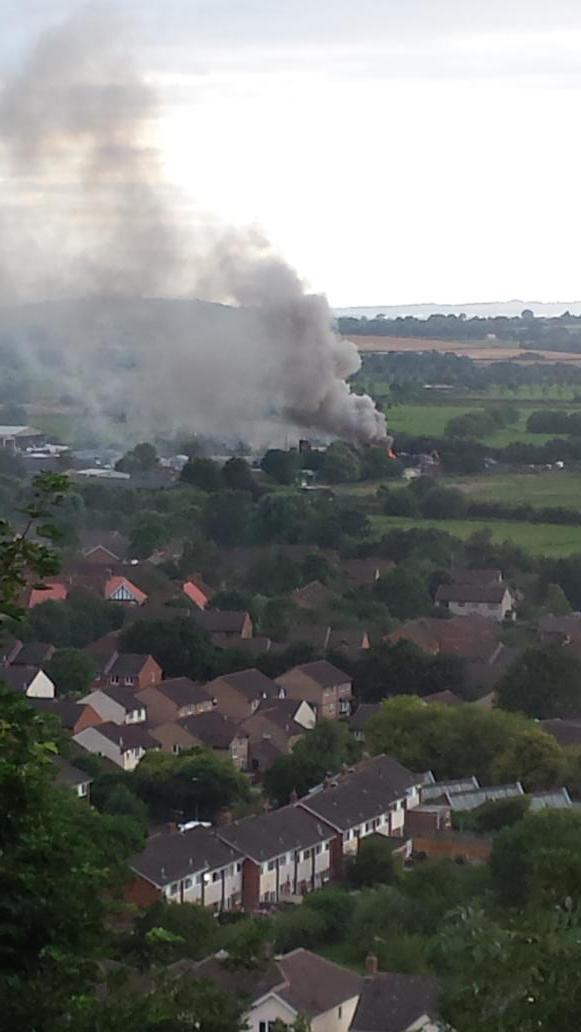 The Fire Service received numerous calls reporting a large fire within a scrapyard. One fire appliance was initially mobilised from Glastonbury was, after numerous calls Fire Control mobilised a second appliance which came from Street.

Whilst approaching the incident the crews requested a third appliance, as large plumes of smoke were seen coming from a scrapyard area, this appliance was mobilised from Wells.

Crews arrived on scene and confirmed large stack of scrap metal measuring approximately 10m x 10m and height 10m involved in fire. Crews got to work with one CAFS (Compressed air foam) attack jet supported from hydrant, crews also setting up water wall to prevent fire spread to secondary stack of scrap, together with two main attack jets currently being in used.
– Devon and Somerset Fire and Rescue
There is a fire on the outskirts of Glastonbury can residents please remain indoors and shut windows
The go-ahead has been given today for a 90,000 panel solar farm, planned on land owned by Dorset South MP Richard Drax at Mapperton. East Dorset District Council's planning committee deferred making a decision on 23 June because they said they needed to make a site visit. Seven councillors voted for the project and three against. There has been strong opposition from campaigners. The energy company is Wiltshire-based Good Energy. More shortly.
Bath is in danger of flooding because of global warming and emergency engineering work needed, say engineers.
Read the full story ›
Round the clock security will remain in place at a site where protesters were evicted last month in Bristol.
Campaigners camped out at Stapleton allotments in opposition to a new MetroBus route. Bristol City Council won a court order to remove them.
It says ongoing site surveillance and the eviction has cost hundreds of thousands of pounds.
Work is underway to reconfigure the allotments, making sure there is no interruption to local food production as a result of work on the MetroBus scheme. No allotments are being lost and improved facilities will be put in place for allotment holders including more parking, more water points and a new allotment building.

Once work on the allotments is complete, construction work for the bus-only junction will get underway. The link, which is part of the North Fringe/Hengrove Park MetroBus route, is expected to reduce journey times between Hengrove and the University of West of England by 27 minutes, linking people in South Bristol with growing job opportunities in the north of the city.

The site will remain under guard, with the situation reviewed regularly. Whilst there is a cost to this, it is far less than the cost of clearing another occupation of the site. The costs of the recent eviction operation and necessary ongoing site security are estimated to be hundreds of thousands of pounds.
– Bristol City Council spokesman
Advertisement
Land in Bristol that was occupied by tree protesters for six weeks has now been cleared for work on preparations for the city's Metrobus route.
The activists were evicted from Stapleton allotments last week. They say the scheme will destroy wildlife habitat and agricultural land but Mayor George Ferguson says he's looking at ways of minimising its impact.
Bristol City Council says the protest camp at Stapleton Allotments has now been cleared.
Bailiffs spent the past four days removing demonstrators from the site to make way for a new bus route. But the council says it is now preparing to address a separate illegal encampment which has been created near the M32.
A fourth day of evictions is underway at Stapleton Allotments, as Bristol City Council continues its operation to remove protestors objecting to a new bus route.
A city council spokesman said just five protestors now remain on the site.
"Given the scale and complexity of this operation things have gone very well indeed. The specialist teams have worked with great care to make sure people have been brought to the ground safely and respectfully."
– Peter Mann, Bristol City Council
Bailiffs are at Stapleton Allotments in Bristol for a third day of evicting protestors who are against a new bus route being built through the site.
Yesterday a dozen people were removed from the trees and a derelict building. Bristol City Council says around eight people remain . There have been no arrests or major incidents.
The council hopes to clear the site over the weekend so it can start work on this phase of the MetroBus scheme, with the first order of business being to move the allotments.
"The specialist teams conducted a detailed operation yesterday and safely brought a number of those in highly precarious tree top locations safely to the ground.

"We are increasingly concerned for the safety of those up in the trees, so the team's focus today will be on safely removing as many people as possible. However, we fully expect this final phase of the operation to continue at least into tomorrow."
– Peter Mann, Bristol City Council
Load more updates