Work on the two-year construction of the Stoke Gifford by-pass gets underway today.
It's part of the controversial Metrobus route which led to hundreds of protesters camping in trees in the Stapleton allotments.
That area of land will now be developed to make way for the new route. Evicting the protesters cost taxpayers over £1 million.
Sir Tony Robinson has hinted at the prospect of a new series of the hit BBC comedy Blackadder if they can afford Hugh Laurie's wages.
Read the full story ›
Advertisement
A rare red panda cub has been born at Longleat after keepers launched an international lonely hearts ad to find a mate for their male.
It's the first time the famous Wiltshire safari park has successfully bred red pandas.
Dad Ajenda, which means 'King of the Mountain', came to Longleat from Germany in 2012 and mum Rufina, meaning 'red-haired', arrived from Italy just over a year later, following an appeal by keepers.
The birth is particularly welcome as this particular pairing is deemed to be critical to the ongoing success of European Endangered Species Programme for the Red Panda.
Like their famous, but unrelated, namesakes the giant pandas, red pandas are increasingly endangered in the wild.
The species was officially designated as 'Vulnerable' by the International Union for Conservation of Nature (IUCN) in 2008 when the global population was estimated at about 10,000 individuals.
Like giant pandas about two-thirds of their food intake is made up of bamboo. Bamboo is not the most nutritious of foods so they have to eat a lot of it to survive.
As it is relatively low in calories, red pandas tend to spend much of their time either eating or sleeping.
As well as plain bamboo keepers supplement their diet with a mix of fruits, eggs and the occasional insects. They also make a special type of bamboo cake which the pandas are especially fond of.
A red panda was featured as Master Shifu, the Kung Fu teacher, in the 2008 film Kung Fu Panda and its 2011 sequel Kung Fu Panda 2.
We're delighted with how well Rufina is looking after the young cub and both mother and baby are doing brilliantly.

Cubs don't tend to start venturing out on their own for the first three months and Rufina, like all red panda mums, regularly moves the cub to different nesting areas.

This is perfectly natural behaviour but makes keeping track of the baby, or even confirming what sex it is, somewhat problematic for us!
– Robert Curtis, keeper
Farmers blocked the Tesco distribution centre at Avonmouth late last night - in the ongoing battle over falling dairy prices. The Farmers for Action group organised the protest in the latest of demonstrations over money.
Bristol's skyline is set to be lit up with two million volts of lightning in a spectacular show, against the backdrop of Bristol's Queen Square.
It will be the world's first biofuel pyrotechnics show marking the city's status as European Green Capital 2015.
It will take place in a month's time and organisers are promising a stunning visual extravaganza.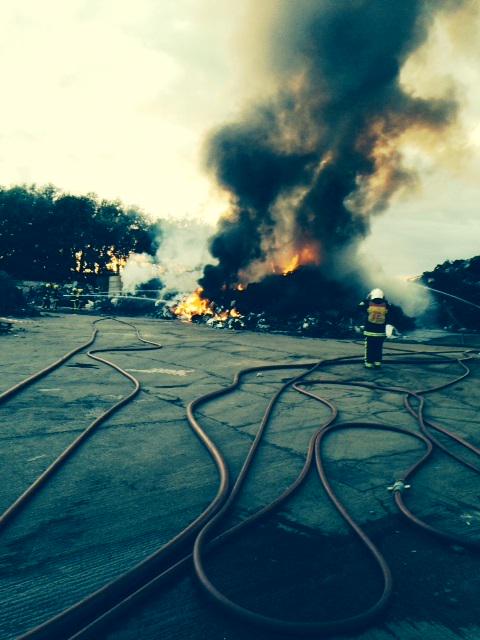 Devon and Somerset Police have shared a new picture on their Twitter account of a fire which broke out at a scrapyard in Glastonbury yesterday,
Firefighters believe the cause was accidental at the yard on Thomas Way Industrial Estate at about 7 o'clock last night, 21 July.
Advertisement
Firefighters believe a fire at a scrapyard in Glastonbury was caused accidentally.
It broke out in a large stack of scrap metal measuring 10m x 10m x 10m at the yard on Thomas Way Industrial Estate at about 7 o'clock last night, 21 July.
The police helicopter was called in to warn people to keep their doors and windows shut because of the smoke.
It was put out by about 11 o'clock.
Firefighters are battling a large blaze at a scrap yard in Glastonbury.
Large plumes of smoke could be seen rising from the Thomas Way Industrial Estate at around 7.20 this evening. It is believed a large stack of scrap metal, around 10 metres high, is involved in the fire.
The police helicopter is hovering overhead telling people to stay indoors with their windows shut.
Big fire somewhere in Glastonbury, it smells like burning plastic, hope no-one is hurt. http://t.co/mGT6lTNzjb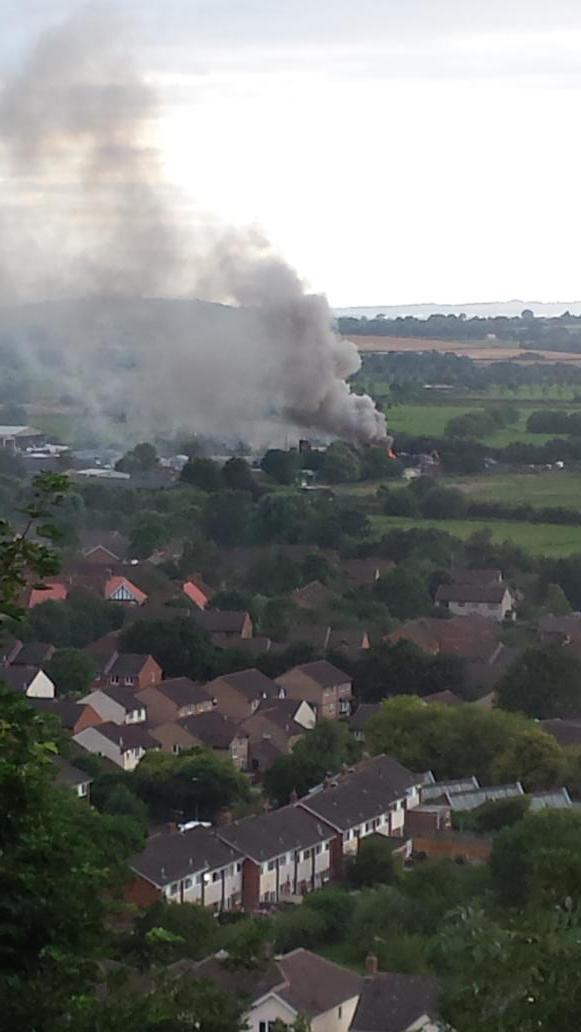 The Fire Service received numerous calls reporting a large fire within a scrapyard. One fire appliance was initially mobilised from Glastonbury was, after numerous calls Fire Control mobilised a second appliance which came from Street.

Whilst approaching the incident the crews requested a third appliance, as large plumes of smoke were seen coming from a scrapyard area, this appliance was mobilised from Wells.

Crews arrived on scene and confirmed large stack of scrap metal measuring approximately 10m x 10m and height 10m involved in fire. Crews got to work with one CAFS (Compressed air foam) attack jet supported from hydrant, crews also setting up water wall to prevent fire spread to secondary stack of scrap, together with two main attack jets currently being in used.
– Devon and Somerset Fire and Rescue
There is a fire on the outskirts of Glastonbury can residents please remain indoors and shut windows
The go-ahead has been given today for a 90,000 panel solar farm, planned on land owned by Dorset South MP Richard Drax at Mapperton. East Dorset District Council's planning committee deferred making a decision on 23 June because they said they needed to make a site visit. Seven councillors voted for the project and three against. There has been strong opposition from campaigners. The energy company is Wiltshire-based Good Energy. More shortly.
Bath is in danger of flooding because of global warming and emergency engineering work needed, say engineers.
Read the full story ›
Load more updates