People are gathering in Castle Park in Bristol for a march urging leaders to take action against climate change. It's ahead of a UN summit.
Read the full story ›
Advertisement
More than two thousand people are expected to join a climate change march in Bristol at noon today (Sunday 29).
It comes as world leaders from across the globe are converging on Paris to discuss environmental issues.
Bristol's mayor George Ferguson has said he will be attending: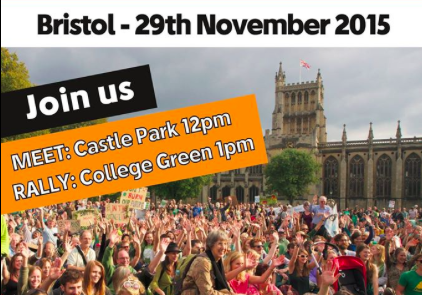 Tennis star Pat Cash, TV presenter Kevin McCloud and Bristol Mayor George Ferguson have helped plant a community orchard in Bristol.
Read the full story ›
People who live near Stroud are meeting tonight to discuss a planning application which could see 20 houses built on Slad Valley - the piece of land which inspired Gloucestershire author Laurie Lee.
The residents are worried that construction would lead to further developments.
The plan was submitted by Gladstone Developers, whose bigger plans have already been rejected.
The meeting is being held at 7.30pm tonight, Thursday, 26 November, at the Wesley Rooms in St Alban's Church, Stroud.
A fleet of "number two" buses - powered entirely by poo - could be picking up passengers in Bristol next year.
Wessex Bus is hoping to run a 20-strong fleet in Bristol while rival operator First West of England is looking to bring 110 poo-powered double deckers to the city.
The UK's first ever bio-bus, powered by methane gas extracted from human waste, began services in the city last year on the appropriately named No 2 route.
The route currently runs from Cribbs Causeway to Stockwood.
Advertisement
Campaigners have marked Road Safety Week by revealing drivers are endangering other people and themselves by spending too long sat down
Read the full story ›
A decision over the favoured site for a new park and ride site to the east of Bath looks set to be delayed after the ruling to propose a "cross-party review of potential sites".
A decision was due to be made last night on which of the three sites Bath and North East Somerset Council would pursue as its chosen option.
The debate has been controversial, with protestors singing in opposition against plans to build the new car park on meadow land near Bathampton.
All councillors will now be called in for a full council meeting to agree the best way forward.
See also:
Air pollution is killing nearly 200 people a year in Bristol, according to new government data. The city's air quality is illegally low.
Read the full story ›
Construction work on Somerset's Hinkley Point is to begin "within weeks" after a multi-billion pound deal between French energy giant EDF and China's CGN was unveiled this afternoon.
The agreement, reached after months of talks, priced the power plant at £18 billion - which was £6 billion less than expected.
Hinkley, which is already years behind schedule, has been given a revised start date of 2025. Initially it was planned to open in 2017.
Chairman of EDF, Jean Bernard Levy, called the signing "a big step forward" for the group's partnership with the Chinese.
"We are planning for a final investment decision within weeks so that we can move forward with construction."
– Jean Bernard Levy, Chairman of EDF
Load more updates