A Gloucestershire councillor has left UKIP saying the party 'doesn't really have a point any more' after the EU Referendum.
Read the full story ›
Bristol, Bath and North East Somerset and South Gloucestershire Councils have voted tonight to back a devolution deal for the West of England.
The deal - including a "Metro Mayor" - would see the region take over decisions on areas like transport and housing from central Government.
It would bring £30 million a year in investment.
North Somerset Council earlier voted against the move.
South Gloucestershire Council took longer to make its mind up as a number of councillors wanted to defer the decision until the country's situation is more certain following the EU Referendum.
Advertisement
Liam Fox has thrown his hat into the ring to be the next Conservative party leader. The North Somerset MP will launch his campaign tomorrow.
Read the full story ›
Hundreds of people are taking part in two major political demonstrations in Bristol this evening.
One, on College Green, was organised by the Remain-supporting Stand Together organisation to show its continuing backing for Europe.
Bristol voted overwhelmingly to stay in the EU, with more than 60% of votes backing Remain.

Whatever happens next we need to stand united with Europe, London, Scotland and other areas who did not vote to leave and send a clear message of support for internationalism, human rights, European friendship and the environment.

It's time to gather to discuss next steps, to stand up for unity and to channel the city's positive voices.

We will show that we stand alongside Europe, we are inclusive, open and want to celebrate our great city of Bristol and Europe.
– Stand Together
The other, at the Fountains, has been organised by Momentum, who are supporters of the Labour Leader Jeremy Corbyn.
He's facing increasingly calls to stand down following a vote of no confidence from Labour MPs.
Our Bristol Correspondent Richard Payne was there.
MP Jacob Rees-Mogg has backed Boris Johnson to be the next Conservative Party Leader.
In a statement the North East Somerset MP said he believed Johnson was best placed to carry out renegotiations with the EU for the UK's departure.
His calm response in the face of hostile verbal attack in the referendum debates showed his statesman like qualities and mastery of the detail.

In addition he has the verve and energy to be a great Prime Minister and leader of the Conservative Party. He has the sense to be a unifier and the charisma to be an effective representative of the nation on the world stage.
– Jacob Rees-Mogg
The Bristol branch of the campaign group Momentum will gather in Bristol in support of the beleaguered leader this evening.
Read the full story ›
Advertisement
The Bristol MP for Labour West Thangam Debbonaire has become the latest to resign from the shadow front bench.
In a statement she said:
"I have resigned today from the shadow front bench."

"I was delighted when Jeremy Corbyn asked me to serve as his Shadow Arts and Culture Minister. I gave the role my all and I know many arts and culture organisations valued the opportunity to be consulted about Labour's position on the arts."

"I have spent the last few months working hard for the constituency; for my boss Maria Eagle, the Shadow Secretary of State for Culture, Media and Sport; and for a vote to 'Remain' in the EU referendum last week."

"In Bristol West, we voted overwhelmingly for 'Remain', and I know that activists worked their socks off for the campaign. I was therefore very disappointed that Jeremy Corbyn did not put his heart and soul into arguing for our membership of the EU."

"Furthermore, David Cameron's resignation is likely to spark a general election. We need to be ready to win it. I believe that, with Jeremy Corbyn in charge, we would not be in a position to win over the general public."

"And I know he is not the right person to show strong leadership through Brexit negotiations."

"My resignation letter makes it clear how sincere my respect for Jeremy is and how difficult this decision has been."

"Many constituents have contacted me over the weekend, both in defence of Jeremy and in asking him to resign. Given that opinion is evenly split, I feel I can confidently follow my own views on this matter. I do understand that some people will be disappointed with my decision."

"I know that in time we can move forward as a strong, united Labour Party, working hard for Bristol and the country."
– Thangam Debbonaire, Lab, Bristol West
Kerry McCarthy - the Bristol East MP who resigned from Jeremy Corbyn's cabinet - says she's 'shocked and depressed' by accounts of racism.
Read the full story ›
Another West MP has added her name to an ever-growing list calling for a new leader of the Labour Party.
Bristol South MP Karin Smyth has joined at least ten shadow cabinet ministers urging Jeremy Corbyn to stand down.
In an open letter to her constituents she wrote:
Elections are the acid test for political leaders and when he became Labour leader I said that Jeremy Corbyn's job was to deliver the best electoral results for the Party he and I represent.

He has now led the Party into two nationwide electoral tests. In May's local elections across the country the Party barely held its head above water.

And in the EU Referendum, the Party failed to connect even with voters in scores of seats that have long been held by Labour.
– Karin Smyth
Karin Smyth has held the post of personal private secretary - a junior post - to Shadow Health Secretary Heidi Alexander, who has resigned from the shadow cabinet.
She concluded her letter by calling for a new Labour leader.
I know Bristol people need help and support in difficult times, perhaps now more than ever.

I also know Bristol needs a Labour government. It is my view we can only realistically deliver this with a new leader.
– Karin Smyth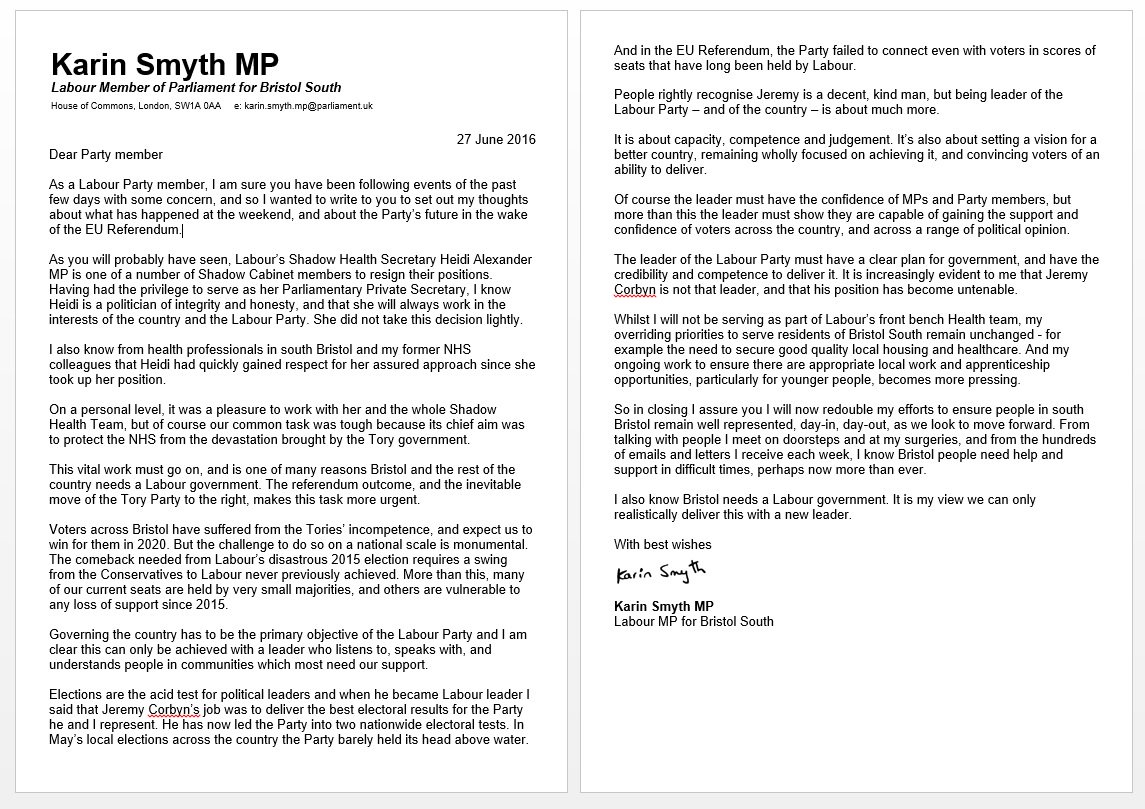 Load more updates