Stadium Setback
Bristol City Council has dropped its defence in a legal challenge over the future of Ashton Vale, where Bristol City FC want to build a new stadium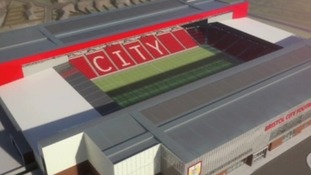 Another public inquiry will be held over the future of Ashton Vale as Bristol City Council drop its defence over a legal challenge.
Read the full story
Stadium U-turn: council says it wants the row resolved
Bristol City Council tell me their decision not to contest legal challenge on Ashton Vale is aimed at deciding stadium row more quickly.
From
@richardpayneitv
on Twitter:
Advertisement
Bristol City Councils drops defence to a legal challenge over Ashton Vale
Bristol City Council has dropped its defence over the future of Ashton Vale, where Bristol City FC wants to build its new stadium.
The decision will mean the council will now commission an independent inspector to hold another public inquiry over the future of the site.
Back to top