Gas Explosion In Cheltenham
The emergency services are currently responding to a gas explosion on Rosehill Street in Cheltenham.
Gas explosion victim out of hospital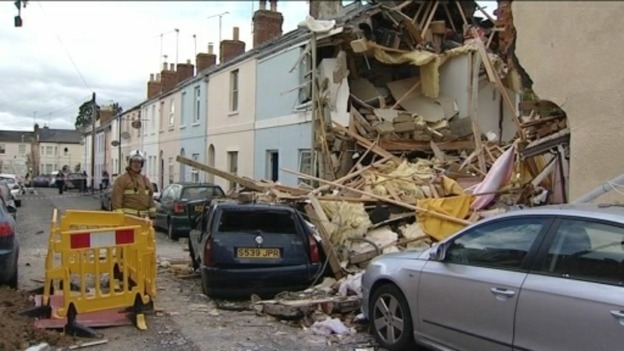 An 81 year old woman has left hospital about two weeks after she had a miracle escape from an explosion which ripped her terraced home apart. Betty Hodgkiss suffered only a broken leg, cuts and bruises in the blast in Rosehill Street, Cheltenham and has now been discharged to recuperate.
Rescue teams spent half an hour removing bricks and other debris before finding her in a void made by fallen timbers at her home and her escape was described as "miraculous" by a firefighter at the scene
Cheltenham gas explosion: appeal for donations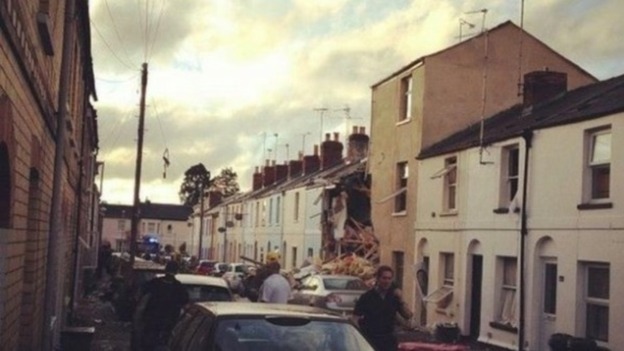 An appeal's been launched for donations to help residents whose homes were damaged by a gas explosion in Cheltenham.
The two properties either side of the house that blew up on Rosehill Street are being pulled down in an operation that's expected to take up to three weeks.
Eleven other properties were severely damaged in the blast, which happened on 10th May.
Some of the affected families are in hotels and rented accommodation.
Local residents are asking companies to see whether they can donate anything that can help. They are also planning a street party.
Betty Hodgkis, 81, whose house was destroyed in the blast, is still recovering in hospital.
Advertisement
Gas Explosion: Demolition of damaged houses
Two houses have been demolished in Cheltenham. They had been either side of the house destroyed in a gas blast last week. Its occupant, 81 year old Betty Hodgkiss remains in a stable condition in hospital. Robert Murphy reports
Gas explosion: We hear from a resident who is raising money for those affected
Residents of Rosehill Street have begun a collection to buy flowers for Betty Hodgkiss, who remains in hospital. Ellie McGuffie, who is organising it, says they are also raising money for those left homeless and the fire crews who worked so steadfastly to try to save their homes.
Two neighbouring houses demolished following gas explosion
Demolition work has begun to pull down the remains of houses destroyed in a gas explosion. Families were left homeless following the explosion on Rosehill Street in Cheltenham last week.
Watch the first pictures of the demolition work taking place:
81-year-old Betty Hodgkiss was rescued from the remains of the house where the explosion occurred and is in a stable condition in hospital. The two neighbouring properties are being demolished.
Demolition work completed in Chelteham
Up close at no. 36 Rosehill St, Cheltenham. It's taken little over an hour to knock down. But how long to rebuild? http://t.co/NAGdST0q
From
@RobMurphyitv
on Twitter:
Advertisement
Demolition work begins in Rosehill Street following gas explosion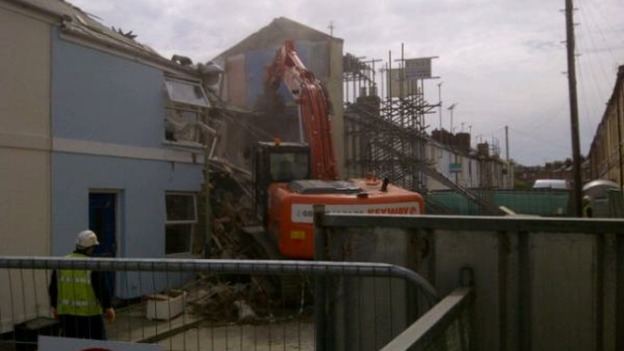 Work has begun to pull down the remains of a house destroyed in a gas explosion on Thursday 10th May. It happened on Rosehill Street at about 7.30pm. For updates on this story, follow our reporter Robert Murphy on Twitter.
Demolition work begins following gas explosion
Gas explosion: Families left homeless
by Robert Murphy
Families who've been left homeless by a gas explosion in Cheltenham might not be able to return for a year. One house on Rosehill Street was destroyed, the two homes either side were severely damaged and eight more properties have been declared uninhabitable. Robert Murphy has the story
Demolition will start this week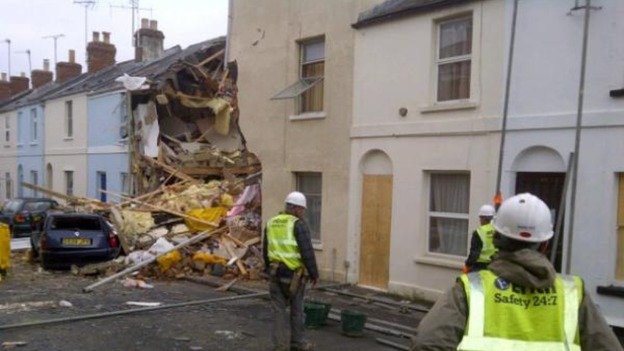 Demolition work will start midweek in Rosehill Street, where a suspected gas explosion destroyed a terraced house. Cheltenham Borough Council says it doesn't know how many homes will have to be demolished following the blast which affected eleven homes. Our reporter @robmurphyitv is there.
Load more updates
Back to top