Wiltshire Dog Attack
2-year-old Kieran Guess was attacked by a neighbours dog in June this year. We have the first pictures of his injuries and his recovery.
Parents of a boy mauled by a dog say they're grateful he's home
The parents of a two-year-old boy who was mauled by a dog in Swindon say it was a miracle he survived. Doctors gave Kieron Guess a fifty-fifty chance of living following the attack last month. He has now returned back home home and we have the first pictures of his recovery.
Jonty Messer has this report: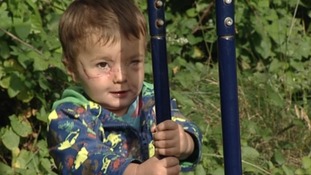 Parents of a two-year-old boy who was mauled by a dog in Swindon say it's a miracle he survived. He was given a fifty-fifty chance of living
Read the full story
Advertisement
Back to top