Luckington Manor Fire
10 fire engines are dealing with a major fire at Luckington Manor in Wiltshire.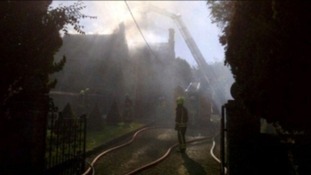 A blaze that destroyed part of Luckington Manor on Friday was most likely caused by sunlight reflecting off a mirror
Read the full story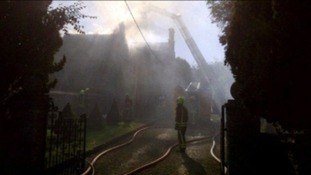 A fire has severely damaged Luckington Manor in Wiltshire. It started in a bedroom yesterday and spread through a wing of the house.
Read the full story
Advertisement
Dave Jacomb from Wiltshire Fire and Rescue describes the challenge firefighters faced
Wiltshire Fire & Rescue Service remains at the scene of a significant fire at Luckington Manor, Luckington.

The blaze is currently contained to one wing of the property, although it has affected both floors and the roof.

Firefighters are currently unable to tackle the flames from within the house, as the structure is unsafe.

The attendance is being scaled back from ten fire engines to six. It is anticipated that the incident will continue for several hours yet.

As yet, there is no suggested cause of the fire – investigations will start as soon as it is safe to do so.
– Wiltshire Fire & Rescue Service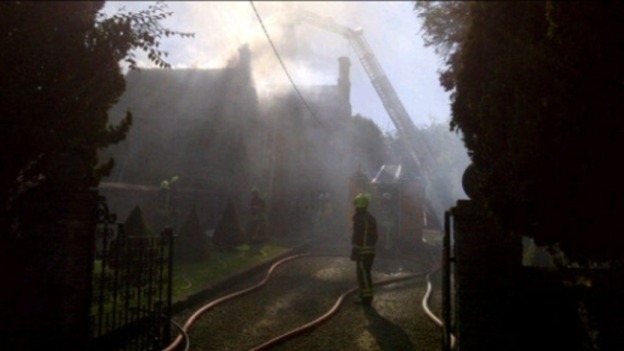 Ten fire crews have been dealing with a blaze at Luckington Manor in Wiltshire.
Advertisement
A fire has broken out at Luckington Manor in Wiltshire.
10 fire engines from Malmesbury, Chippenham, Tetbury, Corsham, Westleigh in Swindon, Cricklade, Melksham, Calne, Dursley and Bradford on Avon are currently at the Grade II listed building.
Eyewitnesses say the roof of the building has collapsed, but there are no reports of any injuries.
Police have closed all roads around the manor, which is owned by the family of a sheikh who died last year.
Luckington Manor is a three storey building, measuring approximately 100m by 30m.
Wiltshire Fire & Rescue say the fire has so far caused severe damage to the first floor and about 30% of the property.
Back to top