Flooding Hits The West
Heavy rain yesterday and overnight has led to flooding across the West. The Environment Agency has 12 flood warnings in place across the whole of the south west. Surface water is also making driving hazardous.
The VW Show due to take place on Sunday at Berkeley Castle in Gloucestershire has been cancelled due to the bad weather. Organisers say the field is waterlogged.
They say a new date will be set for next year in due course. All exhibits and stalls will be valid for the new date.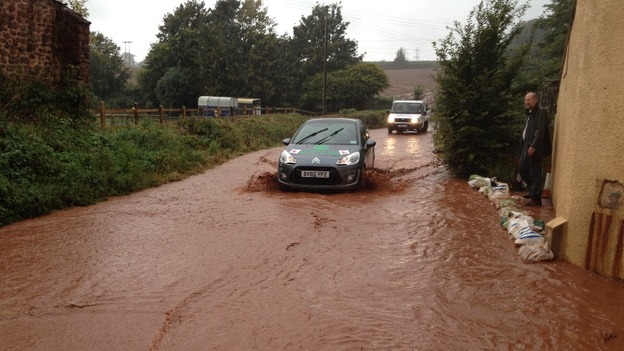 The main road between Milverton and Wellington in Somerset is flooded.
These pictures were taken by our Somerset correspondent David Woodland, and show floodwater coming off the fields at Chipley.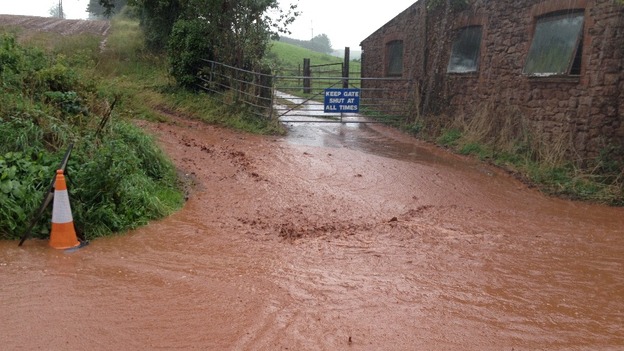 Advertisement
There are no flood warnings issued from the Environment Agency at present.
Emergency services have had a hectic 24 hours, with the area's fire services alone dealing with around two hundred calls.
A number of people have had to be rescued, including two people being pulled from their car in Curry Mallet near Taunton.
And flooding in one Somerset village was so deep that even the fire brigade were unable to pump the water out.
Our Somerset correspondent David Woodland has this report:
Torrential rain has hit large parts of the West today, causing havoc for commuters, businesses and homeowners.
The Met Office said that in the last 24 hours around two inches fell on many places. Filton near Bristol had nearly 63 millimetres - that's two and a half inches. Winchcombe in Gloucestershire got a 40 millimetre soaking.
Richard Payne looks at how many of us were left stranded by a miserable start to the working week:
The B3162 at Broadwindsor in Dorset is closed between the B3163 and Norway Lane (Lewesdon Hiill). Several tonnes of mud and trees are on the road following a landslip. The Council Highways department is dealing with the problem.
Advertisement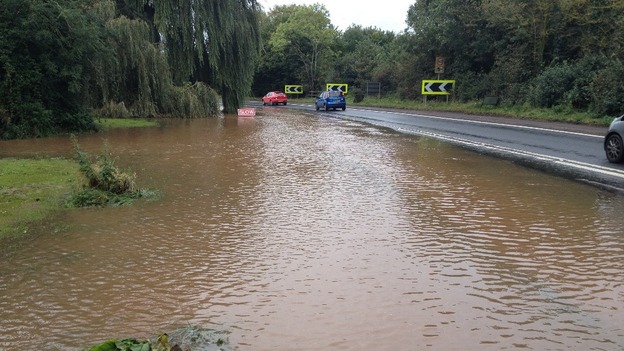 This is one example of the flooding that has hit the West Country, causing big delays during the rush hour. Our Somerset Correspondent David Woodland took this shot of the A38 near Wellington where surface water meant one lane was impassable.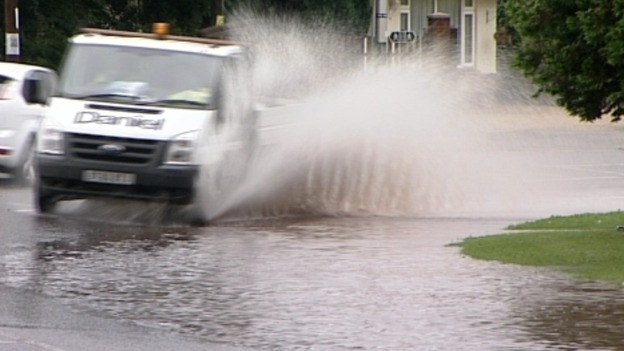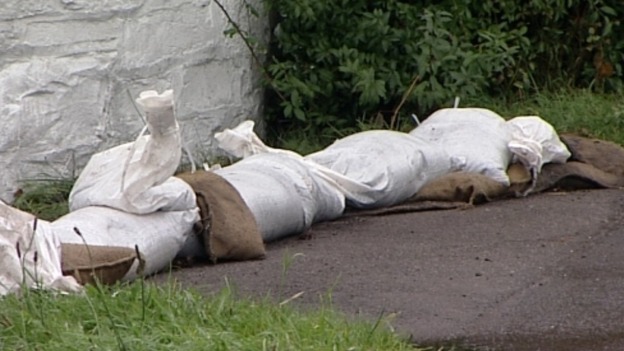 The Met Office has now released its rainfall figures for the 12 hours between 9pm last night and 9am this morning.
Filton, South Glos 62.8 mm
Liscombe, Somerset 54.4 mm
Little Rissington, Gloucestershire 41.8 mm
Winchcombe Sudeley Castle, Gloucestershire 40.4 mm
Westonbirt, Gloucestershire 38.8 mm
Boscombe Down, Wiltshire 30.2 mm
Yeovilton, Somerset 30 mm
Lyneham, Wiltshire 30 mm
This radar picture from the Met Office shows the pattern of heavy rain moving across the West Country overnight
Load more updates
Back to top