Care Home Neglect Sentencing
11 care workers who admitted ill-treating or neglecting patients at a private care home in South Gloucestershire will be sentenced today.
Jason Gardiner was one of the care workers at Winterbourne when the abuse was taking place. He admitted 2 counts of ill treatment but wasn't jailed today - he was given a 4 month suspended sentence and 200 hours of community service. This is what he had to say outside Bristol Crown Court.
#Winterbourne families of victims "our children have suffered greatly & it will take a long time for physical and mental scars to heal"
#Winterbourne Jason Gardiner admits we are all to blame West Country Today at 1.50pm
#Winterbourne 17 families taking civil action against Hospitals former owners Castlebeck
Advertisement
The company who ran Winterbourne View care home have issued a statement welcoming the end of court proceedings, after 11 staff admitted ill-treatment and neglect of patients in their care.
Castlebeck welcomes the finalisation of the legal process concerning the wholly unacceptable and criminal behaviour witnessed at Winterbourne View.

When those events at Winterbourne View Independent Hospital were exposed in May 2011, the board and the company's then Chief Executive expressed their unequivocal and unreserved regret to the service users involved and their families.

They also gave a clear commitment to protect the safety and well-being of all those who use Castlebeck's services and swift and decisive action was taken as soon as the allegations were raised almost 18 months ago.
– Castlebeck Ltd

Six of the accused were given immediate prison sentences ranging between six months and two years, after an undercover investigation by the Panorama programme discovered patients at the care home in Bristol were subjected to abuse from their carers.

Five other staff were given suspended sentences.
The incoming new Board and management have and will continue to reform the business to prevent this ever happening again.

A wide-ranging programme of improvements and changes has been undertaken and the new team at Castlebeck are committed to do all we can to avoid such events ever happening again.

However it should be noted that Castlebeck did not have the opportunity to comment on the Serious Case Review before it was published. Unlike other agencies cited Castlebeck was not represented on the enquiry panel. We do not accept all the comments made in the review.
– Castlebeck Ltd
Six of the 11 defendants facing charges of ill-treatment and neglect of people at Winterbourne View private home have been sentenced to prison.
Wayne Rogers, 32, of Purton Close, Bristol was sentenced to two years.
Alison Dove, 25, of Chipperfield Drive, Bristol and Graham Doyle, 26, of Brackendene, Bradley Stoke, Bristol were both sentenced to 20 months.
Holly Draper, 24, of The Old Orchard, Mangotsfield, Bristol recieved 12 months.
Sookalingum Appoo, 59, of Dial Lane, Bristol, and Kelvin Fore, 33, of Ellesmere Walk, Middlesbrough were both sentenced to 6 months.
Five other defendants; Jason Gardiner, 43; Micheal Ezenagu, 29; Charlotte Cotterell, 22; Niel Ferguson, 28; and Danny Brake, 27, all received suspended sentences.
All 11 former care workers being sentenced for the ill-treatment and neglect at Winterbourne View care home will be placed on the Independent Safeguarding Authorities barred list.
The authority helps prevent unsuitable people working with vulnerable people, including children.
The judge sentencing 11 care workers who between them admitted 38 charges of cruelty and neglect, has said the private hospital they worked at was run with a 'view to profit' and a 'culture of cruelty'.
Judge Neil Ford QC added that there was a scandalous lack of regard to the interest of patients at the Winterbourne View private hospital in Bristol, and that without the undercover work by the BBC's Panorama programme, the 'systematic abuse of people' would have otherwise continued.
Follow @RBroxtonITV for the latest updates from Bristol Crown Court.
Advertisement
The Winterbourne View sentencing is about to start.
Judge Neil Ford QC has allowed tweeting throughout the case. Follow @RBroxtonITV for the latest from Bristol Crown Court.
11 members of staff who were filmed abusing severely disabled patients at a private hospital in South Gloucestershire are awaiting sentencing.
Two nurses and nine support workers who worked at Winterbourne View in Bristol have admitted a total of 38 charges of either neglect or ill treatment between them.
Two are in custody while the remaining nine are on bail.
Our Correspondant Rebecca Broxton is at Bristol Crown Court for the sentencing. For the latest updates follow her on twitter: @RBroxtonITV
[Rebecca Broxton @RBroxtonITV (https://twitter.com/RBroxtonITV)Winterbourne - wayne Rogers leaving court in prison van pic.twitter.com/ZvAsyQjR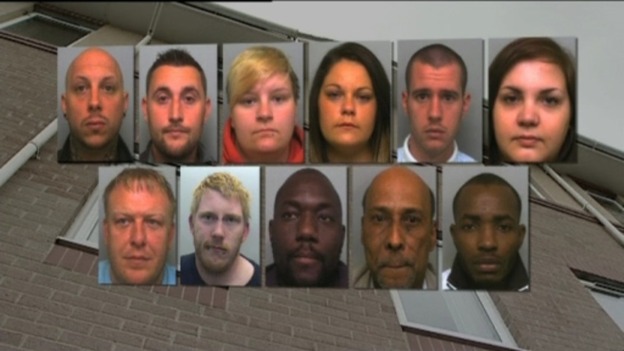 Load more updates
Back to top