PCC Elections
Voting for the role of Police and Crime Commissioner takes place on Thursday. There'll be one for each of the five police forces across the south west.
With a low turnout across the South West and throughout the country, we asked voters in Taunton why they did not go to the polls for the Police & Crime Commissioner election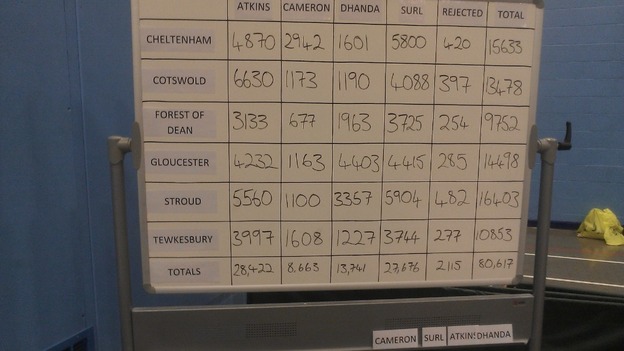 Counting is under way in the second round of the Gloucestershire Police & Crime Commissioner election in Stroud. It's now a 2 horse race between Victoria Atkins (Conservative) and Martin Surl (Independent)
Advertisement
Early indications are that the Independent candidate Sue Mountstevens has won the Avon & Somerset Police & Crime Commissioner election. Official counting is just getting underway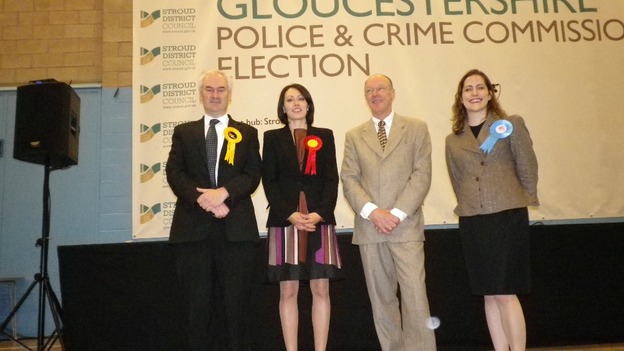 The first county to county and declare their winner was Wiltshire. Council staff worked overnight to tally up who had won.
The Tory Angus Macpherson received 28,558 votes. In second place was Clare Moody for Labour with just over 16 thousand votes.
Our Wiltshire reporter Robert Murphy sends this report from Swindon.
Stroud turnout = 18%
Cheltenham turnout = 17.6%
Gloucester turnout = 15.7%
Cotswolds turnout = 19.8%
Forest of Dean turnout = 14.8%
Tewkesbury = 16.4 %
Which means the gloucestershire county turnout was 17.1%
Advertisement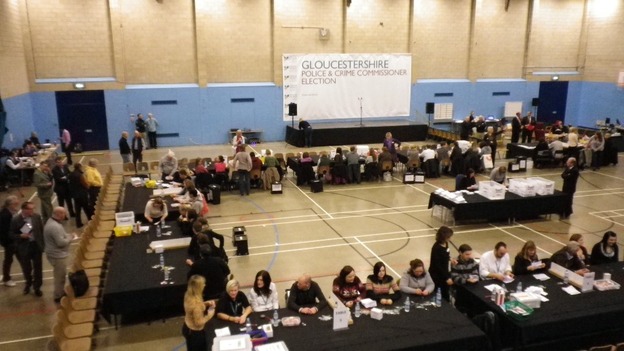 Counting is underway at the Stratford Park Leisure Centre in Stroud where the first ever Police & Crime Commissioner for Gloucestershire will be announced later today.
With counting now underway it has been confirmed that the turnout for Gloucestershire's Police & Crime Commissioner Election was 17.1 %
Wiltshire Chief Constable Pat Geenty has issued a statement following the PCC election in the county
"I wish to congratulate Angus Macpherson as the first Police and Crime Commissioner for Wiltshire and Swindon. Wiltshire Police is an excellent Force with dedicated and hard-working officers and staff and a good history of performance showing a reduction in overall crime over the last five years*.

"The aim for Wiltshire Police remains one of reducing crime and anti social behaviour and keeping it one of the safest counties in the country.
– Pat Geenty, Wiltshire Chief Constable
Wiltshire was the first county in the country to declare in the early hours of this morning, where turnout was 15.8%.
It would have been better if more people voted. There are several reasons why people didn't come out to vote - they didn't understand what the job is. They didn't know who the candidates were and couldn't make a judgment. And then, depressingly, there were a lot of people while we were out on the street saying 'I don't (vote) for anything'.
– ANGUS MACPHERSON, WINNING CANDIDATE
It is a new system and people have emailed and contacted us saying that they didn't know enough about the candidates in order to be able to make a choice. Obviously, that's something which I have got no control over.
– STEPHEN TAYLOR, WILTSHIRE'S RETURNING OFFICER
Load more updates
Back to top