Funeral for ski death schoolgirl
The funeral of ten-year-old Jemima Prees from Wiltshire who died in a skiing accident will be held later.
Wiltshire school girl was 'a ray of sunshine'
The parents of a Wiltshire school girl killed in a skiing accident have described her as 'a ray of sunshine.' Jemima Prees from Colerne near Chippenham died instantly when she hit a tree at an Apline resort earlier this month.
Her funeral was held in the village today. Ahead of that, they spoke to our Wiltshire reporter Robert Murphy.
Brother tried to revive sister after ski accident
The Prees family were on the last ski run of the day in Innsbruck when Jemima careered into woodland and was knocked unconscious. Her father and her brother Barnaby both witnessed the accident on February 10.
Recalling the incident, Tim Prees described how Barnaby spent 40 minutes trying to revive his sister, despite the fact she was "fairly clearly dead". His actions drew praise from emergency services who arrived at the scene.
They allowed him to carry on, because they did say they couldn't have done any better.
– Tim Preese
Advertisement
Funeral of girl, 10, killed in skiing accident
10-year-old Jemima Prees from Colerne, Wiltshire, died after hitting a tree while on a family skiing holiday in the Tyrol region of Austria. Her funeral will be held today at the Church of St. John the Baptist in Colerne at 3pm. Our reporter Robert Murphy has been speaking to her parents.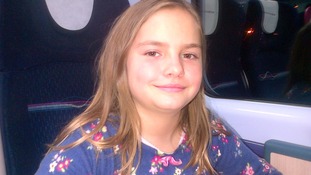 Jemima Prees from Wiltshire was killed after hitting a tree at high-speed while on a family skiing holiday in Austria.
Read the full story
Ski death update: from our Wiltshire reporter
The family of a ten-year-old girl from Wiltshire who died in a skiing accident in the Alps is returning home.
Jemima Prees from Colerne was on a family holiday at the Mayrhofen resort in the Tyrol region of Austria.
She suffered head injuries when she lost control and hit a tree, despite wearing a helmet. Robert Murphy reports from the newsroom
Webcam video of the Alpine resort where 10-year-old skiier died
Jemima Prees from near Corsham, Wiltshire, was skiing with her family in Mayrhofen in the Tyrol region of Austria. She died after careering head first into a tree, despite wearing a helmet. Her brother and father tried to help her at the scene.
She was quickly airlifted to hospital in Innsbruck but doctors couldn't save her. Jemima was a pupil at Calder House, a school for children with special educational needs near Chippenham. She's described as a popular pupil who was very keen on the theatre.
Advertisement
Wiltshire schoolgirl dies in skiing accident
A British schoolgirl aged 10 has died after skiing into a tree athigh-speed during a family holiday in the Austrian Alps. Jemima Prees from Chippenham, Wiltshire had been skiing with her father and brother at the Mayrhofen resort when she is said to have lost control and shot into an off-piste area.
After she careered out of control through a heavily wooded area, witnesses say that Jemima was unable to stop and hit a tree at fullspeed. Her father and brother gave her first aid on the slope beforemountain rescuers arrived. The girl was wearing a helmet when the accident happened.
Paramedics flew her to hospital in Innsbruck by helicopter, within minutes of Sunday's accident, but health officials confirmed this morning that she had died.
Back to top