Aircraft lands in garden
A light aircraft has come down in a garden in Up Hatherley in Gloucestershire. It happened at around 10.45am. Paramedics have checked the pilot and he is unhurt.
Investigations are continuing into an air crash in Cheltenham yesterday.
A Cirrus light aircraft was heading to Gloucestershire Airport when it crashed into the garden of a house in Up Hatherley. The 76-year-old pilot escaped unharmed.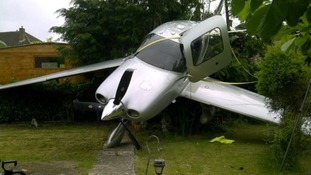 An airplane parachuted down into a garden in Gloucestershire. The pilot walked away with barely a scratch.
Read the full story
Advertisement
A 76-year-old man has walked away uninjured after the plane he was flying crash landed into a garden in Gloucestershire.
The fire service was called to Langdale Road in Up Hatherley near Cheltenham just before 11 o'clock this morning. They found the aircraft lodged in a tree.
Police and paramedics say the pilot escaped unharmed - and the fact there were no further casualties was down to luck.
Ken Goodwin reports:
National
An eyewitness has described the scene as a plane crashed into a garden in Cheltenham earlier today.
Jeannie Bowers, 46, was standing in her partner's garden when she saw the incident unfold:
I was just making a coffee and I heard a plane in trouble. I looked up and there was a big pop and banging sound and then a whoosh of air.

The parachute went up and the plane slowly came down towards the ground gently turning and hanging from this parachute just towards me.

No one was hurt and it managed to miss every single building - the shed, the summer house and greenhouse.

It's just amazing how its come down and no one was hurt. It was very, very surreal. I can still see it coming down now.

It was a very strange experience and I am just glad no one was hurt.
Simon Workman catches the moment a light aircraft lands in a garden in Up Hatherley, Gloucestershire.
Advertisement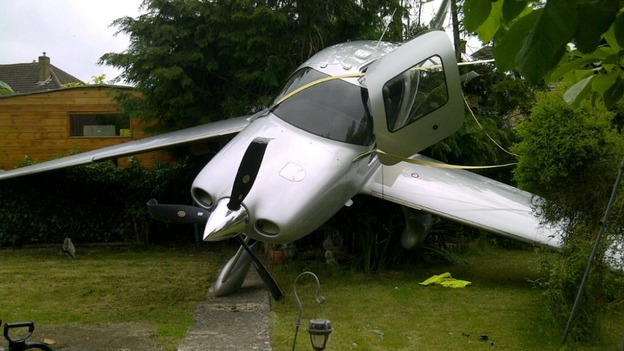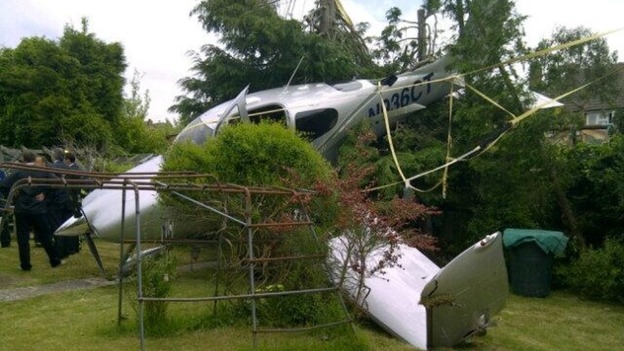 Load more updates
Back to top