A-Level results day
The proportion of A-levels awarded top grades has fallen for the second year amid a rise in students taking science and maths, official figures show.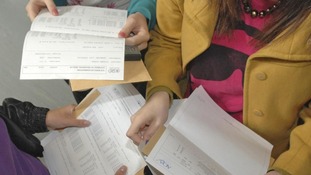 Thousands of students who do not get the results they hoped for still get places at university through clearing. Here's how it works.
Read the full story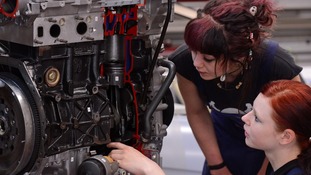 Whether you are considering looking for a job, apprenticeship, course or a gap year, there is a website to help you.
Read the full story
Advertisement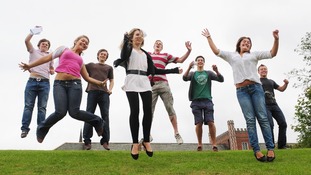 National
Britain's biggest teachers' union said Government education reforms will harm the prospects of disadvantaged students in the future.
After A-level results were revealed today, Christine Blower, General Secretary of the National Union of Teachers, said:
Today's results demonstrate the continued high achievement of students and the hard work of their teachers.

It is likely that in future years, as a result of the decoupling of AS-Levels from A-Levels as well as end to modularity, fewer disadvantaged students will continue in education.

A-Levels are just one qualification in an overly complicated 14-19 education landscape, where there is a lack of parity of esteem between different types of qualification.

If A-Levels are the 'gold standard', then let us make our way towards a system in which vocational qualifications are afforded equal respect.
– Christine Blower, NUT
National
A teaching leader said he was "worried" about the huge variance in subjects chosen by girls and boys in their A-levels.
Brian Lightman, general secretary of the Association of School and College Leaders, said teachers should challenge stereotypical views:
We need, as teachers, to try and raise awareness of these stereotypical views that occur.

But it's a societal thing as well; in wider society we need to try and break those stereotypical models. We need to show role models of people who are doing different things.
– Brian Lightman
There are of course plenty of alternatives to higher education. New figures show apprenticeships are becoming more popular as the cost of degrees rises, together with fewer job opportunities at the end of it.
Katie Rowlett has been to one of the region's largest employers, to see the apprenticeship scheme in action...
Advertisement
Today has been the biggest day so far in the lives of thousands of students across the region - A level results day.
Overall, top grades are slightly down but, as our Education Correspondent Richard Payne reports, there are still plenty of success stories...
National
The chief executive of Ucas said students who applied late or got lower A-level grades than expected could still choose from a large selection of courses.
Mary Curnock Cook said:
We have nearly 30,000 courses which are advertising vacancies in clearing.

A lot of those will only be for people who have the very highest grades because the Government arrangements for funding mean that universities aren't limited as to how many of those they can recruit.

The reality is that there are vacancies across all sorts of courses and institutions.

So anybody who is applying late after they got their results or who didn't quite get what they wanted today, there are loads of opportunities for them to find out about what is available through our website.
You can see what courses are available in the clearing process on the Ucas website.
National
Students in England, Wales and Northern Ireland are awaiting their A-level results tomorrow with many planning on going to university.
However a survey carried out for ITV News found that 36 per cent of students have more than £25,000 worth of debt.
It was also revealed that of those surveyed, five per cent turned to gambling while another five per cent used payday loans to cope with the debt.
ITV News' Consumer Editor Chris Choi reveals the lengths some students go to, to cope with the rising cost of going to university:
National
A record number of students have already been accepted on university courses with 385,910 securing a place, up nine per cent on this time last year, Ucas figures showed today.
Load more updates
Back to top