Manager salutes historic goal
Cheltenham town manager Mark Yates has praised striker Jamie Cureton after he scored the 250th goal of his career. Cureton hit the milestone at the weekend
In a threat to make all defenders wince, Jamie Cureton told ITV News West Country that he wants to continue playing into his forties.
The Cheltenham Town star, now in his 12th club, said he wanted to go on for "as long as my body lets me".
Following his record breaking 250th goal at the weekend he refused to say which of the 12 clubs was his favourite, but he did reveal a soft spot for one Westcountry team. But you'll have to watch the video to find out which one!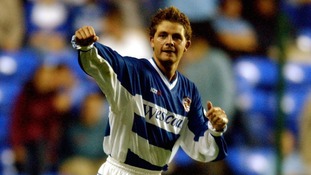 Jamie Cureton has been plying his trade across the Westcountry for the last 19 years, scoring goals wherever he goes
Read the full story
Advertisement
I note that former #colu striker Jamie Cureton scored his 250th career goal on Saturday, 4 Cheltenham, from 718 games - a good goal ratio
Congratulations to former Reading FC favourite Jamie Cureton on 250 career goals. #ReadingFC
The Manager of Cheltenham Town has praised Jamie Cureton's 250th goal of his career, but says he should have got it earlier in the game.
Speaking to the club's website Mark Yates said:
Jamie's goal was opportunism but he should have scored after the first minute and it turned into a bit of an air shot. Nothing bothers him though and he is a great professional.
– Mark Yates, Cheltenham Town Manager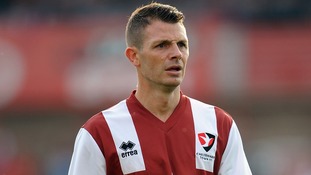 Back to top