Floods clean-up continues across the West Country
There have been major problems across the region after a band of heavy rain hit the West.
West Country (W)
The A372 is blocked at Othery, Somerset, between White Hill and Load Pool, due to flooding.
The A361 through Burrowbridge, Somerset, is still closed between Riverside and Cuts Road (East Lyng) due to flooding.
Advertisement
The Government has announced an additional £6.7m to help local councils deal with the damage caused by flooding and recent severe weather. The money will be used to help affected communities recover.
One of those most affected is the area around Muchelney on the Somerset Levels. Despite the problems being faced by those who live there, they say community spirit is keeping them going.
John Bevir reports:
National
Councils who are faced with repair bills running into hundreds of millions of pounds in the wake of heavy rain and flooding are calling on the Government for help.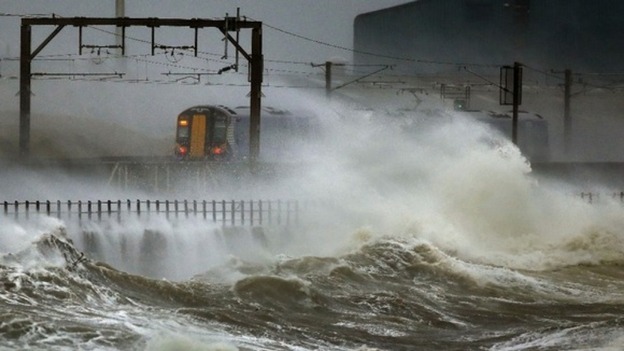 The Local Government Association wants the Department for Transport to create a highways maintenance emergency fund, similar to the one set up in 2007 following severe flooding, to help affected local authorities with funding for emergency and unforeseeable works to their local roads network.
Read: Royal Marines help rescue stranded cars in Cornish village after UK storms
The LGA said that the Government help plan - the Bellwin Scheme - to assist in times of extreme floods - only goes so far and warned that vital investment in local growth and infrastructure projects could suffer if government does not step in to ease the cost of flood repairs.
National
The Local Government Association said that with an existing £10.5 billion repair backlog for highways, the Government's Bellwin Scheme is not adequate funding to cover repairs caused by the severe weather, and local councils have been left with a "daunting trail of destruction."
Read: Flood-hit councils ask Government for emergency cash
The severe weather has left behind a daunting trail of destruction for councils to clear-up and fix.

...While we are pleased the Bellwin Scheme will be activated, the fact remains that Bellwin is severely limited as it does not cover most capital costs.

An emergency highways maintenance fund would provide essential support to those councils who now face hefty and unexpected repair bills as a result of the flooding.

These bills are likely to place significant financial pressures on already stretched council finances and it is vital that local communities are not left to suffer as a result.
– Mike Jones, the LGA's environment and housing board chairman

Flood Recovery Minister Brandon Lewis said "the Government is now fully focused on helping those affected get back on their feet", adding that it was "providing over £3.4 billion in this Parliament and over £5.8 billion in the next for local highways maintenance."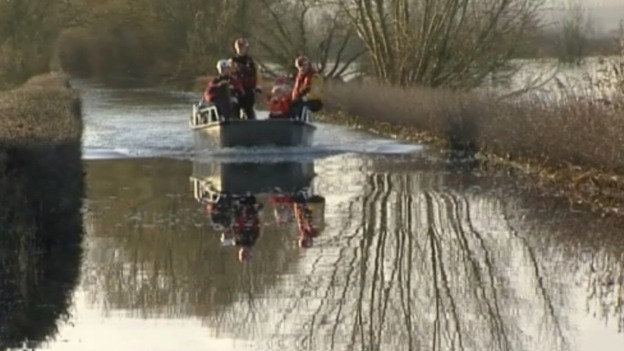 An oil company is giving free fuel to people living in a Somerset village cut off by floods.
Residents of Muchelney are rapidly running out of heating oil, because vehicles can't get to their homes. 40 containers are due to be delivered by boat this morning, donated by Certas Energy.
Advertisement
The Bridgwater MP Ian Liddell-Grainger today added his voice to calls for two rivers to be dredged to ease flooding on the Somerset Levels.
There have been arguments in recent years about how much water could be carried by the Tone and Parrett if they were cleared of silt - and how much flooding would be prevented.
Our Somerset correspondent David Woodland has found proof at Somerset's first pumping station that the bed of the River Parrett there is now ten feet higher than it used to be:
There have been renewed calls in Parliament today for two rivers in Somerset to be dredged to ease flooding on the Levels.
The problem has been especially bad this year and residents claim it's made worse by silting of the rivers Tone and Parrett.
Today the area's MP, Ian Liddell-Grainger, called for routine dredging - which stopped several years ago - to be resumed:
West Country (W)
A woman has been rescued from her car after driving into flood waters near Bridgwater.
Devon and Somerset Fire and Rescue say the woman drove past numerous road closure signs on the A361 and are reminding people not to attempt to drive through flood waters.
Three year old Elsa Sadler can't have a birthday party because the floods on the Somerset Levels mean her friends can't get there.
Read the full story
Load more updates
Back to top