Lions put down at Longleat
Six lions have been put down at Longleat Safari Park after they displayed "odd aggressive behaviour" attributed to genetic defects.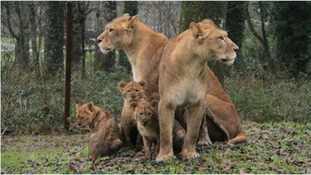 Longleat Safari Park in Wiltshire says it had to destroy five of its lions because they had serious genetic defects caused by inbreeding.
Read the full story
National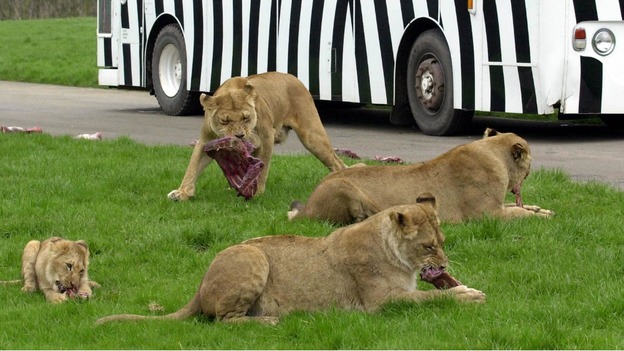 One of Britain's most popular safari parks has defended a decision to cull six lions after an increase in pregnancies, which staff said had caused "excessive violent behaviour".
Longleat Safari Park in Wiltshire said a lioness and her cubs were suffering from "neurological development disorders" and ruled euthanasia was the "responsible option".
The explanation on the the park's Facebook page was met by a mixed reaction from the public.
The cull comes after a public campaign failed to stop Copenhagen Zoo from killing a young male giraffe.
Advertisement
Six lions have been put down at Longleat in Wiltshire.
In a statement the Safari Park said the decision was taken after the animals exhibited "odd aggressive behaviour." They also say a review of the genetic lineage of the lions showed inbreeding amongst their grandparents before coming to Longleat.
At the age of 13 months, at the collection where she was previously held, Louisa exhibited neurological clinical signs which were thought to have been caused by inadequate nutrition leading to hypovitaminosis A.

This was treated at the time but never fully resolved itself and she continued to exhibit clinical signs of head tilt and tremors throughout her life.
Despite suitable nutrition these neurological signs were present in her cubs, which were clearly distinct from other litters in the pride as they all individually exhibited adverse neurological signs such as ataxia, incoordination and odd aggressive behaviour that were not considered normal or appropriate compared to other animals within the collection.

Reviewing the genetic lineage of Louisa and her cubs it was found both Louisa's parents exhibited relatively high levels of inbreeding, prior to arrival, at a grand parentage level and great-grand parentage level.
After considering the pressures in the group, due to the recent increase in

pregnancies, and the developmental disorders present in the cubs it was reluctantly decided that euthanasia was the responsible option for these individuals.

These decisions involve communication with all of our current staff, management team and with independent external ethical reviews undertaken to ensure we are consistent with best practice.
– Longleat Safari Park
Back to top