A former Avon and Somerset Superintendent has received a surprise letter of thanks – from His Holiness the Dalai Lama.
Read the full story ›
Police have been out on horseback in Bristol today, searching for missing musician Paul Griffiths - who disappeared over a week ago from the Priory Hospital.
His family have also been out on the streets this week, saying they are "desperate" and afraid for the safety of the 60-year-old, who suffers from anxiety and paranoia.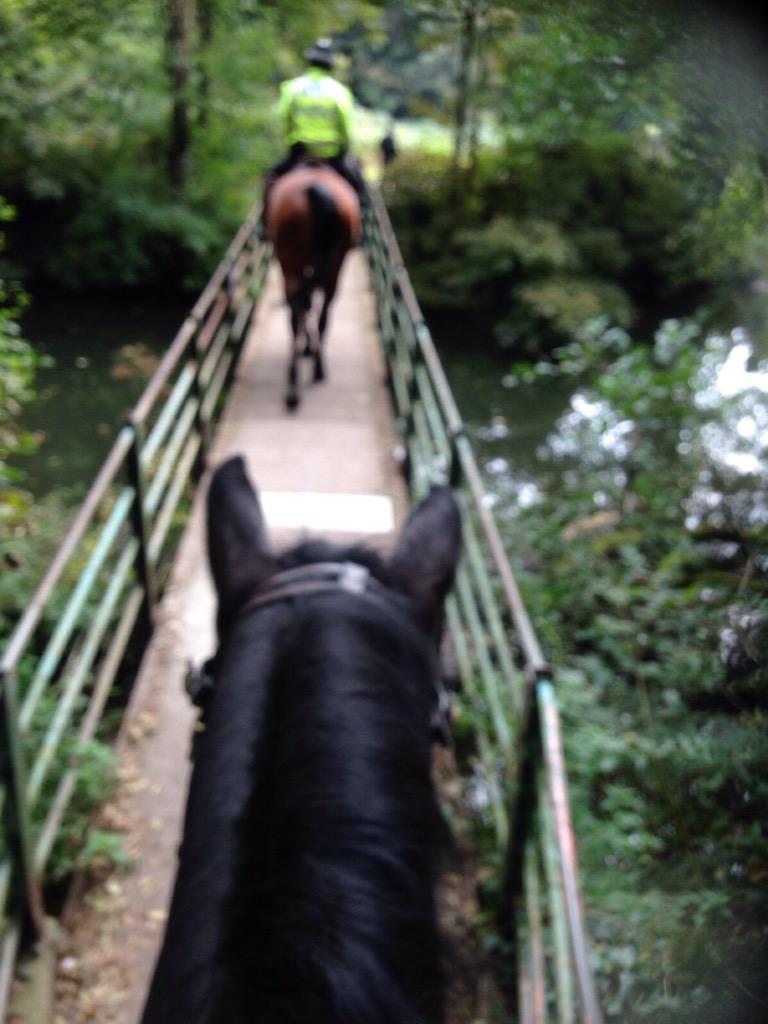 Advertisement
The Police and Crime Commissioner of Avon and Somerset has received a letter from Her Majesty's Chief Inspector of Constabulary in support of a Nick Gargan resignation.
The letter - which was sent to Sue Mountstevens - could help decide the fate of her Chief Constable, who was found guilty of eight counts of misconduct by an independent panel.
In the letter Sir Tom Winsor confirms he agrees the Chief Constable of Avon and Somerset should go. Nick Gargan has 14 days to respond.
Commissioner Mountstevens told us the situation had been "damaging for everyone concerned".
A married Avon and Somerset police officer who had an affair with a teenage escort has been cleared of raping her.
Peter Lower, 52, allegedly contacted the 19-year-old through a website. The jury cleared the custody sergeant of rape, convicted him of one charge of actual bodily harm, and was undecided on three assault charges.
A woman was stopped from plummeting to her death from a cliff in Bristol by a quick-thinking police officer who managed to grab her by her hair just in time.
PC Jeanette Cadden was holding a beat surgery on Saturday evening when she spotted the woman apparently attempting to kill herself in the Avon Gorge.
The woman had climbed over the fence and was on the cliff edge when PC Cadden managed to grab her hair and stop her falling hundreds of feet.
A man who was passing with his girlfriend saw PC Cadden struggling to keep hold of the woman and came to her assistance, helping to pull the woman back over the fence.
Police are trying to trace the man to issue a proper thank you.
I managed to get to the woman just in time and stop her from falling but had the man not come to help me, I physically would not have been able to pull the woman back over the fence to safety and she may have lost her life.

He told me his name was Paul and he was from the Totterdown area of Bristol and was out on an evening stroll with his partner.

I would really like to give a proper thanks to someone who acted quickly and without thought to help me and ultimately save this woman's life.
– PC Cadden, of Avon and Somerset Police
Police are appealing after a 13-year-old girl and a woman were sexually assaulted at Bristol's Cribbs Causeway Mall.
Police say both were attacked by the same man, at separate times in the Superdry store on Sunday 16th August.
Anyone with information should contact Avon and Somerset Police on 101, quoting crime reference number 90223/15.
The suspect is described as having a dark complexion, dark hair and wearing a light shirt, beige chinos and black shoes.
Advertisement
A court has heard how a married police officer from Avon and Somerset began an affair with a teenage escort that culminated in repeated rape.
Peter Lower allegedly contacted the 19-year-old through a website and then became abusive as the relationship developed. He denies all charges and the trial continues.
Another MP has condemned the process that's led to Avon and Somerset Chief Constable Nick Gargan being asked to resign.
Mr Gargan was told to step down after an independent panel found him guilty of eight counts of misconduct. But Charlotte Leslie has joined fellow MP Ian Liddell-Grainger in saying the process smacks of "a witch hunt devoid of real facts".
Police want to speak to a man about the theft of a charity donation box from a Domino's Pizza in Bristol.
A man ordered two pizzas, then stole a charity box from the counter of the pizza shop in the Fishponds area of the city last month.
Staff ran after him but he managed to escape.
Anyone with information should call PC Lydia Richards at Trinity Road police station via 101.
Police are appealing for witnesses after a 16-year-old girl was sexually assaulted as she left the Bristol International Balloon Fiesta.
The victim told police that she was touched inappropriately by a man at around 10.30pm on Saturday 8th August.
Avon and Somerset Police have released a description of the man in question and are asking the public to come forward with information.
He's described as white, between 25-30 years old, average build with short black hair and a stubbly beard.
He had a silver nose stud and a scar on the knuckles of his left hand. He also spoke with a foreign accent, possibly French.
Load more updates