Banksy generously gives our city his world renowned art yet these morons choose to damage it for no reason other than vandalism
– Carol Kingscott on Facebook
Surely if someone finds it that offensive they can report it to the council for cleaning off rather than vandalising and spoiling it for others who enjoy it. Probably the same idiots who vandalised the gromits around Bristol!
– Sarah Smith on Facebook
From the little I know of Banksy, he only paints pictures which are ''acceptable'' to the masses rather than Graffiti which is usually abhored by the masses. Why someone would want to destroy any of his works, is beyond me. Jealousy, perhaps?
– Matt Mitchell on Facebook
I think Banksy's work makes dull places look interesting, plus seeing as he is known globally, I'm sure he has helped to bring in extra tourism and that can't be a bad thing. I'd be quite proud if we had a Banksy on one of our buildings in Okehampton. Throwing paint over his work is just somebodies angry jealousy getting the better of them!
– Caitlynne Reddington on Facebook
Sightseers have been arriving at the scene of the latest Banksy to appear in Bristol after it was vandalised overnight..
Read the full story ›
Advertisement
The new Banksy mural which has apperared on a wall in Bristol docks has been defaced overnight.
The mural, which pays tribute to Vermeer's girl with a pearl earring, was splashed with paint, although the main part of the artwork is still visible.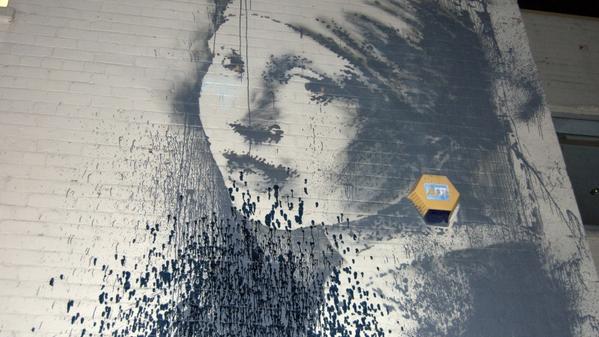 Banksy's latest artwork - which has appeared on a wall in Bristol docks - pays tribute to the work known as the Girl with a Pearl Earring by the Dutch painter Vermeer.
We thought you might like to compare the two...
The graffiti artist Banksy has once again chosen his home city for his latest work.
The mural, which pays tribute to Vermeer's girl with a pearl earring, has gone up on a wall in Bristol docks, near the Cottage Inn and ss Great Britain. Banksy's trademark sense of humour comes into play again though - with a burglar alarm standing in for the original's jewellery.
Advertisement
Here's a map of Bristol docks showing where you can track down the Bristol graffiti artist's latest work. We've called it "Girl without an Earring".
A little local knowledge in our newsroom has located the new Banksy near the Cottage pub on Hanover Place in Bristol docks.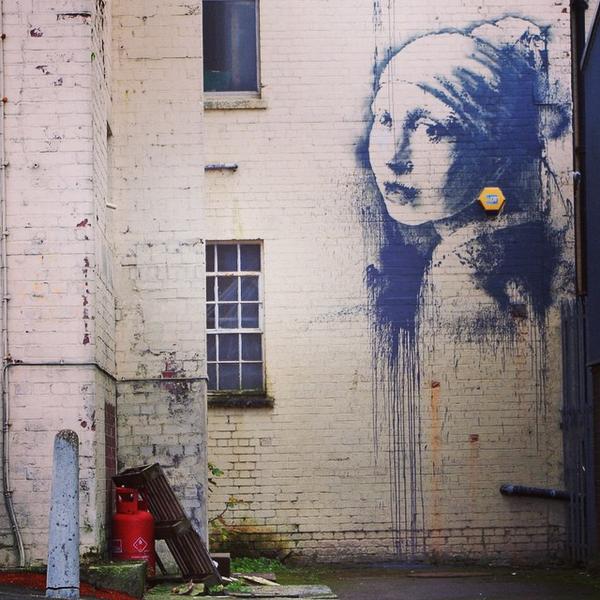 New artwork from Bristol artist Banksy has appeared in the city but as yet, no one has been able to say where exactly it is. The piece appeared on his website with few clues as to where it may be. Some have suggested it could be in an area behind the ss Great Britain.
Banksy appears to have taken inspiration from the Girl with a Pearl Earring, by Dutch painter Johannes Vermeer. The original uses a pearl earing as a focal point, however Banksy appears to have used an building's alarm system as his.
Load more updates