Sightseers have been arriving at the scene of the latest Banksy to appear in Bristol after it was vandalised overnight..
Read the full story ›
The new Banksy mural which has apperared on a wall in Bristol docks has been defaced overnight.
The mural, which pays tribute to Vermeer's girl with a pearl earring, was splashed with paint, although the main part of the artwork is still visible.
Advertisement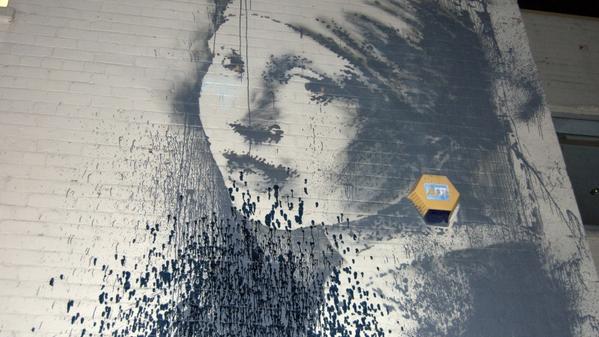 Banksy's latest artwork - which has appeared on a wall in Bristol docks - pays tribute to the work known as the Girl with a Pearl Earring by the Dutch painter Vermeer.
We thought you might like to compare the two...
The graffiti artist Banksy has once again chosen his home city for his latest work.
The mural, which pays tribute to Vermeer's girl with a pearl earring, has gone up on a wall in Bristol docks, near the Cottage Inn and ss Great Britain. Banksy's trademark sense of humour comes into play again though - with a burglar alarm standing in for the original's jewellery.
Here's a map of Bristol docks showing where you can track down the Bristol graffiti artist's latest work. We've called it "Girl without an Earring".
Advertisement
A little local knowledge in our newsroom has located the new Banksy near the Cottage pub on Hanover Place in Bristol docks.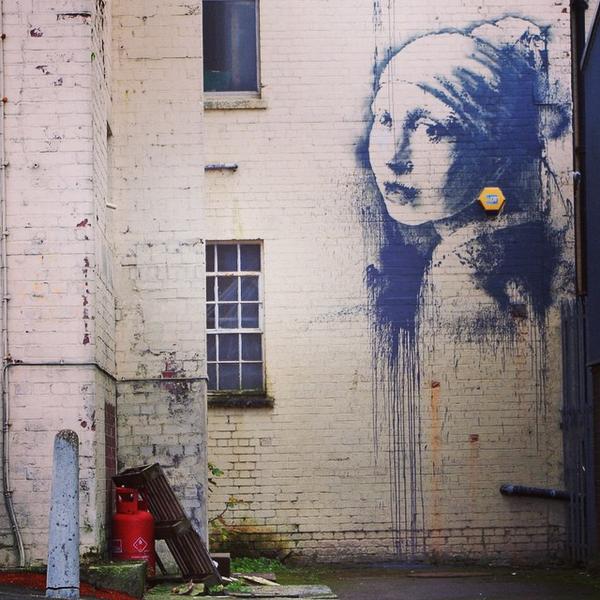 New artwork from Bristol artist Banksy has appeared in the city but as yet, no one has been able to say where exactly it is. The piece appeared on his website with few clues as to where it may be. Some have suggested it could be in an area behind the ss Great Britain.
Banksy appears to have taken inspiration from the Girl with a Pearl Earring, by Dutch painter Johannes Vermeer. The original uses a pearl earing as a focal point, however Banksy appears to have used an building's alarm system as his.
A controversial artwork by the Bristol artist Banksy has been sold for more than £400,000 - securing the future of a youth club in the city.
The 'Mobile Lovers' mural went up near the Broad Plain Boys Club in April causing a row with Bristol City Council over its ownership - which was only settled once the elusive artist intervened.
Caron Bell reports:
Load more updates