Bath's famous Christmas market had a famous visitor on its first day of opening.
None other than David Hasselhof of Baywatch and Knight Rider fame had a look round the German-style chalets yesterday, 26 November. You'd be forgiven for not spotting him though - it appears he went in disguise.
The Hoff was less clandestine when he went for lunch at a local restaurant. He didn't stay in the city though. He had to head for Scotland for his latest role - that of the Hook in Peter Pan in Glasgow.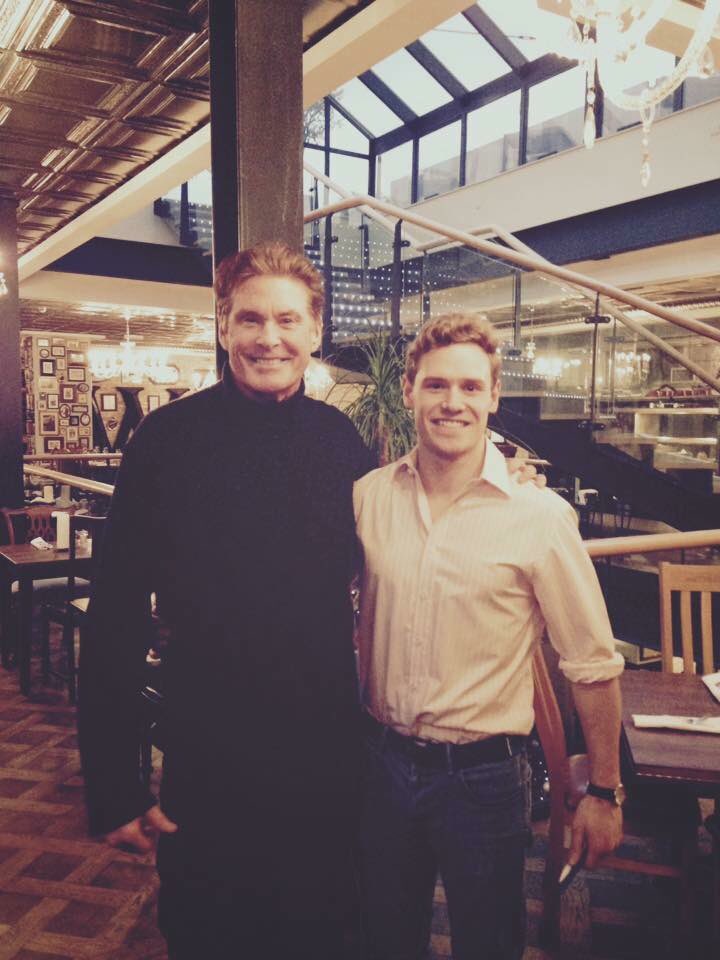 Harmonie-Rose, the toddler who was struck down by Meningitis B, has taken her first steps towards walking unaided with prosthetic legs.
Read the full story ›
Advertisement
A toddler who lost all her limbs to meningitis is closer to walking for the first time.
Harmonie-Rose Allen, who's from Bath, has been fitted with her first pair of prosthetic legs. The two-year-old's mother says the family is over the the moon.
Police are appealing for information after a woman in her thirties was sexually assaulted while watching Hitman: Agent 47 - at the CINEMA.
Only 14 people are thought to have attended the late-night showing of the action thriller where the assault took place at the Odeon cinema in Bath.
A 44-year-old man has been arrested in connection with the incident and another assault relating to the same victim, which happened later that night in Corsham in Wiltshire.
Police want to speak to cinema-goers who went to the 10.30pm screening of the film on Saturday 29 August.
European rugby returns this weekend with the Champions Cup and the Challenge Cup.
Bath have a tough ask, facing three-time champions Toulon at Stade Felix Mayo on Sunday but it seems they won't have too many problems with language on the pitch.
We put George Ford and Dave Attwood to the test. See how they get on with a few key rugby terms in French:
A decision over the favoured site for a new park and ride site to the east of Bath looks set to be delayed after the ruling to propose a "cross-party review of potential sites".
A decision was due to be made last night on which of the three sites Bath and North East Somerset Council would pursue as its chosen option.
The debate has been controversial, with protestors singing in opposition against plans to build the new car park on meadow land near Bathampton.
All councillors will now be called in for a full council meeting to agree the best way forward.
See also:
Advertisement
Protests are expected in Bath tonight at a meeting to decide on a controversial Park and Ride to the east of the city.
More than 5,000 people have signed a petition against the scheme at Bathampton Meadows.
Hundreds of people in Bath have been trying to break the record for the longest Selfie Chain.
They stood in line, taking turns to photograph themselves and then pass the camera on. Everyone wore cows ears as the attempt was organised by local charity Send a Cow.
It doesn't look like they managed to beat the current record of 5 hundred and 31, but it was all in a good cause.
An animal charity says there's a been a significant drop in the number of homes they've been able to find for stray dogs.
They're so desperate to find an owner for one of their charges that they've made a video about him.
Murdoch the lurcher was abandoned as a puppy. He has now been looked after by the charity near Bath for a year. But despite his loveable ways, no-one has taken him in.
You can find out more about the charity, Greyhound Rescue West of England, here.
And you can watch the video here:
Bath Rugby has said its goodbye to Sam Burgess, who has left the club and Rugby Union, to return to Rugby League in Australia. The club says Burgess, who has family is in Australia, left "for personal reasons". This comes after his rocky transition from League to Union and controversial selection for the World Cup, followed by a tough early exit for England.
The club insists it has been committed to Burgess' development as a Union player, but has agreed to release the 26-year-old from his contract - and says they are parting "on agreeable terms".
"We hoped that Sam would stay at Bath. He was doing really well in making the switch over from league and, given time, he could've been a great rugby union player. Unfortunately, for personal reasons, he is returning to Australia.

"However, we're fortunate that we've got some very high calibre players here at the Club, and with a big run of games coming up in the Aviva Premiership and the European Rugby Champions Cup, we'll be fully focused on these."
– Mike Ford, Bath Rugby Head Coach
Burgess is returning to his former club, the South Sydney Rabbitohs, who have said they "could not be happier" to have him back.
Load more updates