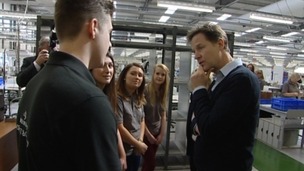 The Deputy Prime Minister has been in Somerset to open a factory that's created hundreds of new jobs.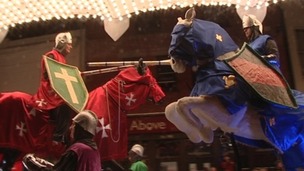 100,000 people lined the streets last night for the Bridgwater Carnival.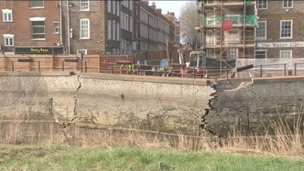 Engineers working on the collapsed wall are surprised it hasn't happened before.
Live updates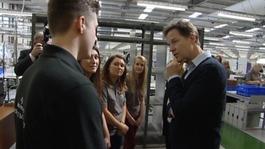 The Deputy Prime Minister has been in Somerset to open a factory that's created hundreds of new jobs.
Read the full story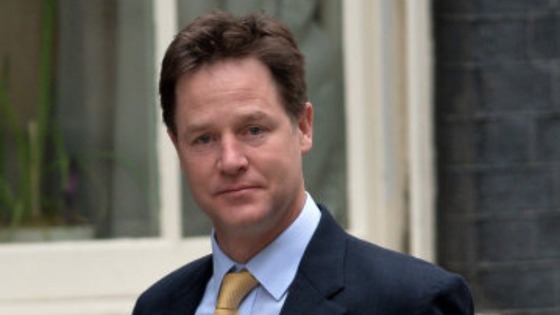 Nick Clegg will be in Somerset later today. The Deputy Prime Minister will open the new Mulberry Bag factory in Bridgwater. Hundreds of jobs have been created after the company received funding through the Government's Regional Growth Fund.
Advertisement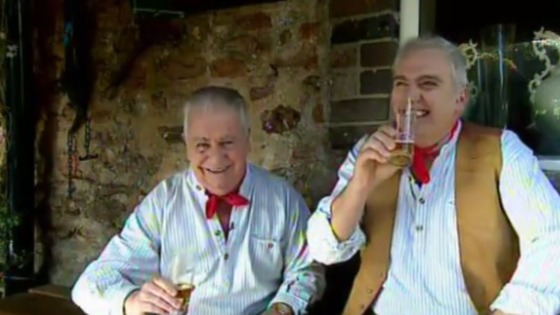 Legendary West Country band The Wurzels will be performing at a charity gig tonight. They are raising money for the flooded communities on the Somerset Levels at The Palace Nightclub in Bridgwater.
The Mayor of Bridgwater smoked up to 40 cigarettes a day for 40 years. David Loveridge has now given up - but says his life used to be ruled by the habit. He's been speaking on National No Smoking Day.
A man has received head and face injuries after he was allegedly assaulted in Bridgwater. The man was reported to have just left the Blake Arms when he was challenged by a man about comments he had overheard.
He is then believed to have been assaulted by a group of men who punched and kicked him. Police are asking for anyone with information to speak to them.
#M5 in #Somerset all lanes have now reopened s/bound J23 - J24 nr #Bridgwater after an earlier accident however long delays remain.
Advertisement
The M5 is currently closed southbound because of a serious accident involving two vehicles.
The carriageway has been shut between J23 (Bridgwater North) and J24 (Bridgwater South).
Cameras show traffic is currently being held.
Significant delays are expected on Somerset roads this weekend as a 145 ton boiler is moved to a paper mill in Watchet.
The boiler is 16ft wide, 16ft high and 100ft long and will be moved on Sunday (January 12). The journey will begin at 9am when it will leave Sedgemoor Services on the M5 and travel to junction 24.
From there it will head into Bridgwater on the A38, turn left onto the A39 Broadway and continue along the A39 through Williton to Washford Cross where it will turn right onto the B3190 and into the paper mill at Watchet.
Floods clean-up continues across the West Country
Three people needed medical help after a house in Bridgwater was struck by lightning.
Fire crews were called to the two storey home in Frederick Road just before 9am. They found severe damage to the second floor ceiling . An aerial platform was brought in and major damage was found in the roof space.
An ambulance was called to the scene after a 70-year-old man needed first aid, a 54-year-old man was treated for shock and a 92-year-old woman had chest pains.
A structural engineer and Western Power distribution were also called in.
More and more children across the country are being taken out of the classroom to be taught in the countryside. They're known as Forest Schools and they're becoming increasingly popular, with about 1,000 sessions taking place every month.
It's all part of a plan to make teaching more hands on and interesting. The idea started in Denmark and Sweden but Bridgwater College is the pioneer of the idea in the UK. Children are taught from the ages of 3 to 19.
David Woodland joined a group of nursery school children at a Forest School in Bridgewater
Load more updates
Back to top