Bristol airport has tweeted an apology this morning after passengers flying into the airport were forced to wait hours.
Read the full story ›
The South West has welcomed the government's decision not to devolve powers over air passenger duty to the Welsh government.
Read the full story ›
Advertisement
More than 100,000 people are expected to pass through Bristol Airport this weekend. As the summer season gets underway passengers are being advised to leave extra time to get to the airport.
A £24 million expansion is underway with the first phase of the new terminal opening in July. The work is expected to cause more traffic queues than normal.
"Many of our passengers this summer will be heading off for a well-earned break, so the last thing we want is for their journey to start with the stress of nearly missing a flight.

We want Bristol Airport to be the most convenient and friendly place to start your journey, which is why major developments are underway to further enhance our facilities. However, carrying out major construction work in a busy terminal can be challenging, so we are asking passengers to help us keep disruption to a minimum by following our advice when travelling this summer."
– Alison Roberts, Head of Terminal and Customer Operations at Bristol Airport
Repairs are taking place to a hole in the runway at Bristol Airport, which is affecting flights arriving and departing this afternoon.
Read the full story ›
A Boeing 787 Dreamliner will arrive at Bristol airport for the first time today.
It marks the launch by Thomson of direct long haul routes to a number of new destinations from next summer.
The long haul jet plane is claimed to be the most environmentally friendly and comfortable aircraft that's been built.
More than 170 passengers have been left stranded at an airport in the Canary Islands after their flight was delayed for over 48 hours.
Read the full story ›
Advertisement
More than 170 passengers have been left stranded at an airport in the Canary Islands after their flight was delayed for over 48 hours.
The Easy Jet passengers were due to fly home on Saturday from Fuerteventura but their journey has been cancelled several times.
Passengers troubles began on Saturday when their expected flight failed to take off due to "technical difficulties".
Engineers were called, but were unable to resolve the problem. An initial message from Easy Jet on their website read:
We are extremely sorry for the extended delay to your flight. Unfortunately we are unable to resolve the technical fault on your aircraft. As a result we have arranged for your flight to be operated by another aircraft.

This will be coming from London Stansted, therefore we have had to push back your departure time even further back. Please see one of our ground staff in the terminal who will be able to provide you with refreshment vouchers. We thank you for your patience.
– Easy Jet
It's 3am @easyjet and we still haven't got a bed for the night after you rescheduled our flight by 18hours
They later told passengers they were unable to extend their hotel stay, as availability was "low" and said they would refund any personal bookings passengers made.
Easyjet is now reporting that the flight from Fueteventura is due to take off at 6.30pm - landing into Bristol at 10.20pm.
Flights between Bristol and Brussels are expected to restart in the next few days after receiving the go ahead from the Belgian Civil Aviaton Authority.
The Belgian capital's airport was shut down after terror attacks killed 35 people earlier this month.
Three flights leave Bristol for Brussels everyday with another three arriving from Brussels too.
Bristol Airport has so far been unable to confirm when flights to Brussels would restart.
Flights to Brussels from Bristol Airport have been cancelled following yesterday's explosions in the Belgian capital which killed at least 34 people.
Security remains on high alert at the terminal building after the UK's own terror threat was raised yesterday.
For now the following flights are listed as cancelled on the Bristol airport website - passengers are advised to check for updates before they travel:
Departures
06:05 Flight number SN 2056 - cancelled
10:40 Flight number SN 2058 - cancelled
17:30 Flight number SN 2060 - cancelled
10:05 Flight number SN 2055 - cancelled
17:00 Flight number SN 2057 - cancelled
21:35 Flight number SN 2059 - cancelled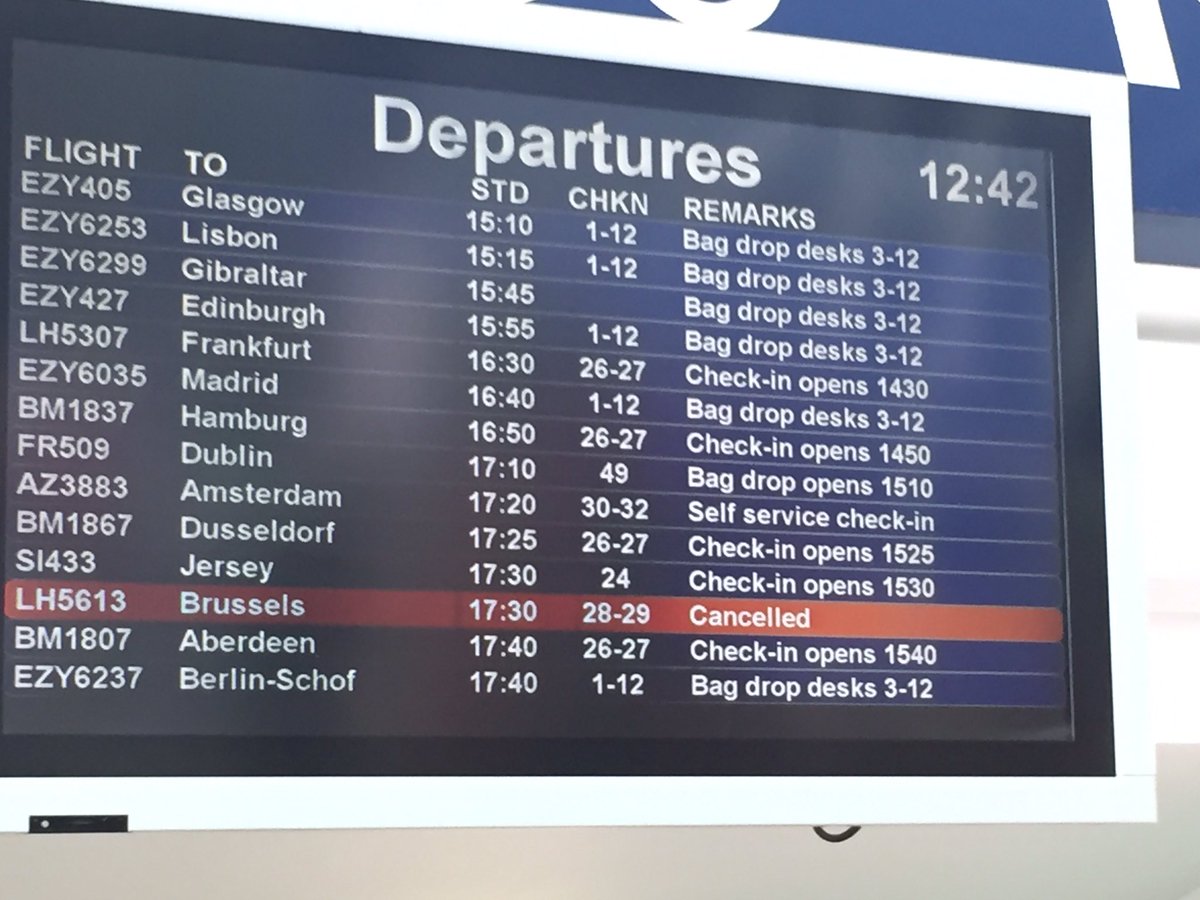 Terrorism expert Professor Bill Durodie, head of the politics department at the University of Bath, says that while a similar attack in the UK can't be ruled out, it's important to engage young people to make sure they feel part of their society - instead of looking for a sense of belonging from external groups.
So, what are the long-term solutions to the security concerns?
Load more updates