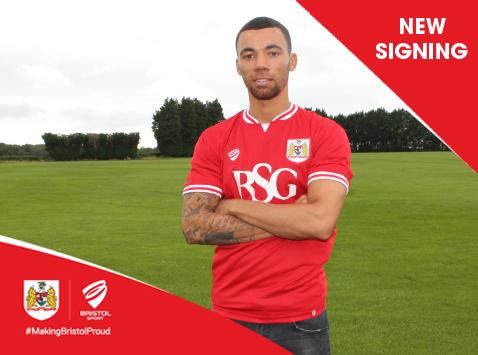 Bristol City have announced this morning that they have signed Tottenham Hotspurs wing-back Ryan Fredericks.
The 22-year-old has been signed under a three-year contract, for an undisclosed fee, having successfully passed a medical today.
Fredericks has made four appearances for the first team at White Heart Lane, all in the Europa League.
He'll provide us with lots of pace in an area where we needed more competition; that wing-back role is a hard shift game after game over the course of the season.

He's had a good grounding at Tottenham and enjoyed a good spell on loan at Middlesbrough last season. I'm sure he will fit in with our existing group of players.
– Manager Steve Cotterill
Bristol City have signed just one player so far this summer, French striker Jonathan Kodjia.
After last night's friendly against Yeovil Town, City manager Steve Cotterill explained the club's patient approach to the transfer market:
Advertisement
Bristol City fans have expressed outrage at the price of tickets for the side's first away game back in the Championship.
The board of Bristol City's Supporters Club & Trust have decided to stay away because they think £39 is extortionate.
Nobody's calling for a boycott, we just think it is a step too far. We think many City fans will vote likewise and choose not to go. Maybe in that way Sheffield Wednesday will get the message that this is unreasonable. After all, it will only cost Reading fans £25 when they go to Hillsborough. Where's the sense in that?
– Stuart Rogers, Bristol City Supporters Club & Trust
A spokesperson for Bristol City has issued this response
Ticket prices for this fixture are set by the home club and not by Bristol City FC. We will always look to set fair prices for supporters at Ashton Gate as we look to attract as many fans along as possible to support the team.
– BCFC spokesperson
The game will take place at Hillsborough on Saturday 8 August.
The final part of demolishing the Williams Stand at Ashton Gate stadium in Bristol takes place today.
Taking down the 60-year-old stand is part of the £45 million transformation of the stadium, the home of Bristol City FC and Bristol Rugby.
An 11,000 seater stand will take its place.
The demolition crews are at work again at Ashton Gate stadium in Bristol.
This time they're tearing down the Williams' stand in the next phase of rebuilding Bristol City's football ground.
Taking down the 60-year-old stand is part of the £45 million transformation of the stadium.
Once finished, it will become the largest conference and events venue in the South West.
Aden Flint, Bristol City's Outstanding Player of the Year, has extended his contract, and will be playing for the club until 2019.
The 25-year-old defender was awarded his 'Outstanding' title for his part in the club's double-winning 2014/15 season, in which they won their first title in 60 years.
Flint joined City from Swindon Town for an undisclosed fee in 2013. Manager Steve Cotterill said his game had improved hugely since then, praised his goal-scoring prowess and said he was thrilled to be keeping him around.
"I'm delighted to sign an extension ... I wouldn't have dreamt of getting a contract extension at the start of last season, but I think it's been a half-decent season personally for me and obviously a tremendous season for the club as a whole.

"I'm looking forward to testing myself in the Championship now."
– Aden Flint
Advertisement
Hot on the heels of their double league and cup success, Bristol City are making some big changes.
Star striker Jay Emmanuel-Thomas will leave Ashton Gate this summer after his contract expires. Though considered by many to be the most talented member of the squad, in recent months he has struggled to cement his place in the first team.
Captain Wade Elliott is not having his contract renewed either, but has been offered the job coaching the under-21s.
Jay has never been a minute's bother for me from the moment I walked in through the door. I love him to bits; he's a fantastic lad.

"The one thing he needs is regular football. I've not been able to offer him that this year and if I couldn't do that this year then there are no guarantees for next year either ... He'll get sorted out with a new club for sure and if he gets a deal with one of the clubs I've been speaking to then I'd be delighted for him."

"I've offered Wadey a coaching job. I'd be delighted if he accepted our offer, to be in charge of the Under-21s. He has to think about that, so that's a big decision for him ... He would be an excellent addition to my staff, as someone who knows me. He's got all the credentials to be a good, young coach ... There is no time frame. He will have other offers to carry on playing. I don't want to finish his career prematurely if he still wants to play."
– Steve Cotterill, Bristol City manager
Also not having his contract renewed is understudy goalkeeper David Richards.
Thousands of Bristol City fans have been lining the streets today as the team hold an open top bus tour to celebrate their league and cup 'double'. Steve Cotterill's men won the League One title and the Johnstone's Paint Trophy this season.
It's the first victory parade since 2007 - the last time they won promotion to the Championship. And you'll be able to see more on the bus tour on our program tonight.
Bristol City FC are holding an open top bus tour on Bank Holiday Monday to celebrate this seasons success.
The team are the Sky Bet League One champions and have secured promotion to the Championship after beating Bradford City earlier this month.
Two buses will carry players and staff from Ashton Gate at 12.30pm and head through North Street and Bedminster towards the centre.
After passing through Redcliffe, the bus will park at the Lloyds Amphitheater at around 2pm for a short presentation.
For a full route map click here.
Bristol City will pick up the League One trophy in just under two weeks after being crowned champions at the weekend.
They'll be able to celebrate with the silverware at their next home game against Walsall on Sunday 3rd May.
Load more updates