A Bristol City fan, who's been enjoying uninterrupted views of Ashton Gate on match days - from his shed - has been given a season ticket by the club.
Ben Swift, otherwise known as "Shed Man", has been able to catch games for free from the back of his garden ever since redevelopment of the stadium began. He'll lose that once the new south stand is completed so the club have given him a proper seat.
He told ITV News: "It's come as quite a big surprise they didn't really have to do that. I haven't really done too much in a way to earn it as I've been watching it for free for most of the season."
Bristol City are a step closer to Wembley after winning 4-2 at Gillingham in the first leg of the Johnstone's Paint Trophy area final.
The home side went ahead in the 6th minute, but Matt Smith responded with all four of City's goals. He's now scored seven times since joining on loan from Fulham.
No date has been confirmed yet for the return leg at Ashton Gate.
Advertisement
A total of £4,198.39 was raised by Bristol Rovers Supporters through bucket collections prior, during and after the New Year's Day Torquay United match at the Memorial Stadium, to help pay towards an operation for 6 year-old Bristol City fan, Oskar Pycroft.
Oskar has bilateral spastic cerebral palsy. He can't stand, sit or walk without help and is in constant pain with his muscles and joints. Without complex medical intervention, Oskar faces a life of continuing pain and will never be able to walk independently.
An operation called SDR which could change his life. Surgeons will perform the operation in Bristol on a private basis as Oskar does not meet current NHS criteria.
Oskar's mum Lizzy is aiming to raise £50k to enable Oskar to have this treatment in Bristol.
I would like to thank all our supporters and those of Torquay who gave so generously for Oskar's operation. This money, together with the Supporters Club quiz night and a donation from the Fans Forum, means the total donation from Bristol Rovers fans is in excess of £4,650 and I know this will greatly help boost Oskar's operation appeal.

It is only right that there should be rivalry in Bristol which is all part of the excitement of football. However, what is even more important is that football is very much a family. It is at times like this that two football families in Bristol have rightly come together to support Oskar to help him walk. We wish the youngster every success with the operation ahead.
– Nick Higgs, Bristol Rovers Chairman
You can find out more about Oskar's appeal here.
Bristol City are through to the area final of the Johnstone's Paint Trophy.
Steve Cotterill's men beat fellow League One side Coventry 2-0, with Derrick Williams and Aaron Wilbraham on-target at Ashton Gate.
They'll now play Gillingham over two legs - with the winners reaching the overall final at Wembley next March.
Bristol City fans have raised £10,000 for a young boy with cerebral palsy.
6-year-old Oskar Pycroft led the team out in his wheelchair ahead of their match against Preston North End on Saturday. The club have given their backing to a campaign to raise money for an operation in America which could help Oskar walk.
It's not everyday that the captain of Bristol City pops round to your house for a cup of tea to chat football but thats exactly what happened to 6 year old Oskar Pycroft.
Oskar suffers from cerebral palsy and Wade Elliott is lending his support as the family try to raise money for an operation in America which could help him walk.
Advertisement
A six year-old Bristol City fan will be leading out the team in his wheelchair as they face Preston North End at Ashton Gate tomorrow.
Oskar Pycroft has cerebral palsy and other problems and his family are raising money for an operation in the USA, which could help him walk.
Their campaign has won the backing of the club.
'They're doing a bucket collection for my operation and do you know why I want the operation? So I can walk more.'
– Oskar Pycroft
Swindon v Bristol City.Many clashes between groups.Immensely brave horses+officers.Many missiles.No injuries. PS3481 http://t.co/ZHa6HjqNJV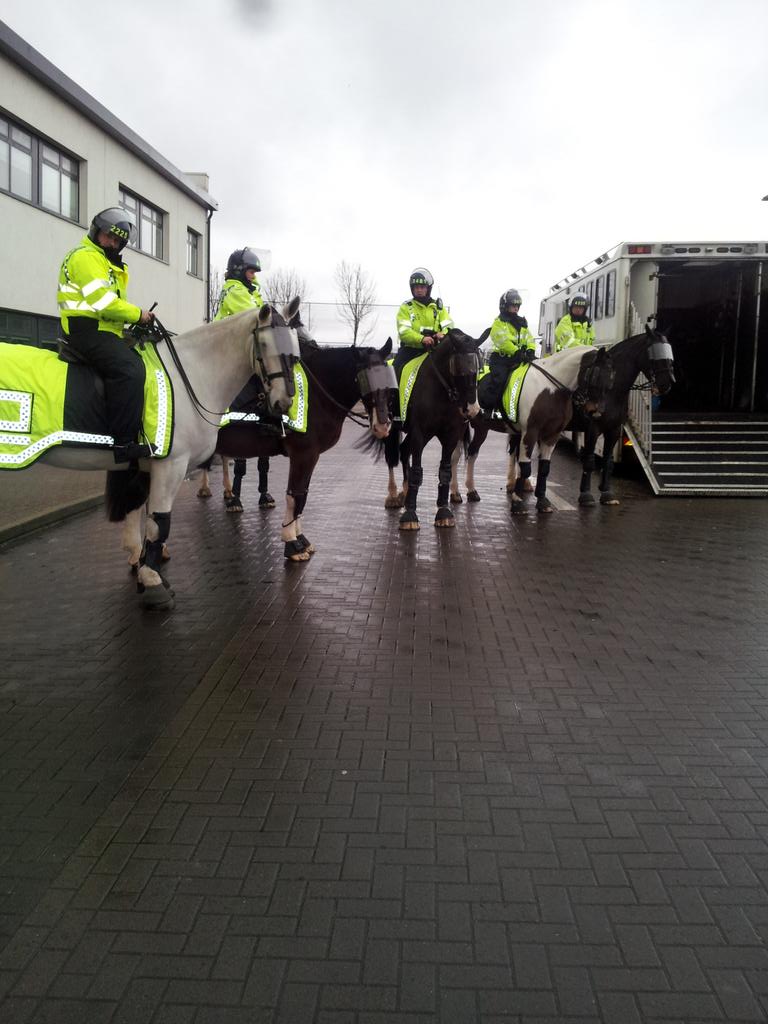 Mounted police in Wiltshire say that they were targeted with missiles at the County Ground in Swindon after clashes between Swindon Town and Bristol City fans on Saturday.
Thames Valley Police's mounted section received many supportive tweets after the match.
Pretty appalled that SwindonvBristol City game turned into an 'attack the mounted police' exercise today. No need for it at all. @tvp_horses
@tvp_horses so glad everyone is safe and uninjured. Pretty disgusting news. Please know there are many who support you and what you do!
A Bristol City fan has gained supporters of his own after he was seen watching his team play, for free, from the roof of his garden shed.
Ben Swift's home sits next to the Ashton Gate Stadium. When the club's Wedlock Stand was demolished in July it left him with a clear view of the pitch.
It's earned him the nickname 'East End Shed Man' and has won a league of followers on Twitter.
Former Bristol City head coach has a new job after a nine-month absence from the game.
O'Driscoll has been appointed as England Under-19s national head coach after being sacked by Bristol City last year.
Load more updates