A giant water slide has been set up in Chard town centre.
During the course of the day up to 300 hundred people are expected to head down it.
The event was the brainchild of Mayor Jenny Kenton, who's hoping the slide will help put Chard on the map.
Money raised from the event will go to the Mayor's five charities – Chard Museum, Chard and Crewkerne After Stroke Care, Chard Carers Support Group, Chard Town Team and Chard Area Youth Committee.
The event replicates an event in Bristol earlier this year, which saw people travel from all over the country to take part.
The slide is open for everyone over the age of six. Those under 1.20 metres tall will be able to head down later in the afternoon when the slide is shortened to allow younger children to take part.
A vacuum manufacturer in Somerset has been forced to redesign its products following new laws banning more powerful cleaners.
Numatic in Chard has had to adapt its Henry range of cleaners to follow EU laws to make machines more environmentally-friendly.
Some shops had reported a rise in sales of the more powerful cleaners ahead of the ban. Robert Murphy reports.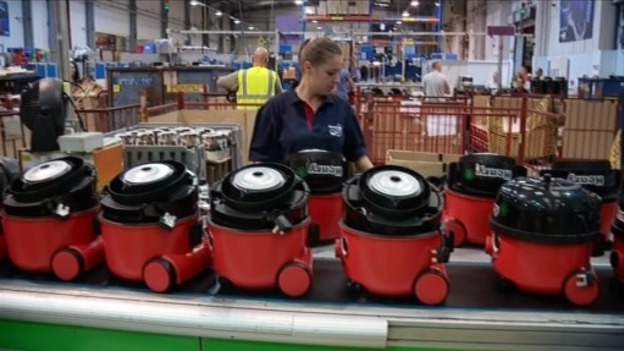 Advertisement
A huge water slide is going to be put up in Chard High Street next month. Similar to the one that attracted thousands of people in Bristol the 1.2m slide will go down the High Street. It's been organised by the town's Mayor to raise money for her charities.
You can apply to take part at the Guildhall.
The family of Catherine Wells-Burr will present a petition to 10 Downing Street today.
Two Polish nationals convicted of Catherine's murder have applied to serve their sentences in Poland where they could serve a shorter term.
Jayne and Philip Wells-Burr are calling on the Ministry of Justice to reject their appeal. The family will be accompanied by their local MP David Laws.
Two meeting places in the region have been given thousands of pounds in grants to help make them more attractive to people to use as community hubs.
The National Churches Trust have given £10,000 to both Bath Quaker Meeting House and St Mary Church in Chard. The money will be used for roof repairs, and changing the community facilities at the Bath Grade 2 listed building near Bath Abbey.
Six people have been arrested in Somerset as part of an investigation into sexual exploitation of girls and young women.
Police raided four addresses in Yeovil and Chard as part of the inquiry, which began in August.
5 men and one woman have been arrested - four remain in custody and two have been released on bail until early January.
Advertisement
24-year-old Matt Cahill from Chard is one fifth of the boyband "Kingsland Road", one of the finalists in ITV's X Factor competition.
The group sailed through the first of the live shows with their rendition of Wham's "I'm Your Man".
The family of a woman who was murdered are setting up a charity to help people who've gone through similar tragedies. Catherine Wells Burr was just 23 when her body was found in a burning car in Ashill last year.
Her boyfriend along with two other Polish nationals were convicted of her murder in June. Our Somerset correspondent David Woodland reports.
The family of Somerset murder victim Catherine Wells-Burr is setting up a charity to help people who find themselves in similar circumstances to them.
Catherine's parents and sister, who live in Chard, say they are determined to help other families who need financial aid after suffering tragedy.
23-year-old Catherine's body was found in a burning car in Ashill last year. Her boyfriend along with two other Polish nationals were convicted of her murder in June.
Load more updates