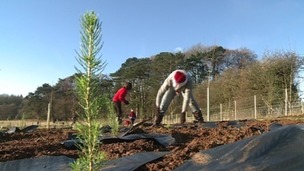 While we've been decorating our trees this Christmas, at the National Star College in Gloucestershire they've been planting them.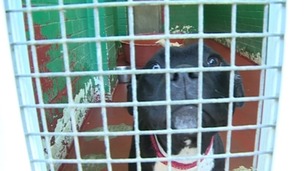 An animal sanctuary in Cheltenham says it's almost full ahead of Christmas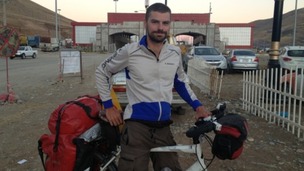 A man from Cheltenham is cycling from Seoul in South Korea all the way to Gloucestershire to raise money for the land mine charity MAGS.
Live updates
Gloucestershire Police have made two arrests after a number of robberies in Cheltenham. A 36 year old man and a 22 year old man, both from Cheltenham have been arrested on suspicion of robbery and bailed pending further inquiries.
It comes after a woman had her bag stolen after being threatened with a knife last week, and another woman had her handbag and shopping bags taken in a separate incident on 30th January.
Other incidents have been reported in St George's Place, Gloucester Road, Western Road and Malvern Road in January and February.
My team continues to carry out a number of inquiries in this case but we hope these arrests help reassure the public that we're making progress.

"We're still investigating whether all of the incidents were committed by the same person or not but we would continue to urge people to be conscious of their personal safety and report anything suspicious to us immediately.
– Inspector Roddy Gosden
Following earlier over-running engineering works between Gloucester & Cheltenham Spa all lines have now reopened.Services will resume soon.
Advertisement
A manhunt is underway in Gloucestershire after a stabbing in Cheltenham. Police were called to Fulbrook Close in Hester's Way in the town in the early hours of this morning.
A 30-year-old man was taken to hospital where he is said to be in a serious condition. Neither the weapon or the attacker have been found so. Officers are appealing for anyone with information to come forward.
Weekend sport round-up
This season was always going to be difficult for Cheltenham Town after two successive play-off campaigns, which both ended without promotion.
But despite a bad start to the campaign and an ever-changing squad, the Robins are confident of flying up the table and mounting a another play-off charge for League One.
Our Sports Correspondent Matthias Kurth reports:
Grieving families in Cheltenham are being forced to wait up to three weeks for funerals because of faulty incinerators at the crematorium.
Cheltenham Borough say they're trying fix the problem but the company which installed the incinerators went into liquidation last summer.
Christmas may be over but it's still panto season at many of our theatres - oh yes it is - a time for booing the villains and cheering the heroes.
A huge amount of work is required to stage a pantomime, and our Gloucetershire Correspondent Ken Goodwin has been getting a peek behind the scenes of Aladdin at Cheltenham.
Advertisement
Floods clean-up continues across the West Country
Heavy rain overnight has made driving conditions extremely difficult across much of the West Country.
Water has been spilling onto the roads from land already saturated by recent rainstorms.
Our Gloucestershire correspondent took this footage of motorists driving through surface water on Shurdington Road in Cheltenham.
Drivers are advised to slow down when there is water on the road and to take care with large puddles - only attempting to drive through them if they know they're not too deep.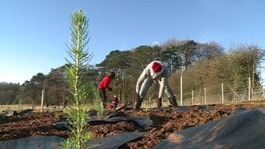 While we've been decorating our trees this Christmas, at the National Star College in Gloucestershire they've been planting them.
Read the full story
College joins Xmas tree market
A college in Gloucestershire has planted hundreds of Christmas trees in the hope they can be sold off to raise funds in a few years time.
The National Star College in Cheltenham caters for students with disabilities. A local business provided the tiny saplings, as well as volunteers to plant them.
Marianne Sweet from the college says the project is a long term investment with a potentially big pay off:
21 countries, 9 months and 9000 miles. That's what it took for a man from Gloucestershire to cycle all the way home from South Korea.
Paul Lombard decided to take on the mammoth journey from Seoul to Cheltenham for charity and so far he's raised more than £1500.
Adam Grierson reports:
Load more updates
Back to top