Police searching for a missing man from Chippenham have found a body in woodland in the nearby village of Stanton St Quintin.
One of the team of officers looking for 51-year-old Stephen Clarke spotted his Mitsubishi Shogun parked behind the village hall at just after 2.30pm today (Nov 8).
The discovery of a man's body in nearby woods was made shortly afterwards.
A formal identification is yet to take place, but Mr Clarke's family has been informed.
I would like to thank the public and the media for their assistance in trying to find Mr Clarke.

I would now ask that his family's privacy is respected at this sad time.
– Insp Chris Martin, Wiltshire Police
Three girls under 14 have been arrested on suspicion of arson after an empty building in Chippenham caught fire last night.
Two 14 year old girls and a 12 year old girl from Chippenham were arrested today. They are all currently in custody.
The fire in Hungerdown Lane was tackled by five Wiltshire fire crews, and gave off a large plume of smoke that could be seen from several miles away.
Police say they're still appealing for witnesses.
I would like to thank members of the public who have helped in our investigation so far. We are still appealing for witnesses to this fire, if you saw anything suspicious in or around The Middlefield Adult Training Centre, in Hungerdown Lane, between 3pm and 6pm yesterday afternoon please call me on 101, or if you wish to remain anonymous call Crimestoppers on 0800 555 111.
– PC Jamie Ball
Advertisement
The cause of a huge fire at a derelict building in Chippenham is likely to "remain unknown". Local people have been taking pictures.
Read the full story ›
People near Hungerdown Lane in Chippenham are being advised to keep their doors and windows closed - a huge fire is burning at a derelict building in the town.
Five Wiltshire fire crews have been tackling the blaze since this afternoon. It is producing a large amount of smoke, which could be dangerous for those with existing respiratory conditions.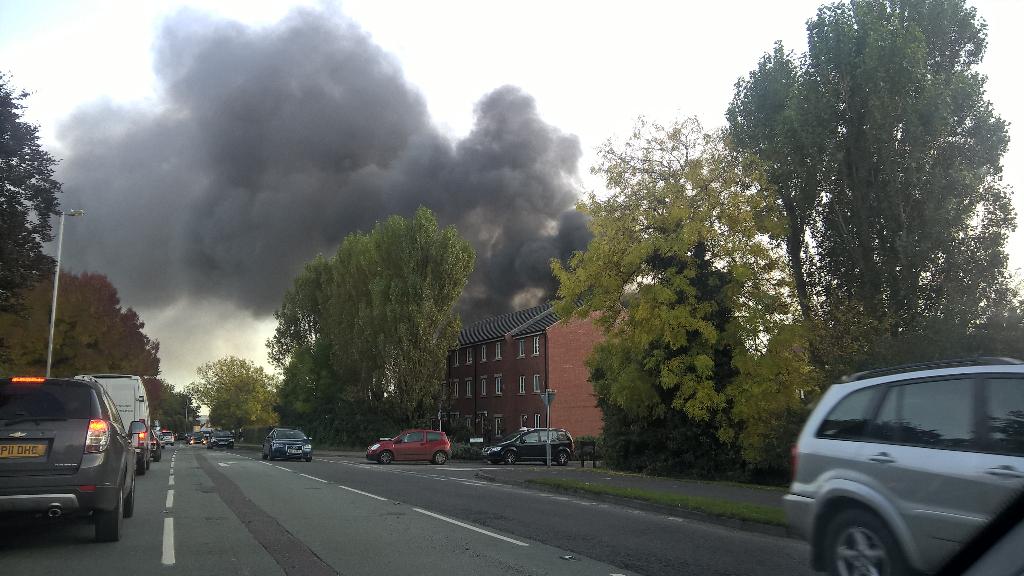 Police are appealing for information about a woman who has gone missing in Chippenham.
Margaret Grant was last seen on Monday 12 October at her home in Manor Road. She has not contacted her family since, which is said to be out of character.
Police say Margaret has heart problems and needs medication which they think she does not have with her.
Description
Large build
Shoulder length blond hair
May be wearing black jogging bottoms, plain t-shirt and blue anorak
Belived to have taken her car, a silver "55" plated Land Rover estate
A boy who nearly lost the use of his legs in a car crash has visited the air ambulance team that saved his life.
Max Chant, who is now 12, was involved in a crash near his home in Chippenham last year. He suffered spinal injuries.
He gave paramedics at Wiltshire Air Ambulance a cheque for £12,000 after completing a 25 mile walk in aid of the charity.
Max says he still remembers the crash.
I remember being brought out the car and laid onto the grass next to the car and then the ambulances arriving and the air ambulance took me up to children's hospital.
– Max Chant
Advertisement
A 36-year-old man has been charged with 11 counts of making indecent photographs of a child and 32 counts of voyeurism.
Daniel Helps of Sutton Benger, near Chippenham, is due to appear at Swindon Magistrates Court on 14 October 2015.
The majority of the voyeurism offences were committed at The Olympiad Leisure Centre in Chippenham.
A man has appeared in court charged with murder after the body of a woman was discovered in Chippenham at the weekend.
Christopher Collier, 52, of Charter Road in Chippenham, appeared at Swindon Magistrates Court this morning, charged with the murder of Julie Anne Collier, 55, also from Charter Road.
Collier has been remanded in custody and will appear at Bristol Crown Court on Wednesday.
A man has been charged with murder after the body of a woman was discovered in Chippenham at the weekend.
The body of 55-year-old Julie Anne Collier was found at a house on Charter Road on Saturday.
Christopher Collier - also from Charter Road - has been charged with her murder. He has been remanded in custody and will appear at Swindon Magistrates Court today.
A Wiltshire couple thought they'd had a £25 lottery win but didn't check the full results, which would have told them they were millionaires
Read the full story ›
Load more updates