A Christmas attraction backed by celebrity interior designer Laurence Llewelyn-Bowen is due to reopen today after being swamped with complaints.
The Magical Journey at the Belfry Hotel in Sutton Coldfield, Birmingham, shut down after just one day following gripes it was unfinished, had "rubbish presents" and "chav elves".
Ticket prices of £22.50 for a 90-minute visit were also criticised with many branding the "winter spectacle" a "rip-off".
After three days of improvements Llewelyn-Bowen, who stressed he had nothing to do with the production or management of the event, said he hoped the experience was now "much closer to his original ravishing vision".
But despite reopening to the public, organisers have barred the press from attending.
A spokesman said: "We feel that introducing camera crews, reporters and journalists is only going to take away from the experience and possibly even create anxiety for our visitors."
They added they "just want to concentrate on making Christmas as magical as we can for the people who have chosen to join us for The Magical Journey".
Laurence Llewelyn-Bowen pledges to fix The Magical Journey Christmas experience he designed, which shut down after a string of complaints.
Read the full story ›
Advertisement
The organiser of The Belfry's Magical Journey Christmas experience has apologised to visitors for closing after it was "hammered by the weather'.
Paul Dolan, organiser of The Magical Journey experience, said that work was underway to get all the issues fixed by Wednesday.
We were hammered with four weeks of horrendous rain which really affected the site and slowed us down.

We were very far behind but I didn't want to disappoint children.

We thought there was enough there that people wouldn't see the small details that weren't there but there were too many small details and it built up.

We shouldn't have opened yesterday. I can't apologise enough.

What we want this to be is a perfect experience.
– Paul Dolan, Magical Journey organiser
This morning organisers posted a message on the Magical Journey Facebook site saying it was 'closed for improvements'.
The attraction - designed by TV presenter Laurence Llewelyn-Bowen - was immediately slammed on social media with hundreds of complaints from disappointed customers.
Angry parents have taken to Facebook in their droves to complain about the eleventh hour cancellation of Laurence Llewelyn-Bowen's Christmas show.
Many parents had already set off for The Belfry Golf Club's Magical Journey with their children before they discovered the news it had been temporarily closed after complaints about safety and quality.
One frustrated parent, Leah Gulliver, said: "We are on the road to this now! I have kids crying in the back. I want a full refund now."
The Magial Journey had been billed as 'the most amazing Christmas experience that planet Earth has ever seen'.
Organisers say they took the decision to close for three full days based on customer feedback so they "could implement changes and improvements to the experience".
Since the announcement was made on Facebook at 9.30am Sunday morning parents have swamped the page with compaints and concerns.
My partner has booked his final day's holiday for tomorrow especially to experience this visit. Now it's too late to change his leave. Feeling very disappointed.
– Jacqui Evans on Facebook
I want my £220 refunded.

You did not deliver what you advertised and have ripped people off, that is the issu,e and some of your staff are damn right rude and clearly do not care.

Magical experience what a joke and it didn't even last the allocated time of 80/90 Minutes either.
– Natalie Craig on Facebook
However some parents have backed the organisers saying it was the right decision to make.
Best decision made. Well done for taking everyone's comments on board and refunding those who have already been and have left disappointed. We are looking forward to our Magical Journey.
– Steph Clarke on Facebook
A Christmas experience created by Laurence Llewelyn-Bowen has been temporarily closed after hundreds of complaints from visitors.
Unhappy families who paid £22.50 per ticket took to social media to complain about The Magical Journey attraction, at the Belfry golf club, in Wishaw, Warwickshire.
Some claimed the experience was "far from magical", expressing their disappointment at the waiting time to see Santa and the toys handed out to children.
Following the complaints organisers have temporarily closed the attraction until Wednesday "for improvements" and offered refunds to people who have already visited and those who were due to go along on Sunday, Monday, and Tuesday.
"Based on customer feedback we have taken the decision to take three full days closure today (23/11/14), tomorrow (24/11/14) and Tuesday (25/11/14) in order that we can implement changes and improvements to the experience.

Our customers are our priority for safety and a magical experience and we sincerely apologise for any inconvenience this may cause.

It is important that we deliver the high quality experience you are expecting and hope to reopen with improvements and changes having been made.

We have also had difficulty with torrential rain on site affecting the lighting and sound, we have people working to repair this damage.

All customers affected by these closures have been emailed and will be offered either a refund or a new date, based on their preference."
– Organisers post on Facebook
A Gloucestershire town's sculpture trail of decorated giant hares has raised £113,000 for a local wildlife charity after the five foot tall models were auctioned at the weekend.
The sculpture trail around Cirencester during the summer was inspired by a Roman mural found in the town in the 1970s which depicts hares,
The money will be used by the Gloucestershire Wildlife Trust for projects aimed at improving the environment and helping young people - including a new wildlife walk called the Green Hare Churn Way.
The plan is to open up the River Churn near to Cirencester and put in wildflower meadows and habitats.
Advertisement
Forty 5ft hare statues are to be auctioned today to raise money for the Gloucester Wildlife Trust. They've been on display around Cirencester since March. Ken Goodwin was there at the project's inception:
As the Cirencester Hare Festival finally hops out of town, people are getting the chance to buy a piece of it for posterity.
Forty 5ft fantasy hare statues were dotted on display around Cirencester over the spring and summer. Decorated by local artists, celebrities and school children, the statues are made of fibre glass and were individually sponsored by local businesses and community groups.
Now the statues are to be auctioned to help raise money for the Gloucestershire Wildlife Trust. You can take a last look at the hoard of hares at Bingham Hall from 16:00pm, before the auction starts at 19:00.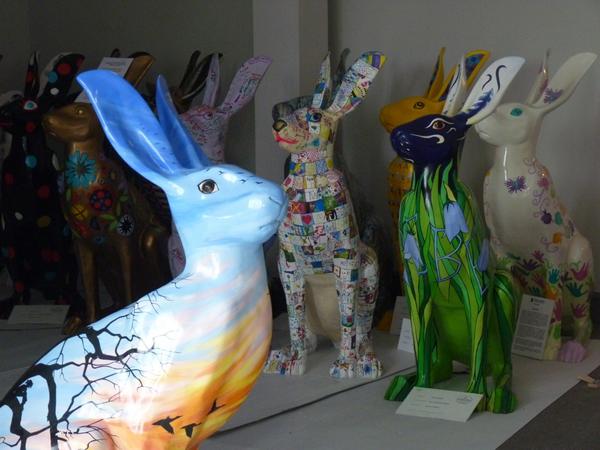 A school bus carrying 20 children has been involved in an accident in Malmesbury.
The bus, which was on its way to Cirencester, crashed at the Five Lane Crossroads on the A429.
The road is currently blocked and diversions are in operation.
Two people people have been taken to hospital, including a child.
A man who was trapped in a crash between a lorry and a van on the A417 this morning has died.
Emergency services were called the road between the Air Balloon Roundabout and Cirencester at 0530.
The man who died at the scene is believed to be the driver of the van.
Another man, believed to be the lorry driver, has been taken to hospital with what's believed to be non life changing injuries.
The southbound carriageway is expected to remain closed for a number of hours, while one lane has also been closed northbound.
Load more updates