A Christmas experience created by Laurence Llewelyn-Bowen has been temporarily closed after hundreds of complaints from visitors.
Unhappy families who paid £22.50 per ticket took to social media to complain about The Magical Journey attraction, at the Belfry golf club, in Wishaw, Warwickshire.
Some claimed the experience was "far from magical", expressing their disappointment at the waiting time to see Santa and the toys handed out to children.
Following the complaints organisers have temporarily closed the attraction until Wednesday "for improvements" and offered refunds to people who have already visited and those who were due to go along on Sunday, Monday, and Tuesday.
"Based on customer feedback we have taken the decision to take three full days closure today (23/11/14), tomorrow (24/11/14) and Tuesday (25/11/14) in order that we can implement changes and improvements to the experience.

Our customers are our priority for safety and a magical experience and we sincerely apologise for any inconvenience this may cause.

It is important that we deliver the high quality experience you are expecting and hope to reopen with improvements and changes having been made.

We have also had difficulty with torrential rain on site affecting the lighting and sound, we have people working to repair this damage.

All customers affected by these closures have been emailed and will be offered either a refund or a new date, based on their preference."
– Organisers post on Facebook
A Gloucestershire town's sculpture trail of decorated giant hares has raised £113,000 for a local wildlife charity after the five foot tall models were auctioned at the weekend.
The sculpture trail around Cirencester during the summer was inspired by a Roman mural found in the town in the 1970s which depicts hares,
The money will be used by the Gloucestershire Wildlife Trust for projects aimed at improving the environment and helping young people - including a new wildlife walk called the Green Hare Churn Way.
The plan is to open up the River Churn near to Cirencester and put in wildflower meadows and habitats.
Advertisement
Forty 5ft hare statues are to be auctioned today to raise money for the Gloucester Wildlife Trust. They've been on display around Cirencester since March. Ken Goodwin was there at the project's inception:
As the Cirencester Hare Festival finally hops out of town, people are getting the chance to buy a piece of it for posterity.
Forty 5ft fantasy hare statues were dotted on display around Cirencester over the spring and summer. Decorated by local artists, celebrities and school children, the statues are made of fibre glass and were individually sponsored by local businesses and community groups.
Now the statues are to be auctioned to help raise money for the Gloucestershire Wildlife Trust. You can take a last look at the hoard of hares at Bingham Hall from 16:00pm, before the auction starts at 19:00.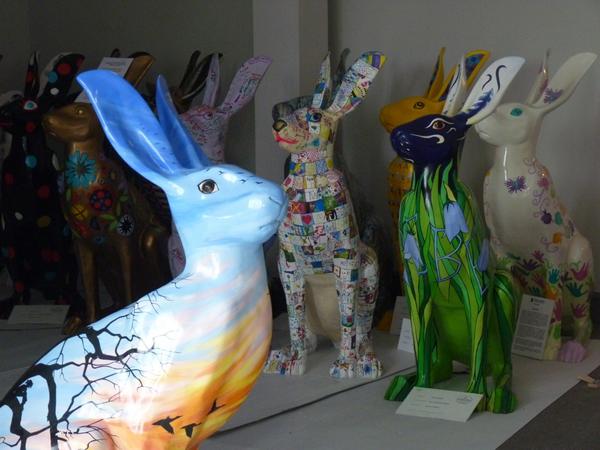 A school bus carrying 20 children has been involved in an accident in Malmesbury.
The bus, which was on its way to Cirencester, crashed at the Five Lane Crossroads on the A429.
The road is currently blocked and diversions are in operation.
Two people people have been taken to hospital, including a child.
A man who was trapped in a crash between a lorry and a van on the A417 this morning has died.
Emergency services were called the road between the Air Balloon Roundabout and Cirencester at 0530.
The man who died at the scene is believed to be the driver of the van.
Another man, believed to be the lorry driver, has been taken to hospital with what's believed to be non life changing injuries.
The southbound carriageway is expected to remain closed for a number of hours, while one lane has also been closed northbound.
Advertisement
Prince George with his mother Catherine, Duchess of Cambridge, was among the crowds as his father, Prince William, Duke of Cambridge, and uncle Prince Harry played in a charity polo match at Cirencester Park Polo Club on Father's Day.
It was a great opportunity to see George's progress at walking. The press pack were out in force to catch those first tottering steps.
A father from Cirencester has been arrested on suspicion of murder after the death of his baby boy.
Emergency services were called to a home in Cirencester on Tuesday afternoon. The baby was taken to Bristol Children's Hospital but died on Wednesday.
The man, who's in his 20s is in police custody. Officers are now investigating whether the injuries to the baby were non-accidental.
Police are appealing for information after a 25-year-old man was attacked in Cirencester.
The man is in hospital being treated for serious internal and head injuries.
The incident happened in the town centre outside Sports Direct in Cricklade Street between 3am and 3.45am on Saturday April 19.
The victim was kicked and punched by another man.
It is thought the attacker was involved in an assault earlier that evening outside HSBC on the same street.
A 20-year-old man from Stranraer was arrested in connection with the incident but has been bailed.
Anyone who witnessed either assault or has information should call 101, quoting incident 58 of April 19.
Cirencester's answer to the Gromit Trail got underway today.
Local artists, school children and celebrities have decorated 40 giant hares.
They'll be on display all over the town throughout the summer, before being auctioned off to raise money for Gloucestershire Wildlife Trust.
Hares have been linked with Cirencester since an image of one was found on a Roman mosaic in the town.
Load more updates