The Vote Leave Battle Bus has pulled into Clevedon this morning to campaign for a Brexit vote on Thursday's referendum.
And to prove his loyalty to the cause, Dr Liam Fox, MP for North Somerset, filled in his ballot paper proving his leave vote.
He was joined by John Whittingdale, Secretary of State for Culture, Media and Sport and Penny Mordaunt campaigning in Clevedon, and leafleting with local activists.
The Broadchurch stars have been spotted in Clevedon as filming gets underway for the third and final series of the hit ITV drama.
Read the full story ›
Advertisement
An accident involving two cars on the M5 Northbound between Clevedon (J20 B3133) and Portishead (J19 A369) has left lanes three and four closed, and traffic queueing. Travel time is about 50 minutes.
Clevedon Pier will get an extra £75,000 in Government grants to help maintain and repair the historic structure.
The landmark, the only Grade I-listed pier in the country, was one of just eight projects to win a share of £800,000 from the Coastal Communities Fund.
The money will go towards essential renovation work.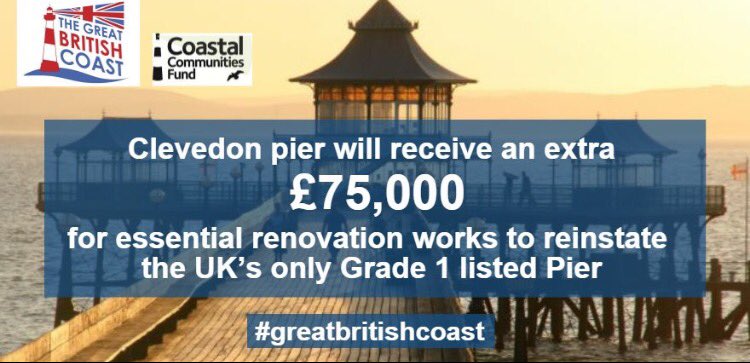 The Queen becomes the country's longest serving monarch today - breaking the record set by her great-great-grandmother Queen Victoria.
We've been looking back at your memories - Louisa Harrington from Clevedon became "princess for a day" at Buckingham Palace just before she died.
Louisa was a guest of honour of the Queen's Coronation anniversary celebrations in 2003.
Briohny Williams has been speaking to her family:
You can now own shares in a West Country landmark: Somerset's 150-year-old Clevedon Pier.
The only Grade 1 listed pier in the country, once described by former Poet Laureate Sir John Betjeman as "the most beautiful pier in England", is now part of a community share offer.
The trustees are hoping to raise £350,000 to help pay for new visitor facilities, which are currently being built.
Advertisement
A man in 90s has been helped from his smoke-filled home in Clevedon by a neighbour aged in his 80s after a kitchen fire earlier today, 24 December.
It's believed the neighbour saw smoke coming from the house in Highdale Avenue. When he realised the man was inside, he went in to bring him out.
An off-duty firefighter who also lived nearby arrived shortly afterwards to help. Two fire crews from Clevedon put the flames out. The house was badly damaged by heat and smoke.
The occupant and his neighbour were treated by paramedics at the scene after breathing in smoke.
Avon Fire and Rescue Service has praised the bravery of the neighbour but warns people not to enter properties on fire.
A lifeboat crewman was forced to jump into the Bristol Channel to rescue a man whose yacht had run aground.
The man got into difficulty on Sunday afternoon in the strong winds off Clevedon beach.
When crews arrived, there was only one metre of water around the yacht so a crew member had to get out and swim to it to tow it out of danger.
It soon became clear that yacht was in serious danger of being turned on to its side. It was clear that the yacht was now crashing down directly on the sea bed. The volunteer crew had to work quickly and professionally to decide the best way to assist the person on the yacht. This was going to be a tricky manoeuvre for the volunteers.
– Dave Herbert, Lifeboat spokesman
The yacht was towed to Portishead Marina where it was handed over to the Portishead Coastguards.
ITV's hit drama Broadchurch has had tremendous success at the TV BAFTAS.
Broadchurch, which was filmed in West Bay in Dorset and Clevedon in North Somerset, won three awards at last night's ceremony.
Olivia Colman was named best leading actress, David Bradley best supporting actor and the show won best drama series.
Police have pulled the body of a middle-aged man out of the water in Clevedon.
The body was discovered in a ditch on Strode Road by a member of the public. Avon and Somerset police continue to investigate. The death is not being treated as suspicious.
Load more updates