Jos Buttler is being tipped as the new star of English cricket after being called into the Test team for the first time for the series with India.
The Taunton-born wicketkeeper will make his debut on Sunday. His potential was first spotted when he attended Kings College in the town.
Somerset cricketer, Craig Kieswetter has tweeted a picture of his face after suffering a broken nose and fractured right cheekbone.
He was injured when the ball went through the facial grille of his helmet at the LV County Championship fixture against Northampton yesterday.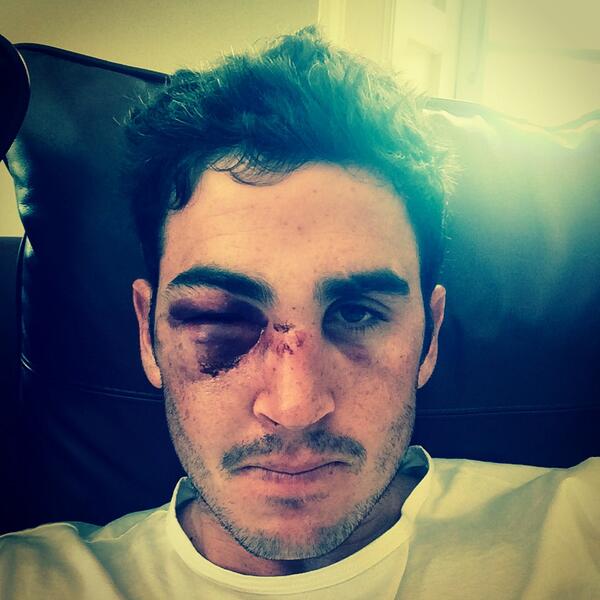 Advertisement
in cricket, Somerset have beaten Gloucestershire by seven runs in tonight's T20 match in Taunton.
Somerset hit 175 for 8 in their 20 overs. Nick Compton top scored with 46.
In reply, Gloucestershire hit 168 for six.
Gloucestershire cricketer Ian Saxelby has had to retire because of a knee injury.
The 25-year-old bowler failed to recover from a knee injury he received at the start of the season. Recent surgery revealed that the injury was more serious than initially thought.
It's the end of day two in the Division Two match between Gloucestershire and Derbyshire.
Gloucestershire bowled out Derbyshire for 278 in their first innings. The visitors finished today 21 for 2.
The match at the County Ground had earlier been interrupted by rain delays.
A cricket club in Bristol that's been campaigning for the release of two teenagers from a detention centre says it won't give up fighting for them to be granted asylum.
Ahad and Anum Rizvi are facing deportation if the Home Office turns down their application - separating them from their family. Laura Makin-Isherwood reports.
Advertisement
Two Bristol siblings have been released from an immigration removal centre after more than a month in detention.
Ahad Rizvi, 19, is a keen cricketer at the Easton Cowboys Club in Bristol; last night he was already back practising in the cricket nets. The club has run a vigorous fundraising and publicity campaign to keep the siblings in the country.
Ahad and his sister Anum, 20, came to the UK from Pakistan to join their parents, who claimed asylum here; as minority Shi'a Muslims, the family say they have received death threats from Taliban militants in their home country.
But once Ahad and Anum turned 18, they had to apply for their own asylum. These bids have failed, and they are reaching the end of the appeals process. However, after a bail hearing was cancelled this week, authorities have temporarily allowed them home to Bristol.
Local MP Kerry McCarthy, who has supported their campaign, has emphasised that their legal status has not changed with their release, however.
A West Country derby between Somerset and Gloucestershire marks the start of this summer's T20 Blast cricket competition.
It is taking place at the newly redeveloped County Ground in Bristol. Both teams are determined to make a positive start to the competition - Somerset finished runners-up in three of the last five years and lifted the trophy back in 2005. Gloucestershire reached the final in 2007.
We hear the hopes of Somerset's Nick Compton and Director of Cricket, Dave Nosworthy as well as those of Gloucestershire's Will Tavare.
The new cricket season gets underway this weekend. Gloucestershire begin their County Championship second division opener against Hampshire on Sunday.
It will be the first match to be played in front of the new pavilion - the centrepiece of an ongoing and major redevelopment of the County Ground.
Somerset captain Marcus Trescothick says he sympathises with England batsman Jonathan Trott who has left the Ashes tour in Australia because of a stress related illness.
Trescothick left the 2005-06 India tour and the 2006-07 Ashes tour of Australia due to a similar condition. He told Sky Sports: "You just can't take any more, you just can't get through the day let alone go out there and play a Test match and a Test match. I sympathise with Trotty.
"I've been in that exact situation in '06 and '07 and tried to make that decision knowing that the consequences and all the attention it's going to bring on to you are going to be tough.
"I think we just need to allow a bit of time, that's the key at this point."
Load more updates