A farmer from Somerset says he's been insulted by the Environment Agency after they threatened to bring cranes onto his land without his permission.
James Hall's yard at Northmoor was used by contractors during the flooding on the Somerset Levels causing around £8,500 worth of damage.
Now the Agency need to use the space again to remove pumps from a nearby river. But James says he can't afford any more disruption.
The Environment Agency says around a thousand homes on the edge of Bridgwater are now at risk as the flooding crisis in Somerset deepens. Around 150 homes in villages on the Somerset Levels are currently affected.
The Agency says it's building an earth bank at Northmoor about a mile from Bridgwater as part of efforts to protect the town.
Advertisement
There has been strong reaction to an article today by the chairman of the Environment Agency, Lord Smith, saying that difficult decisions about spending on flood defences will mean choosing between "front rooms or farmland".
Our Political Correspondent Bob Constantine says this sort of comment is not likely to go down well with people under water on the Somerset Levels. A question he posed to Pete Fox, an Environment Agency spokesman
There are three severe flood warnings in place for the South West - meaning 'danger to life' - and 33 flood warnings - meaning 'take immediate action'.
For the full list, including maps of precise locations, visit the Environment Agency website here.
More of the West Country is at risk of flooding this New Year's Day after heavy rain overnight has begun to spill into our waterways.
The Environment Agency has now issued 14 flood warnings for the region. Click here for details and advice on what to do if you are at risk.
Last night's heavy rain is starting to have its effect on rivers across the West Country. The Environment Agency has now issued seven flood warnings for the region as the water levels rise.
River Axe (Upper) from Winsham to Axminster inc Chard Junction & Weycrof
River Teign (Lower) from Chudleigh to Kingsteignton
River Clyst from Broadclyst to Clyst St Mary
River Dart from Buckfastleigh to Totnes, including Staverton
River Yarty from Yarcombe to Axminster
A361 East Lyng to Burrowbridge
Curry Moor and Hay Moor
Advertisement
The Environment Agency has issued a severe weather warning for the Sea Life Centre and the Preston Beach Road area of Lodmore in Weymouth.
People are being warned to avoid the Preston Beach areas as conditions are extremely dangerous and will remain so overnight.
Janice Peacey, a Community Ranger from Cheltenham Borough Council brings us the latest in the efforts to save struggling fish in Pittville Lake.
Thank goodness there isn't a hosepipe ban in Cheltenham where the Environment Agency hopes spraying fresh water into Pittville Lake will save some of its fish, which are dying in droves.
Staff have spent the night manning the pumps, trying to re-oxygenate the lake.
In the meantime, people and dogs are being warned to stay well away from the water for their own safety.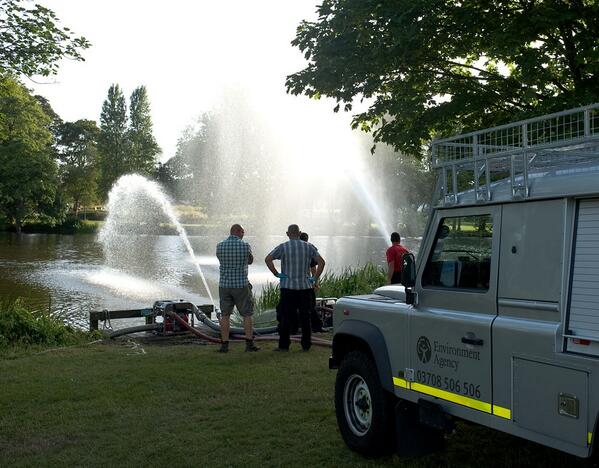 Load more updates