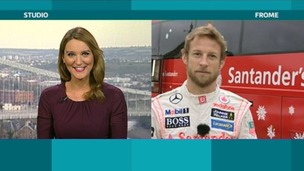 Frome's Formula One star Jenson Button has been speaking to our presenter Kylie Pentelow about his seasonal return to Somerset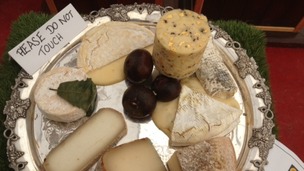 A platter of some of the world's most expensive cheeses has gone on show in Somerset at the Frome Agricultural and Cheese Show.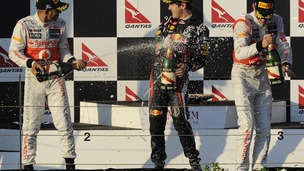 Somerset's Jenson Button is celebrating today after winning the Australian Grand Prix in Melbourne
Live updates
Ed Miliband in Somerset today to discuss flood insurance
Schoolchildren from Frome are delivering food to the stranded villagers in Muchelney on the Somerset Levels today.
A group of pupils and staff from Selwood Academy will arrive by boat this afternoon with hundreds of items they've collected.
They hope the gifts will boost people's morale.
Public buildings could become home to the police - as Government cuts force authorities to think of new ways to try and save money.
In Frome the police are already in talks with Somerset County Council about proposals to move all their services into the town's library.
Katie Rowlett reports:
Advertisement
Button plays Santa in Somerset
The Somerset town of Frome was given a real treat last night when Formula One superstar Jenson Button turned on the Christmas lights - and drove his McLaren car through the streets.
Button, who grew up in the town, drew a crowd of thousands to watch him in action. Our sports correspondent Matthias Kurth joined them.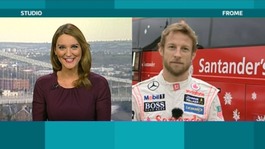 Frome's Formula One star Jenson Button has been speaking to our presenter Kylie Pentelow about his seasonal return to Somerset
Read the full story
Button plays Santa in Somerset
Formula one driver Jenson Button will be switching on the Christmas lights in Frome tonight.
The sports star grew up in the town and was awarded the Freedom of Frome in 2010 drawing huge crowds.
Organisers of tonight's event are expecting a similar turnout of fans.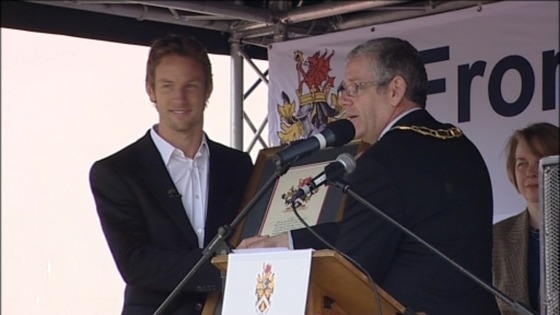 An inquest has heard dramatic details of how an oxygen cylinder exploded on the bed of a 79-year-old woman being treated at the Royal United Hospital in Bath.
Kathleen Haines' son told the hearing his mother repeatedly said that after the blast, all she wanted was to die.
Advertisement
Two firms have been fined more than £30,000 after a labourer suffered multiple injuries in a fall from unguarded scaffolding.
56-year-old Stephen Keegan from Frome in Somerset was a temporary employee of Julian Chard Carpentry Ltd.
The company was sub-contracted by C J Deighton & Co Ltd to build timber frames for properties in Trowbridge, Wiltshire last March.
A court heard that Mr Keegan fell two metres from an unguarded section of scaffolding.He suffered a fractured knee and wrist, broken collarbone, perforated ear drum.
Both were found guilty of breaching construction regulations. Julian Chard Carpentry was fined £10,000 and ordered to pay £3,121 in costs. C J Deighton & Co was fined £15,000 and ordered to pay £3,122 in costs.
CJ Deighton has gone in liquidation and Julian Chard Carpentry has now ceased trading.
This was a serious incident which could easily have been prevented. Mr Keegan has undergone several operations since his fall and is unlikely to get full mobility in his shoulder, knee or wrist. This was only a temporary job for Mr Keegan and, as a self-employed painter and decorator, his injuries meant that he could not work at all for six months and they will severely hamper his future ability to work.
– Helena Tinton, Health and Safety Executive inspector
It doesn't spring to mind as the most salubrious of places for an artist to display their work, but an old toilet block in Somerset is having an overhaul and being turned into a public art gallery.
The building in Frome was beginning to look rather rundown, so some locals have set about giving the building a new lease of life.
Frome toilet facelift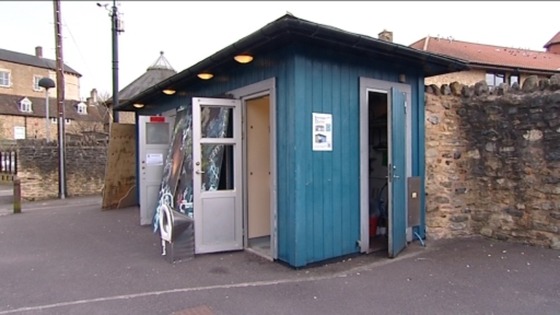 She promised a more open and accessible police force. Today in Frome, the Police and Crime Commissioner in Avon and Somerset began to make that promise come true.
Sue Mountstevens and her new Chief Constable, Nick Gargan, attended their first public forum to answer questions. Among the many questions asked - why were there fewer police on the streets? and why was Frome police station up for sale?
Our Somerset correspondent David Woodland reports:
Load more updates
Back to top