The Glastonbury Holy Thorn is one of ten trees shortlisted to be England's tree of the year.
In an annual ceremony the holy thorn is cut from the tree at Glastonbury Abbey and given to the Queen.
The public will vote on the final ten - which the Woodland Trust has whittled down from 200 nominations.
To see all the shortlists and vote for your favourite tree click here.
Crowds gathered at Glastonbury Tor last night to catch a glimpse of the first "blue moon" since 2012 - and the last until 2018.
The name "blue moon" refers to the second of two full moons appearing in the same calendar month.
It is more important for astrologers than astronomers, marking a time of upset, change and possibilities.
Despite the name, blue moons are usually silvery grey, like any other.
Blue moons are not as rare as myths may say. The last one occurred on August 31, 2012, and the next will be seen on January 31, 2018.
Did you take any great pictures of the blue moon? Email us on westcountryweather@itv.com.
Advertisement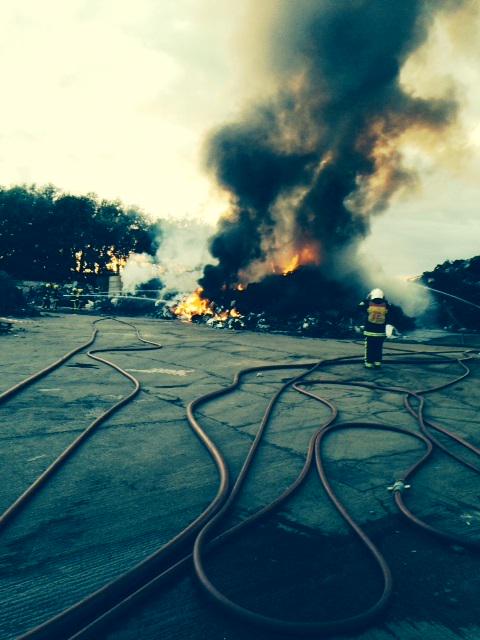 Devon and Somerset Police have shared a new picture on their Twitter account of a fire which broke out at a scrapyard in Glastonbury yesterday,
Firefighters believe the cause was accidental at the yard on Thomas Way Industrial Estate at about 7 o'clock last night, 21 July.
Firefighters believe a fire at a scrapyard in Glastonbury was caused accidentally.
It broke out in a large stack of scrap metal measuring 10m x 10m x 10m at the yard on Thomas Way Industrial Estate at about 7 o'clock last night, 21 July.
The police helicopter was called in to warn people to keep their doors and windows shut because of the smoke.
It was put out by about 11 o'clock.
Firefighters are battling a large blaze at a scrap yard in Glastonbury.
Large plumes of smoke could be seen rising from the Thomas Way Industrial Estate at around 7.20 this evening. It is believed a large stack of scrap metal, around 10 metres high, is involved in the fire.
The police helicopter is hovering overhead telling people to stay indoors with their windows shut.
Big fire somewhere in Glastonbury, it smells like burning plastic, hope no-one is hurt. http://t.co/mGT6lTNzjb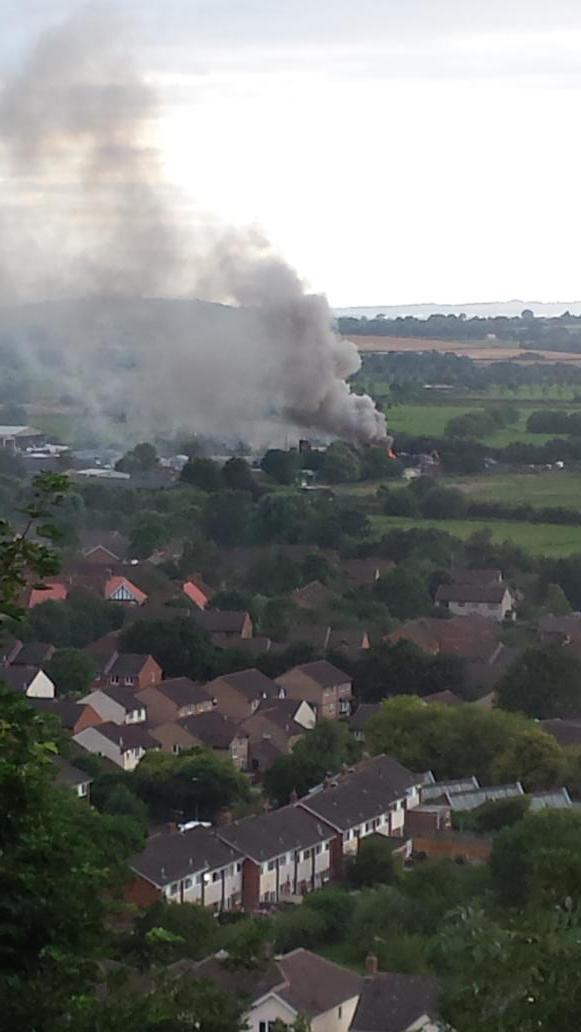 The Fire Service received numerous calls reporting a large fire within a scrapyard. One fire appliance was initially mobilised from Glastonbury was, after numerous calls Fire Control mobilised a second appliance which came from Street.

Whilst approaching the incident the crews requested a third appliance, as large plumes of smoke were seen coming from a scrapyard area, this appliance was mobilised from Wells.

Crews arrived on scene and confirmed large stack of scrap metal measuring approximately 10m x 10m and height 10m involved in fire. Crews got to work with one CAFS (Compressed air foam) attack jet supported from hydrant, crews also setting up water wall to prevent fire spread to secondary stack of scrap, together with two main attack jets currently being in used.
– Devon and Somerset Fire and Rescue
There is a fire on the outskirts of Glastonbury can residents please remain indoors and shut windows
The major clean-up operation to turn the 1,000 acre setting of the Glastonbury Festival back into a farm has started.
With the party officially over, campers have until 5pm today to leave the farm and allow the clean-up operation to get into full swing.
A litter picking crew of around 800 will spend up to six weeks clearing the 1,200-acre site, which has been left carpeted in rubbish.
Roads around the site are extremely congested, with bad traffic on the A303 around Stonehenge and on the A37 between Shepton Mallet and Bristol.
Co-organiser Emily Eavis described the festival - which has been particularly diverse and controversial this year with a last-minute cancellation from the Foo Fighters, a stage invasion during Kanye West's headline performance and a visit from Tibetan spiritual leader the Dalai Lama - as the best yet.
Meanwhile Avon and Somerset Police said it recorded one of the lowest crime figures it has seen in recent years, with 216 crimes reported compared with 246 last year.
Advertisement
The Dalai Lama paid a visit to Glastonbury today, on the final day of this year's festival.
He was dodging the rain showers, along with all the other people on site, as Bob Cruwys reports.
And here's Bob's report from Saturday where the downpours of the day before had been replaced with sunshine:
The song 'Happy' couldn't have been more appropriate for two brothers from Bristol who joined Pharrell Williams on the main stage at the Glastonbury Festival.
Seven year-old Ewan O'Neill and big brother Callum, 10, were among a group of youngsters who were invited on stage by the American star.
Proud father David O'Neill, from Bishopston, said it was an unexpected treat for the whole family.
"The boys were so excited to be on the Pyramid Stage. We just couldn't believe it. It's absolutely made our weekend."
– David O'Neill
The A361 close to the Glastonbury Festival site is blocked following a serious accident involving a lorry and a pedestrian. It happened at West Pennard close to the Apple Tree pub.
World-famous physicist Stephen Hawking was due to give a talk at Glastonbury today, but according to reports he has had to pull out.
The Telegraph reports that the author of A Brief History of Time has cancelled due to "personal reasons", and may be "poorly".
Load more updates