Advertisement
It's a top secret organisation but GCHQ in Gloucestershire opened its doors for a special event to mark the start of the poppy appeal.
More than a thousand staff took to the courtyard in Cheltenham to create a giant human poppy.
Sam Webb has sent us this amazing photo of a stag in the very autumnal Forest of Dean.
Send your weather related photos to westcountry@itv.com and we'll always try and share them online and on our programme.
This afternoon will see a band of showers across the region, easing off into a cool and cloudy evening.
Saturday will be sunny but cool, with more cloud towards the afternoon.
Watch our full forecast below:
Forty 5ft hare statues are to be auctioned today to raise money for the Gloucester Wildlife Trust. They've been on display around Cirencester since March. Ken Goodwin was there at the project's inception:
Advertisement
As the Cirencester Hare Festival finally hops out of town, people are getting the chance to buy a piece of it for posterity.
Forty 5ft fantasy hare statues were dotted on display around Cirencester over the spring and summer. Decorated by local artists, celebrities and school children, the statues are made of fibre glass and were individually sponsored by local businesses and community groups.
Now the statues are to be auctioned to help raise money for the Gloucestershire Wildlife Trust. You can take a last look at the hoard of hares at Bingham Hall from 16:00pm, before the auction starts at 19:00.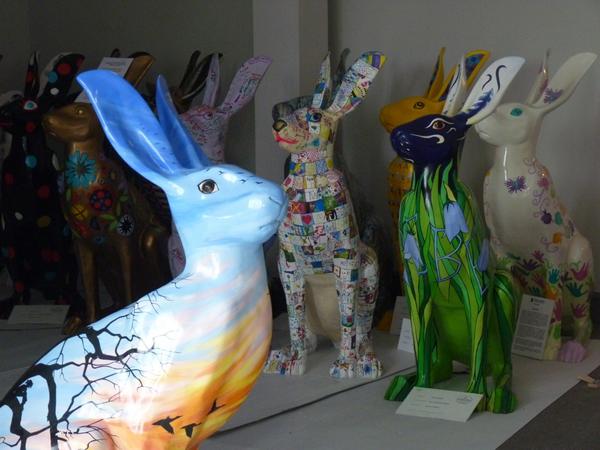 The idea to create the giant human poppy came from staff at GCHQ. It took 1,400 GCHQ and military staff, 1,300 red ponchos and just over an hour to create it.
It's the first time the organisation has ever held such an event. The idea coming from a request to help launch the poppy appeal by the Royal British Legion in Gloucestershire. Ian Corbitt from the Royal British Legion tells us more:
This morning will see heavy bursts of rain across the region, particularly during rush hour.
A drier and brighter afternoon will follow, although there will be some scattered showers.
Highs of 16C.
It's one of the most secretive organisations in the world but GCHQ in Cheltenham opened its doors to help launch the poppy appeal. 1,400 members of staff formed a giant human poppy in the courtyard of the famous listening post. It came after a request for help from the Royal British Legion in Gloucestershire.
Load more updates