A Gloucestershire MP has asked the Health Secretary to ensure that patients are discharged from hospital more quickly after a "major incident" was declared in the county earlier this week.
Geoffrey Clifton-Brown, Conservative member for the Cotswolds, raised the issue with the health secretary after so-called "bed blocking" was blamed for a lack of available beds at Gloucestershire Royal and Cheltenham General hospitals.
Advertisement
Gloucestershire's badger cull this year missed its minimum target by over half. The figures were published today. Just 274 badgers were culled in the second year of the scheme, falling far short of the minimum 615 estimated to be needed to deliver reductions in the disease in livestock.
Somerset exceeded its target by a small number of badgers. 341 were culled, in a required range of 316 to 785.
In both of the pilot areas, a significant proportion were killed by the more expensive cage trapping and shooting method, rather than "controlled shooting" of free-running badgers.
Shadow Environment Secretary Maria Eagle says alternatives to culling need to be considered.
The target set in Gloucestershire has been spectacularly missed whilst the Somerset target was only narrowly reached, meaning that, if anything, these culls will make the problem of bovine TB worse.

The Government must today commit to abandoning any attempt to continue these unscientific, inhumane and ineffective badger culls.

They must instead work with scientists, wildlife groups and farmers to develop an alternative strategy to get the problem of bovine TB under control.
– Maria Eagle MP, Labour's Shadow Environment Secretary
Further measures to combat bovine TB have been revealed following the announcement of the results of the second year of badger culls.
An action plan for farmers sets out plans to help reduce the risk of disease spread on their farms. There will be a new service giving farmers within the badger cull areas bespoke veterinary advice on TB management.
Environment Secretary Elizabeth Truss says the new approach will continue to include culling.
During the last parliament bovine TB rates in England soared to the highest in Europe. That is why we taking strong action in pursuing our comprehensive strategy, including tighter cattle movement controls, vaccinations and culling.

The Chief Vet's advice is that results of this year's cull in Somerset show they can be effective. That is why I am determined to continue with a comprehensive Strategy that includes culling.
– Elizabeth Truss, Environment Secretary
There are also plans for a consultation on tougher measures for transporting cattle. An online map will show high and low risk areas. The Government has awarded £50,000 in small grants to livestock markets to help them introduce checking systems.
Independently audited results of the badger culls show cull figures for the year, and says that levels of humaneness and a high standard of public safety were maintained. In Somerset the target was exceeded.
341 badgers removed in Somerset
274 badgers removed in Gloucestershire
Advertisement
We asked you to send us photos of your Christmas lights displays - and there are certainly some spectacular houses out there. Here's a selection of our favourites.
Jackie Westfield sent us this photo of her house. She says they've had lots of lovely people stop to look at their lights and seeing the children's faces is the best.
Nigel sent this picture of his house that he shares with Paul in Chippenham. They've got lights in the windows, a Christmas Tree on display and a wreath on the door.
This photo was sent in by Paul of his parents Mr and Mrs Hughes' house in Lawrence Weston. They're using the display to raise money for MacMillan Cancer Support nurses.
Gary Monger sent in this photo of his house in Frome. They've got a giant polar bear, snowman and even Santa's reindeer in the window.
Claire Hooper sent us this one. They've even got a Christmas Greeting on their wall.
Thanks to everyone who's sent us pictures. If you want to send yours in you can email us at westcountry@itv.com, tweet us @itvwestcountry, or post it on our Facebook page: www.facebook.com/ITVWestcountry.
A "major incident" declared over bed shortages in two Gloucestershire hospitals is over.
On monday Gloucestershire Hospitals NHS foundation Trust said it had 51 patients needing beds which it didn't have, in both Cheltenham General Hospital and Gloucestershire Royal.
But a spokesman for the trust says that the situation has now eased and steps are being taken to reduce delays.
The Health and Care Community has a collective responsibility to work positively together in the interests of the patient. Entering into a blame game serves the interests of no one.

A number of steps are being taken to reduce delays in patients leaving hospital, provide more care in the patient's own home and improve the patient experience.
– Clinical Chair, Dr Helen Miller
Reviewing the timing of ward rounds by senior staff – including earlier in the day and at weekends.
Additional investment in the Integrated Discharge Team. The team of nurses and social workers make sure everything is in place for patients to leave hospital in a safe and timely way.
Investment in a short stay ward for patients who require a 24-48 hour hospital stay.
Developing the Older People's Assessment and Liaison service – reducing the need for admission to hospital.
Working to ensure maximum bed availability at Community Hospitals, including Stroud, through the recruitment of nursing staff and a revised discharge policy.
Investment of £3.9 million in Integrated Community Teams – providing intensive support to patients in their own homes.
Working with the Ambulance Service so more patients can receive care at home or in the community – including expert advice from GPs, mental health professionals and specialist community teams.
Gloucestershire dressage star Charlotte Dujardin broke her own grand prix world record on the London International Horse Show's opening night at Olympia.
The reigning Olympic, World and European champion rode her horse Valegro to take the Reem Acra FEI World Cup grand prix class with a score of 87.460 per cent - beating her previous best of 87.129 per cent, set at the World Cup final in France earlier this year.
I love this horse and I love my team! As always he did his best for me! Couldn't wish for anymore. Happy happy happy! http://t.co/q7muWwE3sB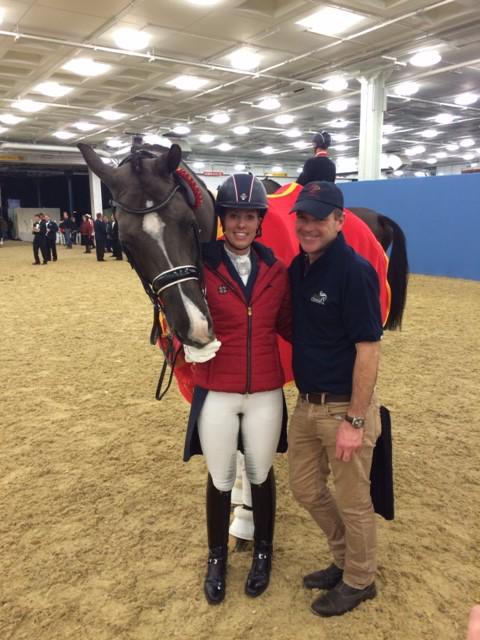 A man delivering Christmas parcels in Gloucestershire has died after being found trapped under his van.
The 36 year old man was found unconscious under his van in a country lane in Harescombe yesterday evening. Police are appealing for anyone who saw the white Nissan van in the area yesterday.
Paramedics attended after several members of the public contacted the emergency services, but the man died on the scene.
Our thoughts are with the family and friends of this young man, no less so because at this time of the year everyone is thinking about their family and spending time together over the Christmas period.

This is a very tragic incident and I would appeal to anyone who can help, with any information, however small they feel it may be, to contact us.
– Sergeant Dave Kania
Load more updates