NHS campaigners are taking action to publicise the damage they believe is being done to the NHS by the current government.
Read the full story ›
Advertisement
The outside of Exeter Cathedral has been attacked by vandals - who've sprayed obscene graffitti on a number of walls.
Read the full story ›
In celebration of their 45th anniversary the Mr Men and Little Miss team asked a Bristol graffiti artist to design a new character.
Read the full story ›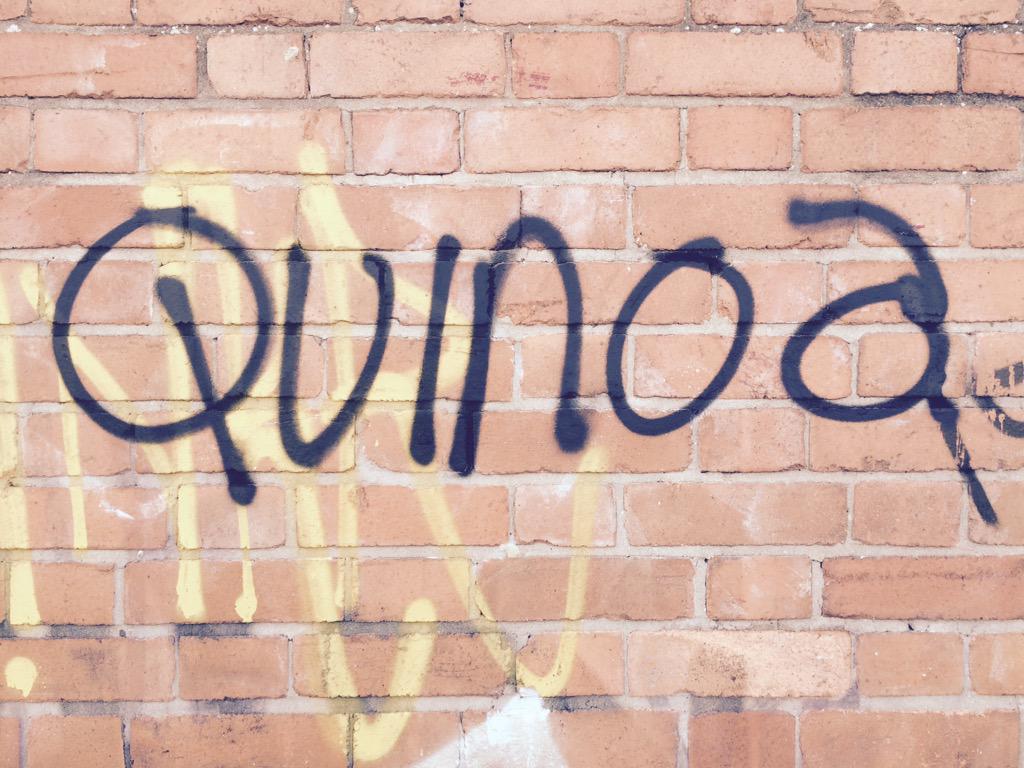 Bristolian actor Joe Sims recently shared a photo on his Twitter account of some graffiti on the walls of St Werburgh's which spells the word 'quinoa'.
The actor, who is famous for his role in ITV's drama Broadchurch, included the hashtag "middle class graffiti"in his tweet.
He also joked with his followers that Bristol had become "a lot posher than it used to be!".
The same word has also been spotted in Glenfrome Road and Mina Road, but we're not sure if this artist is trying to rival the works of Banksy!
Five of the W=world's leading street artists are creating five different murals on the Red Point Climbing Centre in Bristol. Cosmo Sarcen is one of them and despite working 100 feet in the air he told ITV News he's not a fan of heights:
Advertisement
Hundreds of grafitti artists in Bristol are racing against the elements trying to finish artwork in Europe's largest street art festival. They're trying to create huge murals across the south of Bristol but have been hampered by rain. Charlotte Saker reports ...
Bristol's street art and graffiti festival 'Upfest' takes place in the city this weekend.
More than 250 artists from all over the world will be painting at nearly 30 venues throughout Bedminster & Southville.
Artists get to paint live on 30,000 square feet of surfaces with the art on display for up to 25,000 visitors.
Monday will be a special family day with extra childrens' workshops for families to create their own street art.
Martin Ron, Argentinian artist, says the street art is what he likes to call "an open sky gallery" for all to enjoy.
A teenager has been sentenced to eight weeks in prison, suspended for 12 months, after admitting 78 counts of graffiti.
Jacob West, from Bournemouth, travelled to Bristol in order to place his distinctive tag across the city.
He was eventually caught as part of a city-wide graffiti crack down, where he pleaded guilty to 78 counts of criminal damage.
In addition to his prison term, the 18-year-old was handed an 18 month Criminal Behaviour Order which prohibits him from being in possession of any spray cans.
He was also placed under a two month curfew between 9pm and 5am, told to pay nearly £2,000 in compensation to victims and complete 120 hours of unpaid work.
West travelled to Bristol with the sole intention of causing damage to private and public property by painting it with his distinctive 'wash' tag.

This is the latest in a series of arrests as part of a wider joint crackdown with Bristol City Council targeting prolific graffiti writers in the city known as Operation Block.

We are not targeting graffiti as an art form but instead aim to deal with those that commit a criminal act by damaging property without the consent of the owner.

All of those that have so far being arrested or identified are adults. Many of whom are in employment or university and are actively putting their graffiti tags in is many prominent locations as possible.
– PC Stuart King
Graffiti artists in Bristol have transformed a bowls club in the city in the hope of attracting younger members to the sport.
It's ahead of Upfest - Europe's largest urban paint festival which takes place at the end of this month.
The Greville Smyth Club will be just one of the many places in Bedminster and Southville to receive a make-over as part of the festival that's now in its sixth year.
Load more updates