The largest street and graffiti festival in Europe will go ahead in Bristol this year after all. It comes after Upfest launched a successful crowdfunding bid to raise £20,000 pounds to put it on.
More than 30,000 people are expected attend the event in Bedminster and Southville from 29 - 31 July. It showcases the work of some 300 artists from around the world.
Upfest, Europe's largest street art festival, may not go ahead this year due to a lack of funds. The Bristol-based event needs £20,000.
Read the full story ›
Advertisement
NHS campaigners are taking action to publicise the damage they believe is being done to the NHS by the current government.
Read the full story ›
The outside of Exeter Cathedral has been attacked by vandals - who've sprayed obscene graffitti on a number of walls.
Read the full story ›
In celebration of their 45th anniversary the Mr Men and Little Miss team asked a Bristol graffiti artist to design a new character.
Read the full story ›
Advertisement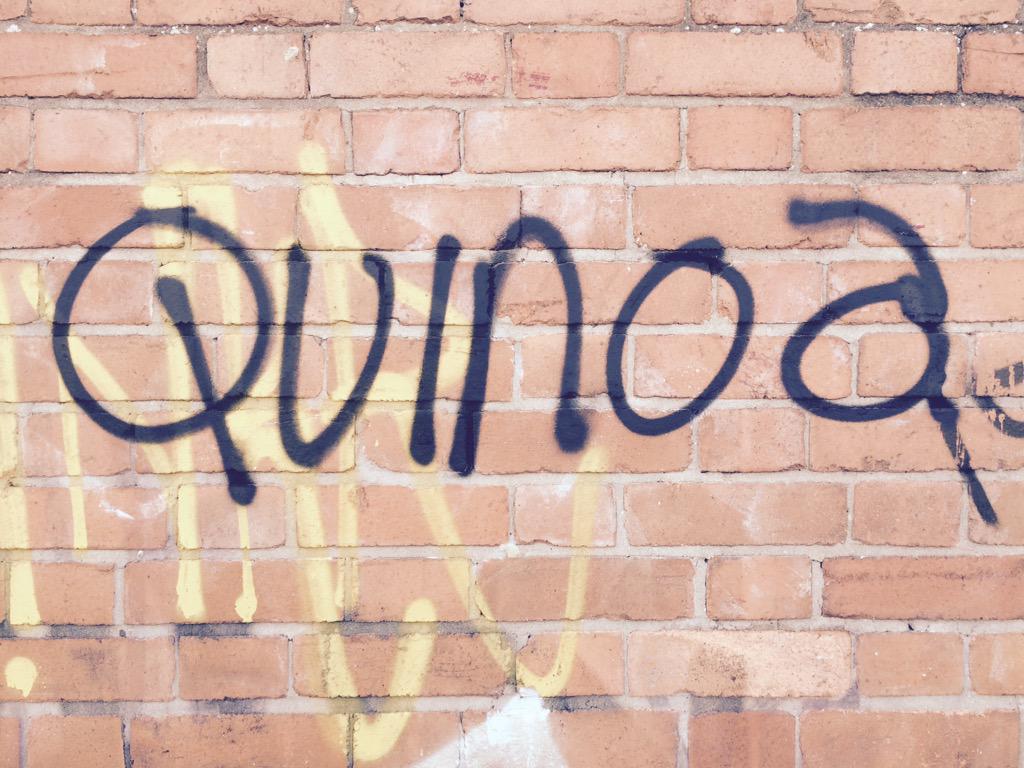 Bristolian actor Joe Sims recently shared a photo on his Twitter account of some graffiti on the walls of St Werburgh's which spells the word 'quinoa'.
The actor, who is famous for his role in ITV's drama Broadchurch, included the hashtag "middle class graffiti"in his tweet.
He also joked with his followers that Bristol had become "a lot posher than it used to be!".
The same word has also been spotted in Glenfrome Road and Mina Road, but we're not sure if this artist is trying to rival the works of Banksy!
Five of the W=world's leading street artists are creating five different murals on the Red Point Climbing Centre in Bristol. Cosmo Sarcen is one of them and despite working 100 feet in the air he told ITV News he's not a fan of heights:
Hundreds of grafitti artists in Bristol are racing against the elements trying to finish artwork in Europe's largest street art festival. They're trying to create huge murals across the south of Bristol but have been hampered by rain. Charlotte Saker reports ...
Bristol's street art and graffiti festival 'Upfest' takes place in the city this weekend.
More than 250 artists from all over the world will be painting at nearly 30 venues throughout Bedminster & Southville.
Artists get to paint live on 30,000 square feet of surfaces with the art on display for up to 25,000 visitors.
Monday will be a special family day with extra childrens' workshops for families to create their own street art.
Martin Ron, Argentinian artist, says the street art is what he likes to call "an open sky gallery" for all to enjoy.
Load more updates