First-time buyers in Bristol are paying nearly nine times more to secure a house than they were in 1996.
Read the full story ›
Bristol was the most searched for place outside of London in the past year on property website Rightmove.
Read the full story ›
Advertisement
Thousands of homes in Bristol are being left empty despite an urgent need for shelter in the city.
Read the full story ›
People in the West are being asked for their ideas on how to meet the area's housing and transport needs for the next 20 years.
Councils for Bristol, Bath and North East Somerset, North Somerset and South Gloucestershire estimate that
Options being considered include building more tower blocks and building on greenfield and brownfield sites.
The public consultation starts today, and will run until January 29th.
With rents going up and calls for more affordable housing, Bristol's housing crisis continues - as an estate agent tells ITV News West Country that there are at least five people competing for every rental home.
The average cost of renting a 3-bed house in the centre is now £1,400 a month, which is almost double the cost in Gloucester - and with demand often outstripping supply many people are unable to find a place to live.
Are you struggling to find an affordable rent in the city? Has Bristol become too expensive to live in? Write to westcountry@itv.com with your story.
In April campaigners protested against lettings agent CJ Hole, after the Southville branch wrote to Bristol landlords encouraging them to raise rents.
The branch has since had its windows smashed in in what appears to be a vandal attack.
Police are investigating after an estate agent criticised for encouraging Bristol landlords to increase rents had its windows smashed in.
Campaigners protested outside the Southville branch of CJ Hole in April after it wrote to landlords with the suggestion, and more than 12,000 people signed a petition calling on the firm to stop "exploiting Bristol's housing crisis" and sign an 'Ethical Lettings Charter'.
The vandal attack against the branch is believed to have happened on Tuesday night.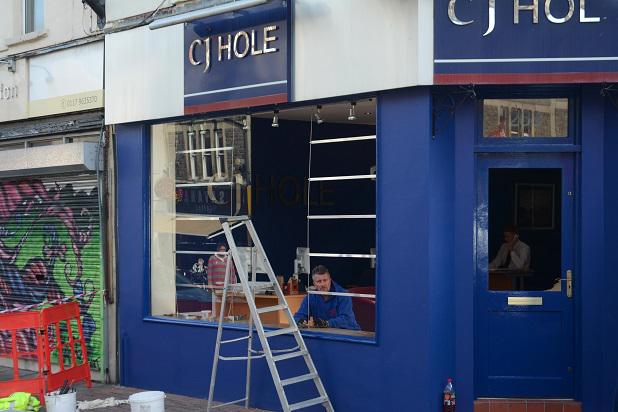 Advertisement
Private landlords are being asked to work with Bristol City Council to tackle the need for housing in the city.
A forum will be held tonight to encourage property owners to work with housing agencies to provide secure accommodation for people in need of a home.
Estate agents are warning that the house market could be about to slow in the south west. The new rules on mortgages introduced last week are already reducing the number of buyers according to some agencies.
Purchasers now face tougher questioning over their finances before being granted a mortgage. But a house price survey out today shows that prices are rising.
Demand for houses in the South West rose at its fastest rate since summer last year, according to a survey by the Royal Institute of Chartered Surveyors.
Despite this, prices continued to fall, although the RICS said the amount of homes coming onto the market also improved.
Whilst rent in the private housing sector reached another new high last month, the South West has bucked the trend, with rates dropping by 1.5% annually.
Demand for rental homes has rocketed in the last year as people struggle to get on the property ladder because they cannot raise a deposit or meet lenders' toughened borrowing criteria.
Although rents increased by 3.2% nationally to an average of £741pcm, rates in the South West fell to an average of £638.
The findings come a day after the Money Advice Trust announced that a record 12,000 tenants were struggling with arrears had contacted its national debtline this year - the biggest number in its 26-year history.
Load more updates