Live updates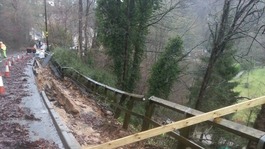 Two homes near Stroud have been evacuated after a known landslip site in Gloucestershire was affected by heavy rain.
Read the full story
Homes evacuated after Gloucestershire landslip
Highways crews are investigating a known landslip site on the B4058 Nailsworth to Horsley Road, Stroud, following heavy rain.
The road, which has already been the subject of some corrective work this year, has had to be temporarily closed while further investigations are carried out.
Highways crews have placed sandbags on the road to protect the properties below from debris sliding down the embankment.
Meanwhile, two households have been asked whether they can stay with friends or relatives as a precautionary measure while workers relieve pressure on the landslip.
This site was already being monitored closely and work was underway to correct previous issues.

The heavy rain has meant some slight changes to the embankment and, as a precaution, we have had to close the road and make sure the surrounding area is safe.

As soon as the road has been investigated further we will be able to look at what action needs to be taken.
– Councillor Vernon Smith
Advertisement
Flooding Returns To South West
Houses were evacuated in Bath last night after a landslip. Properties in Upper Camden Place were affected after rubble - including a seven foot high boulder - along with broken trees were washed down a hill.
It followed an lengthy period of heavy rain and locals believe blocked drains are partly to blame.
Flooding Returns To South West
These are shots of the landslip on Lansdown in Bath taken by helicopter this morning. You can clearly see the large boulder that made its way down the wooded slope following a long period of heavy rain.
Rain Causes Floods and Landslip
Heavy rain last night (Sat) caused large-scale floods in North Somerset. Fire crews dealt with dozens of call-outs to homes, mainly in Nailsea.
Highways Agency workers are also assessing damage to Failand Lane, Portbury after a landslide. Soil, trees and rocks were brought down in a series of slips.
Memorial For Landslide Victim
Tributes have been paid to the man who died in the landslip outside Beaminster tunnel in Dorset thirteen days ago. Michael Rolfe from Fivehead near Taunton, was on his way home from a night out with a friend when the car they were in got caught in the mudslide.
His friend, Rosemary Snell who lived in Misterton near Crewkerne also died. Today Dorset Police confirmed that they'd referred their handling of the incident to the Independent Police Complants Commission. The car was left undiscovered for ten days. Richard Lawrence reports.
Advertisement
Back to top