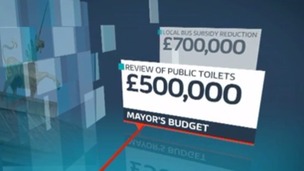 Following a public consultation Bristol's elected Mayor, George Ferguson, has announced his final budget.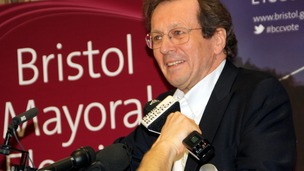 Bristol's first directly elected Mayor has spent his first day viewing work by local artists in Totterdown.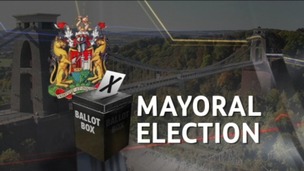 Ian Axton interviews candidates hoping to become Bristol's first elected mayor, and asks what they would do for the city.
Live updates
Bristol Votes 'Yes' for Mayor
Our political correspondent Bob Constantine brings us this report as the people of Bristol have voted 'yes' to having an elected mayor. Out of the ten cities which held a referendum across the country, only Bristol has voted in favour.
Bristol Votes 'Yes' for Mayor
This video shows the moment it was declared that Bristol had voted in favour of the city getting an elected Mayor. Nearly 36,000 people voted 'no' but more than 41,000 voted 'yes'.
An election for a Mayor will be held on November 15th 2012.
Advertisement
Bristol Votes 'Yes' for Mayor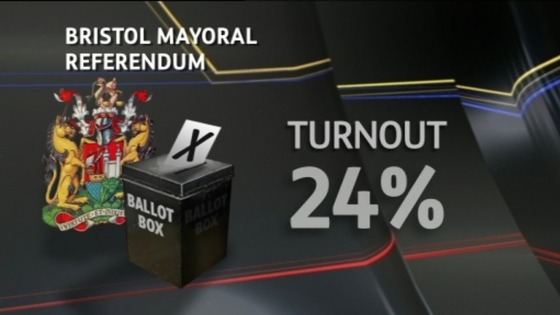 Later this afternoon there will be a result on the mayoral referendum in Bristol. Voters were asked to decide whether or not they wanted an elected mayor for the city. The turnout was low - just 24%, meaning just 1 in 4 eligible people voted. Counting will take place later at Ashton Gate stadium.
In Nottingham where there was a similar referendum, a result has been declared. Voters there have decided not to have an elected mayor.
Bristol Votes 'Yes' for Mayor
Overall turnout therefore, including postal votes, in the #bristolmayor referendum is 24%. Votes counted Friday, result est. mid afternoon
West News In Brief
Supporters of Bristol getting its own elected Mayor have launched a campaign urging the public to vote in favour of the idea on May the 3rd.
The Yes group deny opponents' claims that a Mayor would add another level of bureaucracy to how the city is run.
Load more updates
Back to top