Claire Moody, who has reclaimed a European seat for the Labour Party has said it's because people are beginning to listen to Labour again.
The party doubled the vote it received at the last European Election. The new MEP also said that Labour are answering the questions that UKIP are raising.
Green Party candidate Molly Scott Cato says she isn't surprised by their success in the European elections.
The lead candidate from Stroud has been a member of the Greens for 23 years.
The party picked up its first ever European seat in the South West this weekend. They came in fourth place ahead of the Lib Dems nationally.
Advertisement
Our Political Correspondent Bob Constantine remembers some of his meetings with Tony Benn over the years.
Read the full story ›
Comedian and broadcaster Rory Bremner was among the congregation at Tony Benn's funeral.
Figures from across political divide have arrived in Westminster for the funeral service of Tony Benn.
Mr Benn's coffin arrived at St Margaret's Church to applause and some tears as politicians and activists made up the amassed crowds.
Arthur Scargill, Rory Bremner, Lord Heseltine, Gerry Adams and Andrew Mitchell are among those at the ceremony, ITV News' Political Correspondent Carl Dinnen reports.
Advertisement
Devoted crowds are waiting outside in Westminster as the funeral service of former Labour cabinet minister Tony Benn gets underway.
One banner describes the left-wing MP as "truly irreplacable", while another calls him "our Tony Benn".
Shadow Secretary of State for Wales Peter Hain is among those at Tony Benn's funeral service.
On Twitter, he said the ceremony at Westminster Abbey will end with the 'The Red Flag' - a song long associated with the Labour Party and left-wing politics.
In St Margaret's Westminster Abbey looking at at Tony Benn funeral order of service. He would have approved: ends with Red Flag
The funeral of Tony Benn is set to take place from 11am at Westminster Abbey, and large crowds have turned out to pay their respects.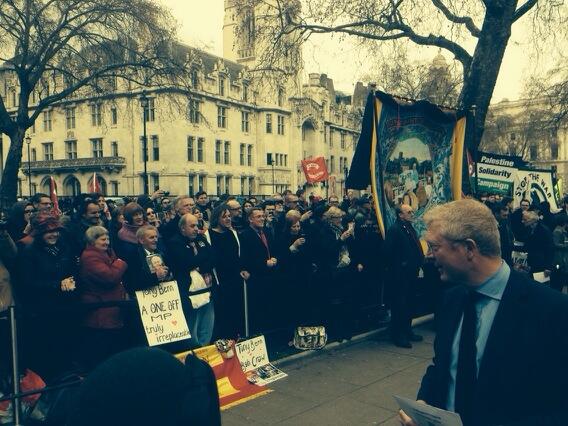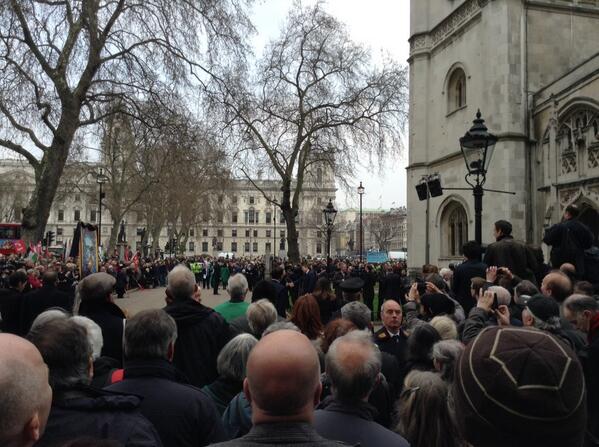 Load more updates