The robbers who wore boiler suits left the post office in Tavistock without anything of value.
Read the full story ›
From care to our coasts the Conservative manifesto has policies that could impact residents across the West Country.
Read the full story ›
Advertisement
There are 500 extra staff at the Bristol Royal Mail sorting office today, was what's been pegged as the busiest day of the year for mail.
Read the full story ›
Post Office workers across the West have walked out in strike today.
Members of the Communication Workers Union (CWU) and Unite are staging a 24-hour walkout in protest at job losses, franchising of Crown offices and the closure of a final salary pension scheme.
The strike action is expected to close Post Offices at the Bristol Galleries, Keynsham, Yate, Trowbridge and Kingswood, Exeter and wider Devon.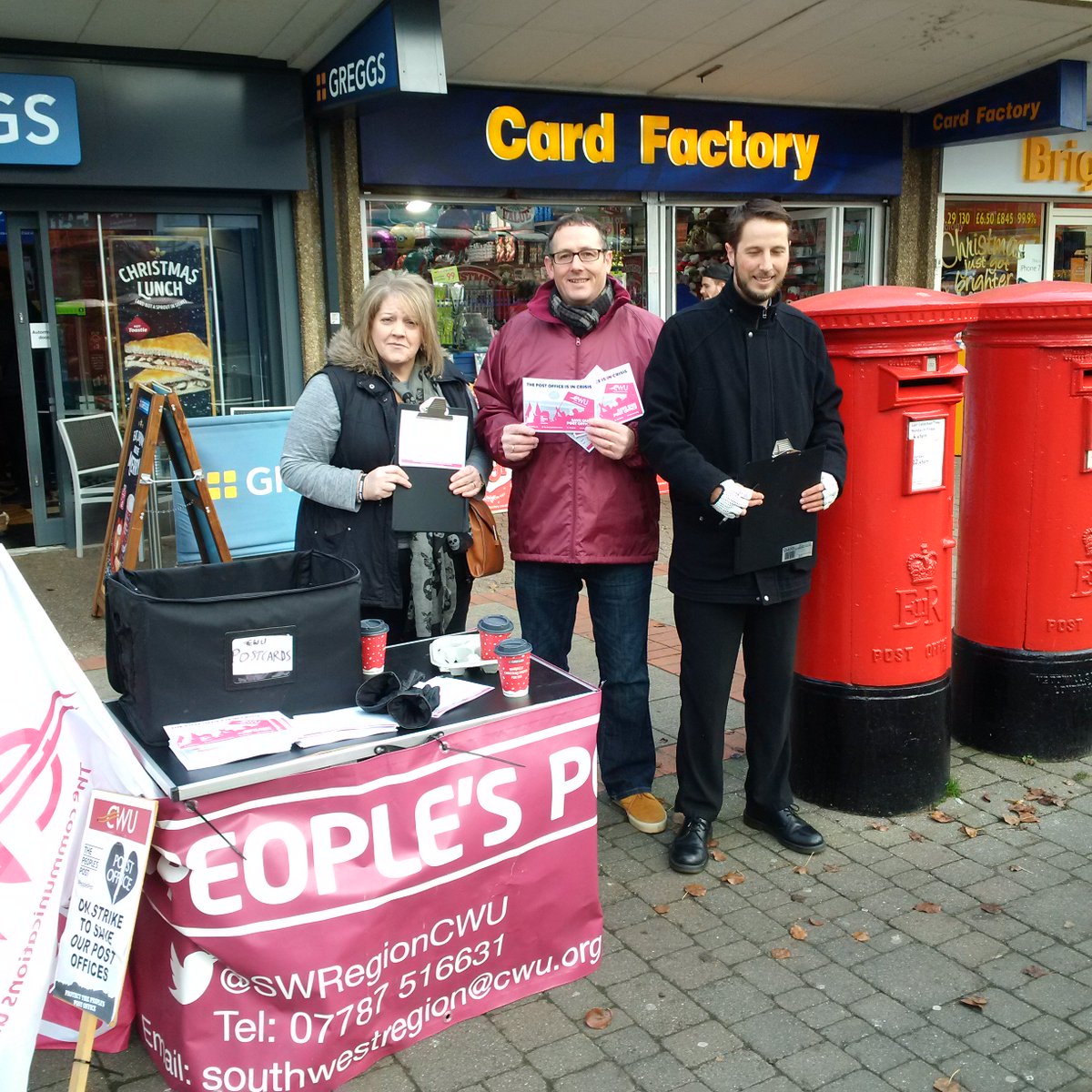 The Post Office said it was 'business as usual' but unions said Saturday's industrial action was getting solid support.
Read the full story ›
Workers and managers are to stage another strike on Saturday amid a long-running dispute over jobs, pensions and closures.
Read the full story ›
Advertisement
The main post office in Weston-super-Mare is to remain open after all.
The branch on Regent Street shut suddenly on Monday evening due to contractual difficulties. But agreement has now been reached with the landlord.
Post Office Ltd released the following statement today:
Weston Super Mare Post Office will remain open as normal at 76 Regent Street. Agreement has been reached with the landlord to allow us to remain on the site. We are delighted agreement has been reached bringing to an end a period of unforeseen uncertainty for customers and staff.

Post Office Ltd recently consulted over plans to relocate Weston Super Mare Post Office to 84 – 86 Regent Street, Weston Super Mare, BS23 1SR. The six week public consultation has ended and an announcement will be made shortly.
– Post Office spokesperson
We hear numerous stories about village post offices closing, but today, we have news of one opening up, after a 20 year campaign.
People living in the South Gloucestershire village of Cromhall have just opened up their new shop and post office.
They hope it'll provide the community with the everyday necessities and also create a hub to bring people together.
A Gloucestershire post mistress facing jail for stealing parcels which customers had entrusted to her.
43 year old Karen Judd stole them when she was running Painswick Post Office.
She had denied eight charges of stealing the parcels during a six months period in late 2012 and early 2013 and was found not guilty yesterday of two of the thefts.But today the jury of eleven found her guilty of all six other charges,
The court heard that during the investigation the Royal Mail sent in two members of staff working under cover to post test parcels. One arrived but the other did not and the investigators and police raided the shop.
Postal workers in Weston-super-Mare will be meeting this morning to decide their next move in their long running dispute with Royal Mail.
They have already taken two days of strike action earlier this year,about the length of delivery rounds and disciplinary action that has been threatened against a number of workers.
Load more updates