A new room dedicated to caring for orphaned wildlife has opened at a rescue centre in Somerset.
Read the full story ›
Strong winds and heavy rain has caused structural damage to Secret World in East Huntspill and the threat of further bad weather has forced the centre to cancel their events this Bank Holiday Monday.
They fear the high winds and blustery showers could be a 'safety risk'.

A spokesperson for the rescue centre say they're extremely disappointed to have to close.
We have suffered damage to the site including buildings, and the parking field is flooded. The continuing threat of high winds and heavy rain today means that to open to the public would potentially be a safety risk.

We have taken this decision with heavy hearts.
– Secret world spokesperson
This will not only be a great financial loss for Secret World, as we depend on our Easter weekend as an important fundraiser, but we will miss the opportunity to welcome so many of you on site to meet the animals and people of Secret World.

This is very sad for us but it is the right decision given the extreme weather situation. Thank you for your support and understanding.
– Secret world spokesperson
Very sad and sorry to say that #BadgerBonanza is CANCELLED today. High winds and heavy rain have damaged the site
Advertisement
A wildlife centre's anger as a badger is shot dead, leaving cubs as helpless as this to die. You may find images in this story distressing
Read the full story ›
Secret World Wildlife Rescue centre in Somerset is looking after orphaned badger cub Opal - its first badger cub casualty of the year.
Read the full story ›
Pictures have been released of an otter which died after being caught in an illegal trap. A £300 reward has been offered for information.
Read the full story ›
A wildlife rescue centre in Somerset is having a record-breaking summer - though not in a good way.
The orphaned baby hedgehog shown is among a thousand animals brought into Secret World in the past month.
Staff and volunteers are being kept busy keeping them all fed and cleaned.
We're always busy at this time of year but this month has been a record.

Over the same period last year we probably had about 700 or 800 so it really is quite a significant increase.

Last week we had the busiest day that any of us can remember, with 80 wildlife casualties through the door.
– Nicola Round, Secret World
These three hedgehogs are just a few days old and are all from the same litter. They had been born under a piece of tarpaulin. The mother moved two others but these three were abandoned.
They are being cared for at Secret World and will will be returned to the wild when they are big enough and able to fend for themselves.
Advertisement
A wildlife rescue centre in Somerset is appealing for support after finding record numbers of animals needing its help this summer.
1,000 casualties have come through Secret World Wildlife's doors in Highbridge in the last month, including 80 in one day alone.
They include an orphaned baby bat the size of a 50p piece, a little owl on antibiotics for respiratory problems and a baby rabbit who needs feeding.
Herman, who is almost three weeks old, weighed just 70g when he was taken in, but has been growing steadily, and is now up to 98g. He's being syringe-fed goat milk, which tries to imitate his natural diet. Looks like he likes it!
Sorry, this content isn't available on your device.
The centre hopes to get all its patients back to the wild by the end of the summer, and has launched a fundraising appeal to help it do that.
Find out more here.
Secret World Animal Rescue based at East Huntspill in Somerset have taken in a barn owl that was rescued from a chimney.
It is clearly in good hands but we hope this doesn't happen very often.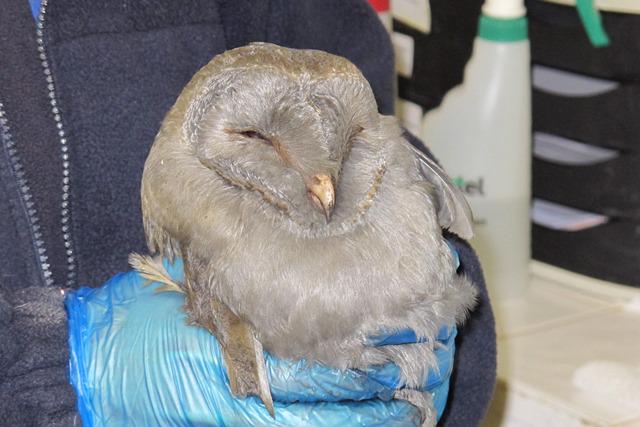 A tawny owl is recovering at a wildlife rescue centre after being rescued from a chimney with the aid of firefighters. Ron and Sheilagh Humphreys called in experts after the bird got trapped overnight at their home in Wellow near Bath.
Bird handlers used a chimney sweep brush to gently push the owl to the top of the stack, where firefighters were waiting to pull it to safety.
Ron, 67, said: "We were all elated when they finally got him out. It was such a relief because it had been stuck in there for some time. It was a magnificent bird and we're just glad it didn't have any lasting injuries."
Apart from a lot of soot in its eyes and filthy feathers, the 10-inch tall bird was unharmed. It is now being cared for by staff at Secret World near Taunton and is expected to be released back into the wild in the next few weeks.
Aspen is one of seven orphaned badger cubs being cared for at Secret World Wildlife Rescue Centre at Highbridge in Somerset.
He is about eight weeks old and was brought in yesterday after being spotted lying beside his dead mother and siblings on a road in Devon.
Another cub was brought in last night - she was found on her own in the road in Cheddar. You can watch the young badgers playing on the charity's webcam.
They generate an awful lot of washing and the Centre is struggling to keep up. You can find out more about its work here.
Load more updates