People are gathering in Castle Park in Bristol for a march urging leaders to take action against climate change. It's ahead of a UN summit.
Read the full story ›
More than two thousand people are expected to join a climate change march in Bristol at noon today (Sunday 29).
It comes as world leaders from across the globe are converging on Paris to discuss environmental issues.
Bristol's mayor George Ferguson has said he will be attending: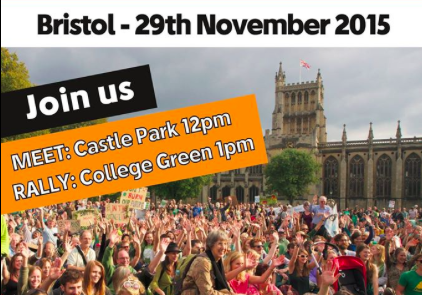 Advertisement
It's been a busy weekend for the region's teams, with mixed fortunes:
Bristol city went down 3-0 away at Rotherham in the Championship.
In League one Swindon thrashed Chesterfield.
In league Two Bristol Rovers conceded in extra time to draw 1-1 at Exeter, while Yeovil were beaten at Northampton.
And in the National League, Cheltenham and Forest Green both won 2-0 against Aldershot and Altrincham receptively.
Police are appealing for the public's help to find missing Yate woman Louise Reynolds.
Louise, 31, was last seen outside the Best Supermarket on Stokes Croft, Bristol at approximately 5.50am on Thursday 26 November.
Police say her disappearance is out of character and as she has not been in contact with either friends or family, they are growing increasingly concerned for her welfare.
DESCRIPTION
white
5 ft 1 ins
brown hair
tattoo on left wrist with the name 'John'
tattoo on right arm of a blue rose and the name 'Saul'
thought to be wearing a long black coat with a hood with fur trimming
If you have seen Louise or know where she may be, please call 101 and quote reference 5215049323.
A school in Bath where the siblings of Mitzi Steady attend is releasing a Christmas single in her honour.
The four year was killed during the tipper truck tragedy in the city which claimed the lives of four people earlier this year
The original song was written by the school's Singing Director Adrian Millard, and performed by a large group of pupils.
Money raised from the single will go towards the road safety charity Brake.
Despite the rumours, Somerset's Jenson Button announced he's staying in Formula 1. We take a look back at how he became World Champion.
Read the full story ›
Advertisement
Missed our 6pm bulletin? No problem - here is a quick rundown of today's top stories:
It was hyped up as one of the biggest shopping days of the year - but many people stayed away from city centres, going online instead.
Read the full story ›
Sorry, this content isn't available on your device.
The RSPCA in Somerset is looking after an increasing number of orphaned and injured seals that have washed up on our shores.
Read the full story ›
Load more updates